Civic Engagement
Contact
Do you have an idea for how we can become healthier, or do you know about something we're already doing that we didn't know about? Let us know!
Exercise is Medicine
Jacksonville University is committed to integrating and supporting civic engagement throughout the university and our community. Civic engagement means working to make a difference in the civic life of our communities and developing the combination of knowledge, skills, values and motivation to make that difference. It means promoting the quality of life in a community, through both political and non-political processes. At Jacksonville University, we believe in the importance of civic engagement in all forms, including individual voluntarism, organizational involvement and electoral participation.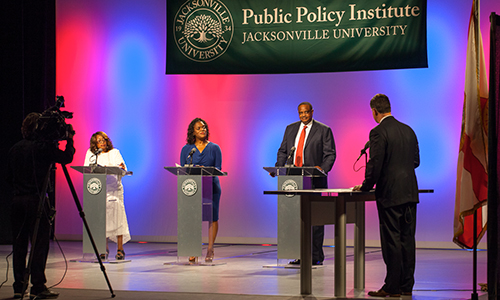 Public Policy Institute
The Jacksonville University Public Policy Institute was founded to enhance and coordinate our University's public policy outreach while a unique Master in Public Policy (MPP) Program. This prestigious Institute seeks to shape the future by preparing a new generation of leaders, offering public policy expertise, and providing a neutral gathering place for public policy discussion, education, and debate. PPI has hosted multiple events that increase public discourse, including the Jacksonville Mayoral and Sheriff's debates, the Hesburgh Lecture Series, World Affairs Council events, the State of Florida Governor's Commission on Healthcare and Hospital Funding, and other events.​​
Renew Arlington
At the request of Jacksonville University, the City of Jacksonville, through the Office of Economic Development, created a working group to develop a strategy to revitalize the Arlington area to create an environment that is welcoming, attractive, safe and walkable for students and residents in this traditional community. This working group grew into the Renew Arlington initiative that entails a comprehensive review of transportation, public utilities, housing, lighting, land use and zoning issues, public safety, neighborhood retail, and infrastructure including the development of a near-term to long-term plan for transforming the community. Renew Arlington represents the commitment of the City of Jacksonville, Jacksonville University, community organizations, citizens, and other interested stakeholders to work collectively for the betterment of Arlington.