Marine Science Pioneer Award Ceremony Honoring Dr. Dawn Wright
Thursday, October 21, 2021
Ceremony:
6:00 p.m. |
Location: Virtual
About the Marine Science Pioneer Award
The Jacksonville University Marine Science Pioneer Award is presented to an exemplary leader in marine science whose visionary leadership has served as an inspiration to others, particularly students. Their influence extends well beyond marine science. This extraordinary individual fully embraces the University's ideal of a lifelong learner, bringing to bear their remarkable talents to create new opportunities to lead, live, and learn.
Marine Science Pioneer Award Recipient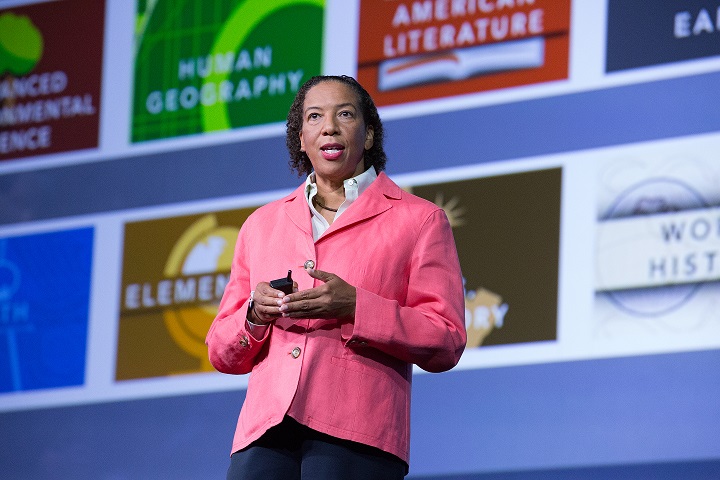 About Award Winner Dr. Dawn Wright
Chief Scientist of the Environmental Systems Research Institute (Esri)
Dr. Dawn Wright is Chief Scientist at Esri,  a world-leading geographic information system (GIS) software and data science company. Core to Esri's mission is to inspire and enable people to positively impact their future by connecting them with the geoanalytic knowledge needed to make the critical decisions shaping the planet. Hence, Esri believes that geography is at the heart of a more resilient and sustainable future. She was appointed to this post in October 2011 after 17 years as a professor of geography and oceanography at Oregon State University (OrSt). As Esri Chief Scientist, Dawn reports directly to the Esri CEO with a mission of strengthening the scientific foundation for Esri software and services, while representing Esri to the international scientific community. She maintains an affiliated faculty appointment as Professor of Geography and Oceanography in the College of Earth, Ocean, and Atmospheric Sciences at OrSt. 
Dawn's research interests include geospatial data science; seafloor mapping, coastal/ocean informatics, and environmental education. She has authored or co-authored more than 180 articles and 12 books on marine geographic information systems, hydrothermal activity and tectonics of mid-ocean ridges, and coastal/ocean informatics. Dawn has participated in over 20 oceanographic research expeditions worldwide, including 10 legs of the Ocean Drilling Program, three dives in the deep submergence vehicle Alvin and twice in the Pisces V. Her fieldwork has taken her to some of the most geologically active regions of the planet, including the East Pacific Rise, the Mid-Atlantic Ridge, the Juan de Fuca Ridge, the Tonga Trench, and volcanoes under the Japan Sea and the Indian Ocean. In 1991 she became the first African-American female to dive to the deep ocean floor in a deep submersible. 
Dawn's recent advisory board service, includes the NOAA Science Advisory Board, the US National Academy of Sciences Ocean Studies Board, the Board of COMPASS Science Communication Inc., the Ocean Discovery XPRIZE, and many journal editorial boards.  She is a Fellow of the American Association for the Advancement of Science, the Geological Society of America, The Oceanography Society, the California Academy of Sciences, and Stanford's Leopold Leadership Program, as well as a former Oregon Professor of the Year. In April 2021 she was elected to both the National Academy of Sciences and the American Academy of Arts & Sciences. She holds an Individual Interdisciplinary Ph.D. in Physical Geography and Marine Geology from UC-Santa Barbara, an M.S. in Oceanography from Texas A&M, and a B.S. cum laude in Geology from Wheaton College (Illinois). Other interests include road cycling, 18th-century pirates, apricot green tea gummy bears, her golden retriever puppy Riley, and Spongebob Squarepants. Follow her on Twitter at @deepseadawn.