Commencement April 26 and 28, 2018
Related Links
​​​​​​​Commencement Exercises
Jump to...
​Schedule​
Thursday, April 26
Master & Doctorate Commencement Ceremony
Tim

5:00 pm – Graduates report to the lobby of the Swisher Theatre for sign-in

5:30 pm – Graduates to take their seats for instructions

5:45 pm – Processional from Theatre to Dolphin Statutes

6:00 pm – Processional into the Commencement area
Friday, April 27
BRCHS Nursing Pinning Ceremony
Time

3:00 p.m. – 4:30 p.m.

Location

Terry Concert Hall
The graduates of the Keigwin School of Nursing in the Brooks Rehabilitation College of Healthcare Sciences will receive their pins in this special ceremony.
Senior Stroll & Class Photo
Time

5:00 p.m.

Location

The Dolphin Plaza, behind the Howard Administration Building
All graduates with their family and friends are warmly welcome to join in a Class of 2018 photo, champagne toast, and festive march with a live band through campus to the Graduate Reception at the River House. Graduates are encouraged to invite their faculty to join!
Bachelor Graduates, Families, & Friends Graduation Reception
Time

5:30 p.m. – 7:00 p.m.

Location

The River House
Graduates with their family and friends are invited to celebrate with their JU family with live music, light hors d' oeuvres, and great company! Don't forget to check in with the JU Alumni Association to pick up your FREE commemorative champagne flute!
Saturday, April 28
Bachelor's Degree Commencement Ceremony
8:00 am – Bachelor Graduates report to the walkway between Founders and Council for sign-in

8:30 am – Bachelor Graduates line-up in assigned areas for instructions

8:45 am – Processional from Founders and Council to Dolphin Statues

9:00 am – Processional into the Commencement area

Time
Location
NROTC Commissioning Ceremony
Time

1:30 p.m.

Location

Terry Concert Hall
---
Parking Information & Map
On-campus parking during the week of Commencement is free to all visitors, no parking pass needed. You won't have to stop at the main gate to park for any of the festivities surrounding Commencement.
A map of available parking and the ceremony location is available for download. The arrangements for Thursday and Saturday are a bit different, so please select the correct map for your graduation ceremony.
---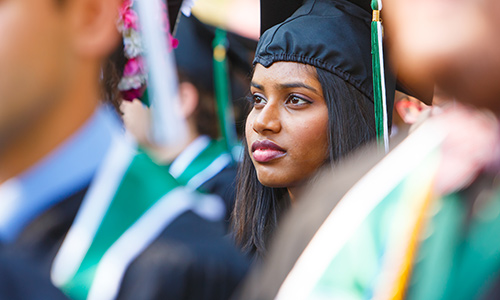 Order Cap, Gown and Invitations
Order Online – By Friday, march 16
Link to order your graduation regalia on-line.
http://collegelink.herffjones.com/u/gm.php?prm=cGrsv1Xkqe_767136353_147271_2
Order your graduation regalia now!
Ordering Deadline
The deadline to order your Cap and Gown is Friday, March 16.
After the deadline, you must contact the JU Bookstore at (904) 256 -7523 to order your cap and gown.
Cost
Costs for academic regalia for the 2018 Spring Commencement Ceremony:
$61.00 - Bachelor cap, gown, stole, and tassel
$72.25 - Master cap, gown, hood, and tassel
$150.00 - Doctorate cap, gown, tam, and tassel
The cap, stole, tassel, and Master and Doctorate hoods are yours to keep. Only the gown is returned after the Ceremony. Doctoral graduates keep the tassell and return the cap, gown, and tam after the Ceremony.
Cap & Gown Pick-up
When: April 16th - April 28th
April 16-27, 8:30 a.m. – 5:30 p.m. in the JU Bookstore
April 28, 7:30 a.m. – 8:00 a.m. at the line-up site.

---
​Commencement Ceremony Information
Graduation List
The Graduation List is posted in WebAdvisor and outside the Registrar's Office on the 1st floor of the Howard Administration Building. The Commencement List is updated the 8th of each month. Please check the Commencement List to see if your name, graduation term, degree, major, and minor are correct. Corrections must be submitted to the Registrar's Office in writing or using your JU E-mail account.
Bachelor Graduates
Your cap and gown will be black with a green stole and a green and white tassel. The tassel is to be worn on your right-hand side. During the ceremony, you will be instructed to move the tassel to your left-hand side.
Latin Honors for Bachelor Degree Candidates
Bachelor degree candidates who will complete their degree requirements with a cumulative GPA of 3.5 or higher and have earned a minimum of 60 graded (A-F) credits at Jacksonville University will graduate with Latin Honors:
Cum Laude – 3.50 to 3.69
Magna Cum Laude – 3.70 to 3.89
Summa Cum Laude – 3.90 to 4.00
To have Latin Honors recognized during the Spring Commencement ceremony, students must have graduated 2017 December or be on track to complete their Bachelor's degree requirements by the end of the 2018 Spring semester. The cumulative GPA as of April 2, 2018, will be used for the Latin Honors listed in the Commencement Program and recognized at the Commencement Ceremony.
Latin Honors posted on the diploma and JU transcript is based upon the final GPA when all grading is completed and the degree certified.
Gold Cord for Bachelor Latin Honors
Graduates with Latin Honors noted in the Commencement Program are eligible to wear a Gold Cord at Commencement. Gold Cords will be in your cap and gown packet.
Master Graduates
Your cap and gown will be black with a black tassel. Your tassel should be worn on your left-hand side, since you have a Bachelor's degree. You will have a hood with the color that represents your area of study:
Brown: Art
Olive Brown: Business
Brown: Choreography
Light Blue: Education
Scientific Gold: Health Informatics
Sage Green: Kinesiology
Gold: Marine Science
White: Mathematics
Peach: Nursing
Silver: Speech-Language Pathology
Peacock/Teal: Public Policy.
Doctoral Graduates
Your cap and gown will be black with a black tassel. Your tassel should be worn on your left-hand side, since you have a Bachelor's degree. Your Doctoral Tam will be the color that represents your area of study:
Olive Brown: Business
Peach: Nursing
---
Gown Return
After the Commencement Ceremony, you will return your gown to collection sites near the Science Green or at the Bookstore.
Bachelor graduates will keep their stole, cap and tassel
Master graduates will keep their hood, cap and tassel

Doctoral graduates will keep thier tassel
---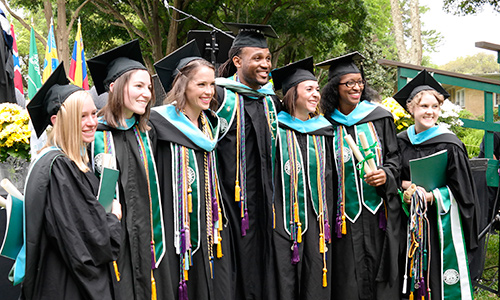 Graduation Pictures
Congratulations on your Achievement! GradImages® is the official photographer at your 2018 Spring Commencement Ceremony.
---
Financial Aid Exit Interview
Exit Counseling is required before you graduate (even if you plan to attend graduate school) and helps you understand your rights and responsibilities as a student loan borrower, provides useful tips and information to help you manage your loans and clearly explains various repayment options. It can be completed online at www.studentloans.gov. The financial aid staff is available to answer any questions you might have regarding your loan repayment.
---
Senior Gift
Each year the Senior class makes a donation to Jacksonville University to give thanks and recognition for the tangible and intangible benefits afforded them during their tenure.
---
News Release
Graduates: Get information about sending a graduation news release to your hometown newspaper. Download PDF files of the News Release and News Release Instructions.
Special Accommodations
Several services are available to those attending the university-wide commencement ceremony who may require specific and/or special accommodations based on a disability.
Accommodations for the Hearing Impaired
Sign language interpreting services for guests with a hearing impairment will be available in a reserved seating section located directly to the left of our graduate seating.
Accommodations for Those with Limited Mobility
A reserved seating section for those requiring wheelchair seating accommodations and for those with limited mobility will be available to the right of the stage facing the Howard Administration Building.
Guests with disabilities may also take the shuttle, wheel chair accessible golf cart and/or any of the available golf carts that will be going around before and after the ceremony starts/ends.
The university is unable to provide wheelchair for guests with disabilities, due to which, the university recommends arranging wheelchair accommodations independently prior to arriving on campus.
Due to high demand and limited space, the reserved seating area is restricted to the person with the disability and one guest. Additional members of your party should sit in regular public seating areas.
Reserved Parking and Disability Services Shuttle
Reserved parking for persons with state-issued handicapped permits will be available in the Lazzara Lot V. Parking is also available in any handicapped space on campus that is not restricted due to Commencement.
A Shuttle will be transporting guests from the different parking locations around campus to the Swisher Science Green for the Commencement Ceremonies. This service will begin at 4:30pm on Thursday and at 7:30am on Saturday, and following the event until all guests have been assisted.
Special Accommodations
If you are attending the commencement ceremony on the evening of Thursday, April 26th and/or the morning of Saturday, April 28th and require special accommodations or have questions, please contact Olga Florez, Director of Disability Support Services at (904) 256-7787. Accommodation requests should be made at least five days prior to commencement activities. Every effort will be made to accommodate guests, but the University may be unable to fulfill last-minute requests.
On Thursday, April 26th and Saturday, April 28th information is available by calling the Campus Security Department at (904) 256-7585 or by calling the Florida Relay Service at 1800-955-8771 for TDD assistance.
Frequently Asked Questions
Q: I have a disabled or elderly passenger who cannot walk very far. What should I do?

A: Complementary golf cart will be provided throughout both Thursday and Saturday ceremonies to assist anyone who will be in need of transportation services.

Q: Where can I find accessible restrooms?

A: All of our buildings have accessible bathrooms, located on the first floor of each building. They are also identified by signage with the handicapped symbol.

Q: I am driving to the ceremony and have a state-issued handicapped parking permit. Where can I park?

A: Reserved parking for people with state-issued handicapped permits will be available in the Lazzara Lot V. Also, there will be several golf carts going around before and after the ceremony ends that will be available to transport you to the commencement location.