Be Bold 5 Reasons Why You Want to Be at Jacksonville University
Ready to take the next step?
Reason #1
Prepare for what's next.
Jacksonville University is a place for bold creativity. Somewhere you can prepare for jobs that don't exist yet. Your JU journey starts now.
Explore. Create. Learn. Do. Your JU journey starts now.
Reason #2
Create your own path.
Education isn't one size fits all. Some schools provide paths. At JU, we equip you with the tools you need to blaze your own trail.
Customize or combine areas of study. Choose from more than 100 majors and minors.
Create an educational experience that fits your passions and dreams.
Reason #3
Rank among the nation's best.
Last year, JU achieved its highest U.S. News & World Report's Best Colleges Ranking ever. But that's not all.
From SmartAsset to Military Times to Online School's Report, our accolades keep piling up.
And that's because at JU, we help you become the best you can be.
Reason #4
Surround yourself with success.
More than 30,000 Dolphin alumni work in health sciences, STEM, fine arts, business, and communications. Some lead global organizations
such as:
GOOGLE • NBC UNIVERSAL • JOHNSON & JOHNSON
HYATT • MERRILL LYNCH • DELTA AIRLINES
THE UNITED NATIONS • PEPSICO • ESPN
DISNEY ENGINEERING • UNITEDHEALTH GROUP • CSX
Mentors. Internships. Jobs.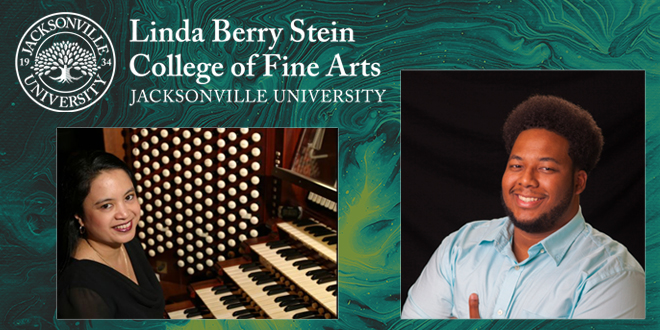 LBSCFA honors two alumni who are now accomplished artists
Reason #5
Enjoy today; prepare for tomorrow.
We're on the water and close to the beach. With 100 student organizations, 17 Division I athletic programs, 15 Greek organizations, students from 47 states and 51 countries, it is hard to find a dull moment.
But don't take our word for it. See for yourself.
Follow us on social for a look into the lives of our dolphin family.
Ready to take the next step?