Office of People & CultureEmployee Recognition Programs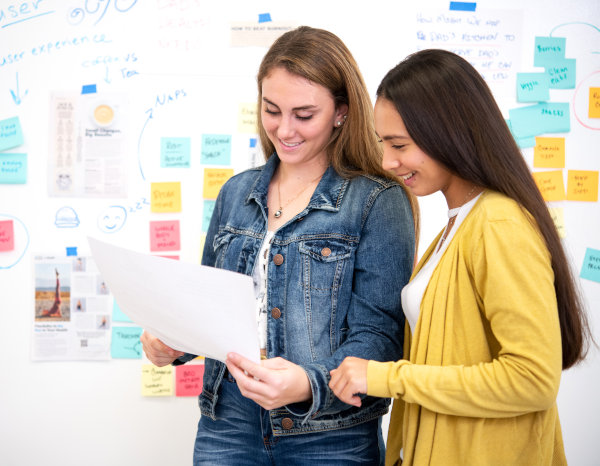 Office of People & CultureRecognizing Employee Contributions
Developed and maintained in cooperation with the JU Employee Recognition Committee.
Chair: Rainier Baltazar, Jr., People & Culture Business Partner
Members:

Misty Pippin, Roger Palmer, Casanna Jackson, Susan Hyatt, Lauren Draughorne

The Jacksonville University Employee Recognition program was created to recognize excellence in the areas of quality service, process improvement, teamwork and to acknowledge longstanding commitment to the University.
Programs include: Employee of the Month, Service Awards & Ideas Program.
EMPLOYEE OF THE MONTH
Ideas Program
OPC Home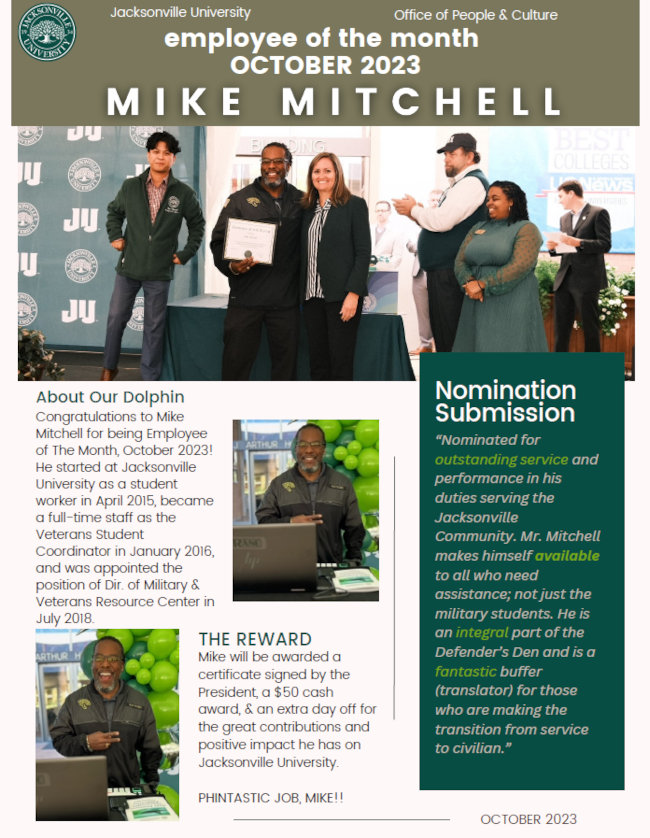 Latest NominationEmployee of the Month
October 2023
Mike Mitchell
Director of Veterans and Military Resource Center
About Our Dolphin
Congratulations to Mike Mitchell for being Employee of the Month, October 2023!
He started at Jacksonville University as a student worker in April, 2015, became a full-time staff as the Veterans Student Coordinator in January 2016, and was appointed the position of Dir. of Military & Veterans Resource Center in July 2018.
The Reward
Mike will be awarded a certificate signed by the President, a $50 cash reward, and an extra day off, for the great contributions and positive impact has had on Jacksonville University. Phintastic job, Mike!
Thank you for everything that you do, Japhetia! Your hard work does not go unnoticed!
Nomination Submission
"Nominated for outstanding service and performance in his duties serving the Jacksonville Community. Mr. Mitchell makes himself available to all who need assistance; not just the military students. He is an integral part of the Defender's Den and is a fantastic buffer (translator) for those who are making the transition from service to civilian."
1. Nomination
A nominee for the award must meet the following criteria:
Must be a full-time or part-time employee
Must be employed for at least one (1) year
Has not been selected as Employee of the Month within the past twelve (12) months
Must not have any documented corrective action within the past twelve (12) months
2. Review & Appointment
The Employee of the Month committee will review nominations and select a winner based on the above criteria. If a committee member is nominated, they will be excused from voting that month.
The Office of People & Culture shall make the initial appointment of the necessary number of committee members.
3. Nomination Prize
Award recipients shall receive:
A certificate signed by President Cost
A $50.00 cash award
An additional personal day off
Campus-wide recognition
Our Winning Dolphins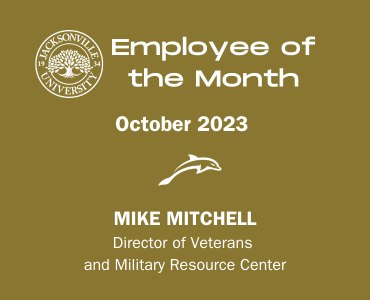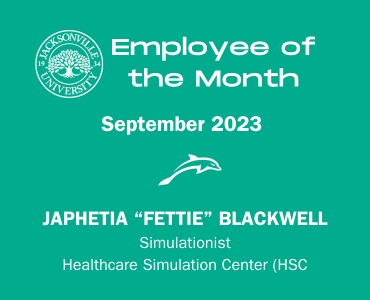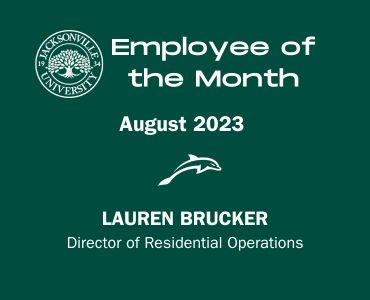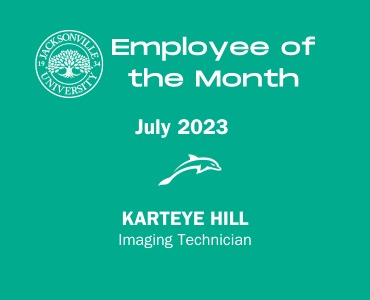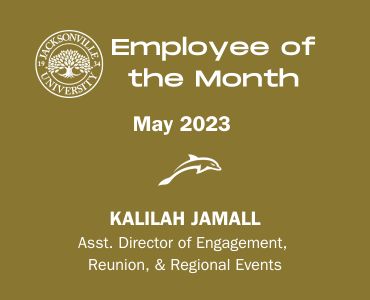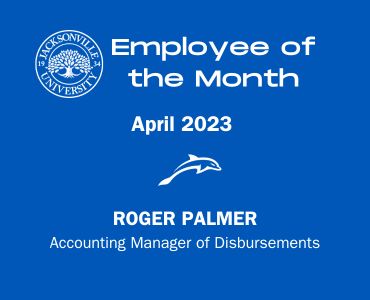 Past Winning Dolphins
February 2023


Amber Korn
Executive Administrative & Staff Coordinator

March 2023


Michael Lane
Director of Rowing
---
Other Programs
Service Awards
All full and part-time staff/administrative employees will receive recognition for continuous service to the University at five-year increments. Individuals can select award material from a service award vendor which has a variety of awards from which to select. The value of the award increases with the years of completed service. These individuals will receive recognition in JU Today, as well as at the University-wide cookout.
---
Ideas Program
Receive recognition from the President's office. Full-time staff/administrative employees who submit a significant suggestion, which is adopted, to the President's Ideas Program will receive recognition.
CONTACT USOffice of People & Culture
Jacksonville University is committed to providing an inclusive and welcoming environment for all who interact in our community and strives to attract students, faculty and staff from a variety of cultures, backgrounds and life experiences.
Contact Information Office of People & Culture
Howard Administration Building
Jacksonville University
2800 University Blvd N
Jacksonville, FL 32211
Phone: (904) 256-7025
Quick Links