Mental Wellness
Contact
Do you have an idea for how we can become healthier, or do you know about something we're already doing that we didn't know about? Let us know!
Exercise is Medicine
For Students
Student Counseling Center (SCC)
JU's Student Counseling Center is committed to the development of the whole person: academically, personally, socially, and ethically. We believe that a student's intellectual and personal development are inseparable, and we strive to help students reach their potential as individuals, both academically and personally. Mental health wellness is an integral part of the services provided by SCC.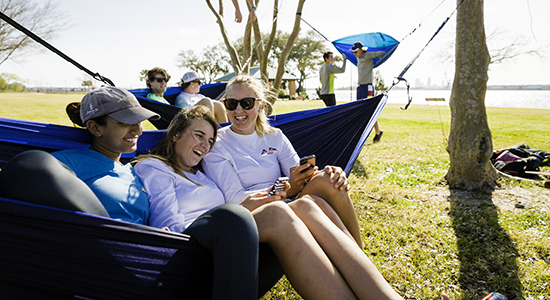 Office of Student Involvement
What happens outside the classroom plays a huge role in the college experience. Jacksonville University creates a variety of ways to get fully involved from day one. The Office of Student Involvement assists in planning events on campus, oversees Fraternity and Sorority Life, and stands ready to support and coordinate all student organizations. JU believes in incredible experiences beyond classroom walls as part of its holistic approach to student success and wellness.
Spiritual Life
Many students express an interest in developing spirituality during their university years. Opportunities to do so with other students can be explored through the religious, spiritual, and philosophical groups on campus. You can get involved with a group on campus by searching the Organizations list on Check I'm Here or reach out to one of the organizations listed below:
Arlington churches, synagogues, mosques, and other spiritual centers welcome your attendance. A list of spiritual offerings in the area is available for download.
Dolphin Allies
The Dolphin Allies program seeks to support the lesbian, gay, bisexual, and transgender (LGBT) community at Jacksonville University. Dolphin Allies is a group of individuals at Jacksonville University who, through their visible support of LGBT people, will create a supportive and compassionate environment for the LGBT community.
For Faculty & Staff
Employee Assistance Program
An important benefit provided to all faculty and staff is our Employee Assistance Program (EAP). EAP services are available through Health Advocate, formerly Corporate Care Works. All sessions are completely confidential. The list below is not all-inclusive, but offers examples of some of the great services provided:
Coping with and managing stress
Time Management
Family Concerns
Personal/Prof. Development
Coping with grief or loss
Effective Communication
Workplace Issues
Alcohol/Drug Use
Financial/Legal Referrals
EAP services are available day or evening hours, and also provide 24-hour access to crisis assistance. The EAP is pre-paid in full by the University and is free to you and your immediate family members. For more details, please contact EAP at (904) 296-9436, or toll free at (877) 240-6863.