Environmental Health
Contact
Do you have an idea for how we can become healthier, or do you know about something we're already doing that we didn't know about? Let us know!
Exercise is Medicine
Majoring in Sustainability
In the Sustainability program at JU, the question of sustainability is addressed by a variety of disciplines: economics, business, biology, chemistry, geology, geography, political science, ethics and philosophy. The common goal of the courses in the major is to encourage students to examine the complex intersections of social, economic, and environmental systems, and to inquire into the conditions that will permit all three to flourish. The Sustainability major at JU brings into sharper focus the question asked by education in the liberal arts and sciences: What is best way of life for free people in a free society? What are the conditions necessary for humans to thrive? In other words, how can we harmonize the needs of the environment, the economy, and society to best sustain all three?
Sustainability Club
This student club addresses a wide range of topics from on-campus recycling to working with local elementary school students to beautify their school and create garden beds. This group helps student apply what they learn in the classroom to our campus, Arlington, and the greater Jacksonville area.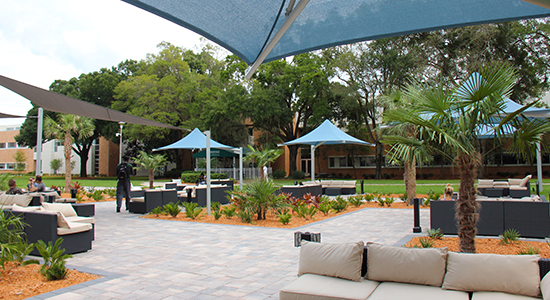 Outdoor break/study areas
We fully leverage our beautiful riverfront location by providing locations that enable our students, faculty, staff, and visitors to enjoy and appreciate the beauty of campus.
Nelms Plaza Outdoor Seating Area
DuPont Plaza Outdoor Seating Area
Riverfront Park and Amphitheatre