College of Arts and SciencesChemistry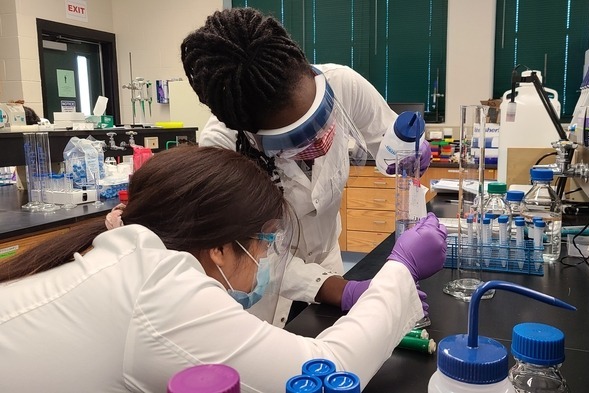 Why Choose Our Program?
The Department of Chemistry offers both a major and minor in Chemistry. The chemistry major at JU is designed to provide students with a strong, broad-based conceptual understanding of the fundamental principles of chemistry to foster effective, lifetime learning. The chemistry minor provides students pursuing another career in the sciences with a solid background in chemistry. These programs prepare students for careers or graduate studies in chemistry-based fields including education, engineering, environmental science, forensic laboratories, geology, industry, medicine, and regulatory agencies.
The Department of ChemistryAbout the Major
The Chemistry major Biochemistry track is designed to provide both the conceptual framework and the practical experience necessary to prepare students for careers in the biomedical field, chemistry or related fields, as well as graduate school in Biochemistry. In addition, this major provides excellent preparation for students planning to attend medical, dental, or pharmacy school upon graduation. This track also provides flexibility for a student who might want to earn a double major. Students will:
Develop a strong, broad-based conceptual understanding of the fundamental principles of chemistry.
Master specific laboratory techniques in analytical, organic chemistry, inorganic chemistry, and biochemistry.
Apply conceptual learning and lab techniques through undergraduate research experience.
Analyze, criticize and summarize research projects from inception to completion.
Develop scientific communication skills in both oral and writing though publication and presentation, in both course work and professional venues.
Execute critical thinking skills through related coursework and research experience that will enable problem-solving abilities.
Bachelor in BiochemistryCareer Paths
Graduates from JU's Chemistry programs have found success in a variety of careers. Many go on to graduate and professional schools, specializing in medicine, dentistry, pharmacy, and neuroscience. Some of the employers JU Chemistry alumni work with include Task, Merck & Co., South Florida Water Management, Jackson Memorial Hospital, and Exxon.
A degree in Chemistry prepares students to pursue careers in a variety of field, including:
Chemical Analysis
Molecular Biology
Education
Forensics
Medical Research
Chemical Engineering
Chemical Preparation
Toxicology
Environmental Science
Science Journalism
Veterinary Medicine
Pharmacy
About Our Minor
The Chemistry minor is a great addition to a degree program for any student wanting to pursue a career in the sciences. While successfully paired with any major on campus, the majority of our minors major in biology, marine science, physics, math and computing science. The 20-credit minor provides a solid foundation in chemistry with 12 credits of required courses and 8 credits of upper-level chemistry electives.
Request for Information
Loading...
Contact Information Department of Chemistry
Merritt Penticoff 132
Jacksonville University
2800 University Blvd N
Jacksonville, FL 32211
Phone: (904) 256-7325
Quick Links