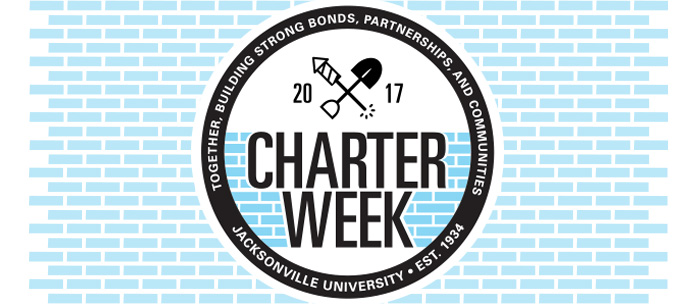 Congratulations to the entire JU family and our partners on what was a memorable Charter Week 2017. Check out highlights from this year's experiences and join on us from April 9th through the 15th as we celebrate Charter Week 2018. Go Dolphins!
​​April 16: Every year, Jacksonville University celebrates its birthday and the signing of its charter. In honor of our founding, the University hosts Charter Day, a daylong celebration involving service to our co​mmunity, a reception on campus, and a Global Toast for our friends around the world who cannot be with us in person for the festivities.
Whether on campus or celebrating in your community, students, faculty, staff, and alumni are encouraged to join in the festivities, and wear your green and white with pride.​​

Charter Week
One day isn't enough to celebrate Charter Day, so we've expanded the festivities into a full Charter Week! Check out the Schedule of Events for a full list of activities.
Because Charter Day falls on Easter Sunday this year, we're celebrating a little early, April 3-8.
Follow Us
Keep up with the celebrations on Facebook, Twitter, and Instagram throughout Charter Day. For official updates, follow our Jacksonville University accounts:
​



​
Share
If you're participating in Charter Day, hashtag your photos and updates!
The official hashtag for all Charter Day activities is #charterday.​
The official hashtag for Day of Service is #jugives.
The official hashtag if you're joining us remotely is #jutoast.​