Meet Our President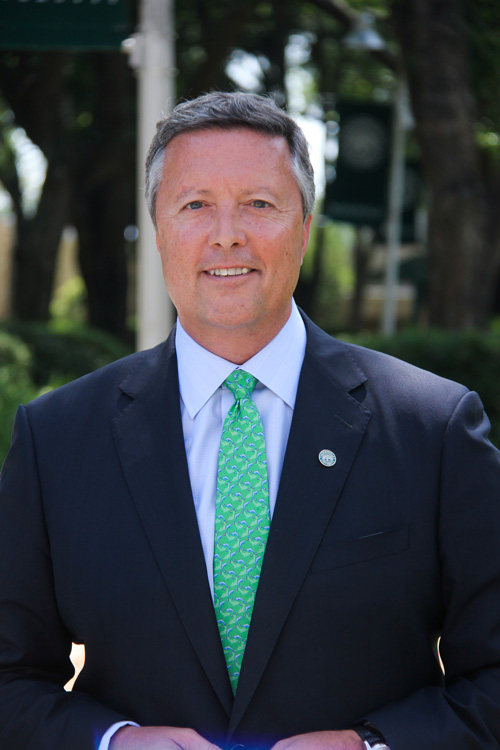 Tim Cost
12th president of Jacksonville University
Assumed office: February 1, 2013
Becoming the 12th president of his undergraduate alma mater, Jacksonville University, remains an incredible honor for President Cost, and is the realization of both a personal and professional goal in a remarkable legacy of leadership.
His Story
"In my heart, I never left JU. I've invested more time and energy here than anywhere. It's a special place."
President Cost, a 1981 Magna Cum Laude Jacksonville University graduate, received his MBA in Finance and Economics from the William E. Simon School of Business at the University of Rochester, and is a graduate of Harvard University's Presidential Seminar. As a collegiate athlete and four-year letterman on the JU baseball team, he is one of the top 10 winningest pitchers in JU Baseball and, as a freshman in his first NCAA appearance, pitched the only 9-inning no-hitter in JU history.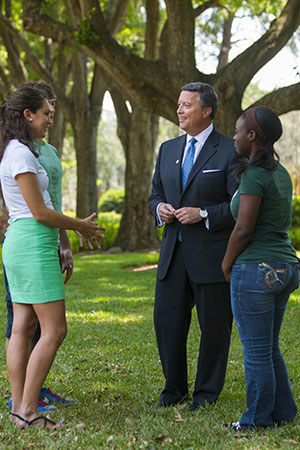 Since the days of baseball and business degrees, President Cost has invested more than 30 years on senior management teams at several of the world's largest and best-known institutions, including Bristol-Myers Squibb, Kodak, ARAMARK, Pharmacia, Wyeth/Pfizer, and Centocor/Johnson & Johnson,as well as his past service as Chairman of Global Health Care for Washington-based consulting firm, APCO Worldwide . Each role helped refine his approach to leadership, capitalizing on the strengths of diverse teams to maximize talent, trust, connections, and performance. President Cost is committed to helping mentor young talent, and likes to explain that process as "inspiring the good to be great."
Building on the education he received at JU, President Cost crafted an impressive foundation as an experienced business leader, adding to his academic credentials acquired skills in marketing, strategy, public policy, capital markets, crisis and issues management, investor relations, government affairs, business development, philanthropy, brand and corporate communications, customer outreach and retention, mergers and acquisitions, regulatory affairs, corporate social responsibility, reputation management and alliance development--all within the realm of FORTUNE 500 company experiences.
Throughout his career, President Cost was part of successful senior management teams known for their innovation (FORTUNE's "Most Innovative Companies"), optimal workplace environments ("Best Places to Work"), inclusion ("Best Places for Women," "Best Places for Hispanics" and others) and progressive management ("Most Improved U.S. Investor Relations Program"), among others.

Handling high-profile, public, on-the-record interactions with media, investors, donors, government officials, partners and stakeholders, he has been honored as one of the top business communicators in U.S. corporations (The Holmes Report, 2011).
President Cost and his wife of 39 years, Stephanie Cost, are the proud parents of two children, Melanie and Drew.
Students First
"We believe in innovation that leads to growth, not status quo. Students get the individualized attention they need, while being challenged to stretch themselves in pursuit of excellence."
Affable, confident and not above poking fun at himself, he cares most deeply about students. President Cost can often be seen around JU's beautiful campus bantering with students, texting alumni, Trustees or community members, or pulling aside faculty and staff for a quick piece of advice or word of encouragement. He's well-known for providing his personal mobile number to any and all students, challenging them to keep him in the loop about student priorities.
Well-versed in balancing the best interests and competing incentives, President Cost interacts with many stakeholders: faculty, staff, communities, investors, analysts, boards, donors, partners, fellow executives, regulators, policy makers, elected officials, government organizations, media, and advocates.
But his priority, every minute of the day, is always the student. This commitment was born from his own experience as a JU Dolphin. President Cost' firsthand knowledge of what students need and aspire to is what drives him to ask his favorite question. In any University leadership meeting, he is apt to say: "If I'm a student, why do I care about that? Why is that good for me?"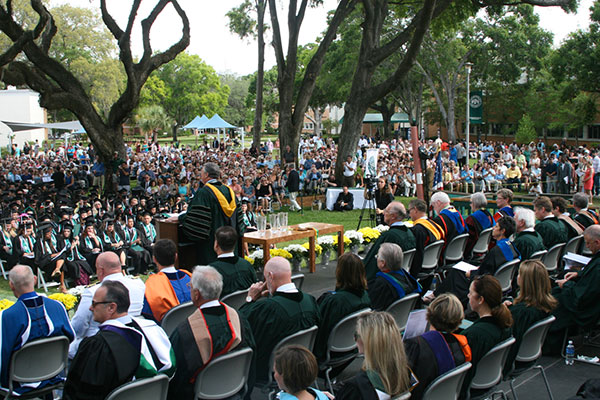 The graduation of the Class of 2017 marked the first group of freshmen who arrived at JU at the beginning of President Cost' presidency. He often remarks that it was a powerful moment for him personally. A past recipient of the Jacksonville University Distinguished Alumni of Excellence Award (2006), President Cost also joined the JU Board of Trustees in 2009, chairing both the Enrollment and Retention Committee and the Development Committee.
However, none of these accolades motivate him in the same way as direct feedback from students. His open-door policy demonstrates his firm belief in the culture of the University. "We are creating true learners—in lifelong pursuit of learning—who will become tomorrow's global citizens. And we are not a place where a student simply goes to check off a box on a to-do list and get a job, any job. Our students are inspired to push themselves, build careers and spark lasting passions."
Community Involvement
"I believe deeply in culture. More precisely, in JU's culture. A culture of excellence, collaboration, integrity, respect, and community involvement."
Over the years, President Cost has been involved in numerous campaigns to support and improve JU, including his leadership in the investment of more than $50 million across campus and the ambitious $120 million ASPIRE development campaign. His leadership was also pivotal in launching the Florida EPIC program at JU, to support STEM education, regional economic investment, and job creation. But his vision is much broader than simply what's happening on campus.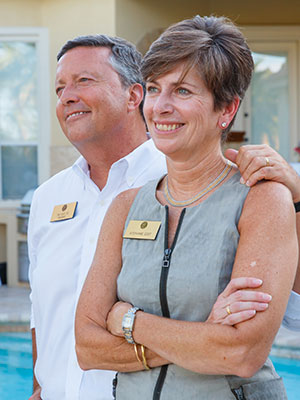 His work ethic and tireless commitment to giving back stretch beyond on-campus improvement. President Cost devotes numerous hours to civic and community volunteerism and impacting organizations like the Franklin Caucus, Students in Free Enterprise, the Jacksonville Sheriff's Strategic Initiative on Community Outreach, Community Volunteers in Medicine, where he received the Pillar Award for his philanthropic and leadership service to provide healthcare to workers in need, and the Florida Council on Economic Education, where he was inducted into the Business Hall of Fame.
He has served as Chairman of the Jacksonville Civic Council, JAXUSA Partnership, the Education Advisory Board of the Northeast Florida STEM – Hub Initiative, the Jacksonville Sheriff's Strategic Initiative on Community Outreach and former member of the NCAA Division 1 Board of Directors, the NCAA Presidential Forum, Web.com Board of Directors, and the Boards of the Jacksonville Symphony Orchestra, WJCT Public Broadcasting, Stein Mart and JaxSports.
President Cost is a member of many civic, cultural, and business Boards: The Federal Reserve Bank of Atlanta, Florida Council of 100, Guidewell Mutual Holding Corp., Brooks Rehabilitation, Jacksonville Chamber of Commerce, Atlantic Sun Presidents Council, and THE PLAYERS Council.
He and his wife, Stephanie, keep a finger on the pulse of the Arlington community, but also of the city and state as a whole.

"Ultimately, to me – and this counts for colleagues, the community, our students, staff and faculty – leadership is all about service. You need to meet people where they are and have an impact, every day."