Post-Baccalaureate CertificateInstructional Design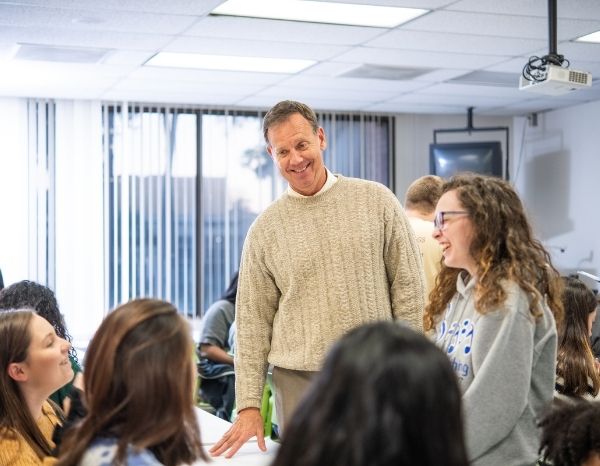 Why Choose Our Program?
Are you ready to advance your teaching career? Our certificate in Instructional Design (ID) is designed to help you cultivate the knowledge and skills necessary to help students think more effectively and design successful learning programs. However, this program is not only for educators. Whether you work for a corporation, government agency, or non-profit organization, the skill set you will gain from this program will help you effectively train others in the workplace. Our program:
Is offered 100% online
Does not require the GRE or GMAT for admission
Integrates both theory and practical application into its well-rounded curriculum
Leads to the completion of a portfolio at the end of the program to help you land your next job or earn the promotion/raise you have been working towards
If you don't yet have a master's degree, you may be interested in the Master of Science in Leadership and Learning with a concentration in Instructional Leadership, Training, and Development (ILTD).
Virtual Information Session
Attendees will have the opportunity to meet the program director and advisor to ask questions about our curriculum and admissions process. If you can't make it to the below date, you can request a recording of a past session.
Wednesday, April 5, 2023
6:00 p.m.
Register Now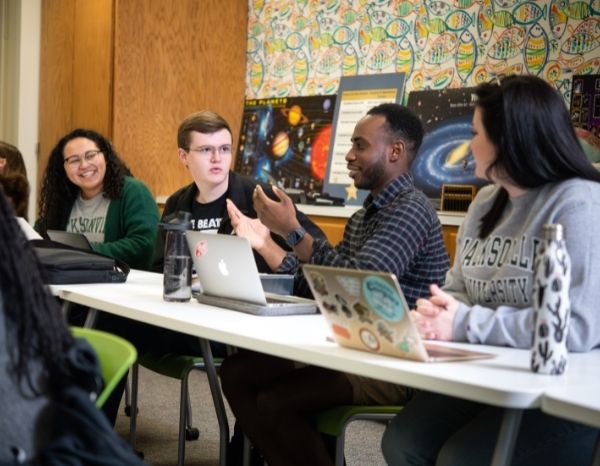 About Our Program
The Instructional Design certificate is only 12 credit hours and can be completed in eight months. Students in this program will be expected to complete the following courses:
EDL 563, Instructional Design 1: This foundational course takes a practical application approach to the systematic process of instructional design.
EDL 564, Instructional Design 2: Learning theories and strategies for learning germane to the knowledge base of instructional designers will be explored. (Prerequisite: EDL 563)
EDL 565, Instructional Design 3: Building on foundations of Instructional Design 1 and 2, this course will use case studies to extend learner knowledge and skill in instructional design with a focus on ID models, problem-solving of instructional design and human performance problems, and instructional design decision-making. (Prerequisite: EDL 564)
EDL 566, E-Learning Leadership: This course will center on designing, developing and leading e-learning programs and projects. In this course, learners will develop a culminating project for the Instructional Design certificate. (Prerequisite: EDL 565)
Instructional Design CertificateWho are Instructional Designers?
Instructional Designers are learning specialists who optimize the learning process for others whether it be in a traditional school setting, or from a Human Resources perspective in the workplace.
Our program emphasizes leadership, so you can stand out as an exceptional team leader as you move forward through your career.
Instructional design is the systematic process of creating learning experiences. Instructional designers are learning specialists and they know how to create learning that helps people gather information, retain information in the most optimal ways. Our program at Jacksonville University targets the population of working professionals adult learners. Those people who are established in their fields, who are looking to post into a new field, or those who are looking to get a credential to go along with the work experience that they have. Our four-course, 12-credit certificate consists of classes that are a blend of theory as well as real-world practical skill sets. In our very first class, we go through the systematic design of instruction. Everything that you need to know to know that the literature of the field of instructional design. But we sprinkle that with what also happens in the real world. Using some of those theories and skills that people out in industry and in educational environments are using.
Our second course is one that allows our learners to understand the learning process from both ends. Not only from the learning side but also the teaching side. Instructional designers are not teachers per se but you often work with those who provide instruction or you might be a person yourself who provides training experiences. It's good to understand the design of instruction from both sides and you'll get that in our program.
Our third class in the program is one that is our problem-solving class. Instructional designers are problem solvers. We get into a lot of case studies and really analyzing thinking through how to provide learning solutions to performance problems that organizations might face. This course is also where we get into the leadership aspects of instructional design and we'll learn practical skills like teamwork, project management, interviewing skills, and consultation skills.
And our fourth and final course is our e-learning leadership. You will actually develop an e-learning course module and it's something that will allow you to not only be able to say what you can do but you can show that as well. E-learning is booming pretty much everywhere and instructional designers are very much a part of that train and you will have a product to show your ability to work in instructional design.
One of the things that separates our program, that makes our program distinct I should say, is that we emphasize the leadership aspect of instructional design. You don't always find that but often when you have the leadership aspect it is the thing that sets you apart. Instructional designers work on teams and so when you have someone who knows how to run meetings, who knows how to deal with and establish groups and teams, handle team Dynamics, have those crucial conversations you have someone who is much more able who is even more prepared to work as an instructional designer so that is a part of our program. We believe in practical skills along with the theory, the real world relevance, and that is a part of what we will do in the certificate of instructional design.
How to Apply
The final deadline to submit your application and all accompanying materials is July 1.
Undergraduate degree, or higher, from a regionally accredited institution
Resume / Curriculum Vitae
2 Letters of Recommendation
Statement of Intent (250 words)
A GPA of 3.0 or higher
Request for Information
Loading...
Contact Information School of Social Sciences and Education
Phone: (904) 256-7000
Email: graduateadmissions@ju.edu
Quick Links