Graphic Design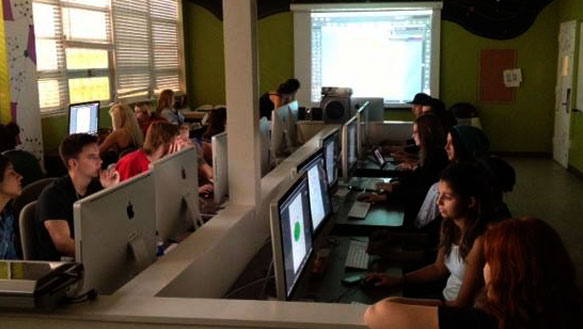 The Jacksonville University Division of Visual Arts is committed to providing comprehensive degree programs of professionalism and excellence. The programs of study seek to instill in students an understanding of the rich role of art in the human experience and to develop artistic capabilities and aesthetic sensitivity. The majors offered prepare students for entry into careers as professional artists, art educators, or for graduate study.
JU's faculty, with an impressive listing of artistic and scholarly achievements, are dedicated to the success of their students. From year one, students practice their craft amid professional venues, undergo yearly reviews with faculty, and as seniors, journey through senior year experience as a cohort with peers. Majors are considered professionals in training and as majors, students have access to studios and personal reflective spaces. Finding individual artistic voice is paramount no matter which studio concentration is chosen. Time in class and in the studio, is the key to understanding artistic intent.
The graphic design computer lab has 15 Mac OS late model workstations loaded with the most current Adobe Creative Cloud software.
Graphic Design's degree track is where students pursue excellence in conceptual problem solving, aesthetic principles, and digital production.
Download Visual Arts program fact sheet

All BFA Art majors will complete the following:
Required art fundamentals and art history core courses listed below.
A concentration of 36 credit hours from courses selected from the concentrations offered by the division.
---
MAJOR REQUIREMENTS

---

Art Fundamentals
Code

Course

Credit

ART 100
2-D Art Foundations
4
ART 101
3-D Art Foundations
4
ART 107
Drawing I
3
ART 209
Figure Drawing I
3
​ART 212
Foundations Seminar​
2​
ART 450WI
Senior Seminar I: The Emerging Artist

1

3
ART 451SI
Senior Seminar II: Visual Presentations

2

3
Subtotal:
22
1. Satisfies Core Curriculum writing-intensive course requirement for BFA Art majors.
2. Satisfies Core Curriculum speech-intensive course requirement for BFA Art majors.

Art History Core
| | | |
| --- | --- | --- |
| Code | Course | Credit |
| ARH 282 | Western Art to 1850 | 3 |
| ARH 382 | 20th Century Modern Art to Post-Modern Art | 3 |
| ARH xxx | Art History Elective | 3 |
| | Subtotal: | 9 |
Graphic Design Concentration
| | | |
| --- | --- | --- |
| Code | Course | Credit |
| ART 205 | Introduction to Digital Photography | 4 |
| ​ART 254 | Digital Art​ | 3​ |
| ART 255 | Typography | 3 |
| ART 263 | Web Design | 3 |
| ART 318 | Photographic Printmaking Processes | 4 |
| ​ART 360 | ​Graphic Design | 3​ |
| ART 361 | Graphic Studio | 3 |
| ​ART 362 | Mobile Design​ | 3​ |
| ​ART 363 | Portfolio: Graphic Design | 3 |
| ART 490 | Art Internship (minimum requirement is 4hours; | 4 |
| | maximum is 12 hours credit) | |
| ​FVA 363 | Time-Based Art | 3 |