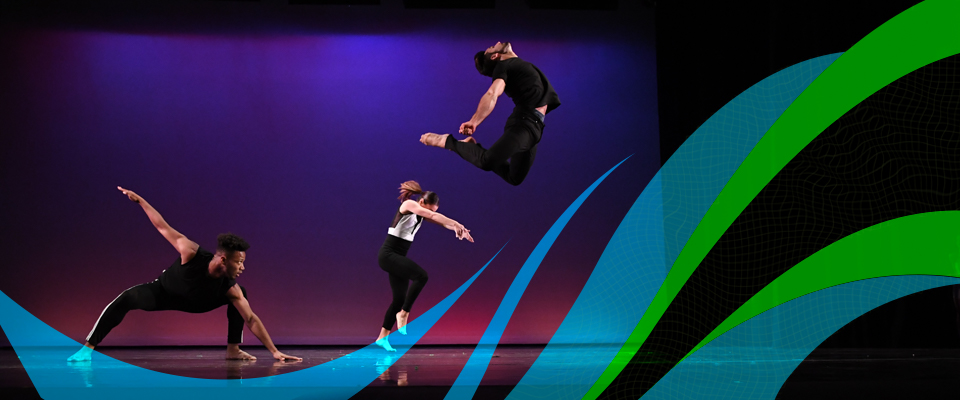 Performing Arts Series
Subscribe to the Linda Berry Stein College of Fine Arts YouTube channel to experience our virtual Performing Arts Series events. For the latest updates and news, follow us on social media and email LBSCFA@ju.edu to join the Linda Berry Stein College of Fine Arts electronic mailing list.
View the complete Winter & Spring 2021 Performing Arts Series.
Winter & Spring 2021 Performing Arts Series
Virtual Exhibitions
Virtual Events Schedule
DECEMBER 2020
In an exploration of invention and creativity Jacksonville University Dance will present their annual dance concert filled with faculty works and nationally recognized guest choreographers. From process to product each piece will examine movement from the limitations of distancing set on our current dance students. Join us as we connect in new ways!
Friday, December 11 at 7:30 PM
The Holiday Prism
The Jacksonville University Department of Music presents a prism concert showcasing soloists and ensembles from across our areas of study. Jazz, winds, choirs, and small ensembles combine and contrast in a kaleidoscope of holiday music.
Saturday, December 19 at 7:30 PM
Sunday, December 20 at 7:30 PM
JANUARY
Welcome to Florida envisions a welcome center at the Florida-Georgia border in 2121, after rising sea levels and violent storms have erased most of the peninsula. Through video, artist books, and found ephemera, the artist illustrates a sensation that permeates this current moment - feeling nostalgic for the right now.
and
Lizzy Taber: Gradients
Gradients explores the intersection of art and science. Lizzy Taber is a Florida-based artist with an emphasis on marine ecology. Taber uses brightly colored abstraction to create data visualizations and intuitive responses to gradients found in oceanic research. The thought-provoking results transform statistics into artistic structures.
Thursday, January 28 through Wednesday, February 24
FEBRUARY
New music advocate Andrea Cheeseman will be performing works for clarinet and electronics from her album, Somewhere.
Thursday, February 4 at 7:30 PM
Visiting Artist: Jesse Thompson
Jesse Thompson works in reportage illustration and narrative sculpture. He teaches drawing foundations and animation at the Nanyang Technological University's Art Design and Media program in Singapore. His recent Hung Out to Dry in Vietnam, a series of 8.5' x 24' ink drawings, scored Best In Show by the Cambridge Art Association. He exhibits internationally and his work hangs in collections worldwide.
Tuesday, February 16 from 9:00 AM - 10:00 AM
Visiting Artist: Kourtney Stone
Kourtney is a mixed media sculptor with a figurative ceramic leaning. Her most current work examines the psychology of memory, perception, and the passage of time through the lens of relationships. The information, figures, and objects are all presented with differing levels of clarity represented through the employ of materials like wax, resin, glass, ceramics, and found objects. Currently, Kourtney is an MFA candidate at Georgia State University.
Thursday, February 18 from 9:00 AM - 5:00 PM
Voice majors display their talents in musical theater and classical repertoire.
Friday, February 19 at Noon
The Jacksonville University Orchestra celebrates the talent of its student artists in a program of orchestral favorites, featuring the winners of the 2021 Concerto Competition.
Tuesday, February 23 at 7:30 PM
Conductor, Composer and Vocalist Fahad Siadat will join Jacksonville University's choirs to present a concert of exciting new music. Fahad founded the music publishing company See-a-dot Music and the Los Angeles's collective for choral music C3LA and will lead workshops for students of conducting, composition and vocal performance. In addition to extensive accolades as a conductor and composer, Fahad Siadat is an expert in extended vocal techniques and has founded his own music publishing company. The Jacksonville University's choirs will join Siadat for an evening of provocative collaboration.
Friday, February 27 at 7:30 PM
MARCH
The piano studio of Dr. Scott Watkins and cello studio of Dr. Shannon Lockwood present a concert featuring J. S. Bach's Inventions and Sinfonias and Vivaldi's Sonatas for cello and keyboard, all performed on the Markham Harpsichord.
Tuesday, March 2 at 7:30 PM
The Student Honors Recitals feature outstanding musicians nominated by their professors in recognition of distinguished performance.
Thursday, March 4 at 7:30 PM
Leslie Robison and Jason Schwab: What a Man, What a Man
What a Man, What a Man interrogates the structures of patriarchy, idealized archetypes of masculinity, and their current manifestation within our culture. Through their photography and sculptural, mixed-media work, Leslie Robison and Jason Schwab combine subtlety and aggression to offer new perspectives on these archaic narratives.
Thursday, March 4 through Wednesday, March 24
The Department of Theatre presents its Festival of Student Work, featuring the work of students in acting, directing, song, dance, and improvisation. Works will highlight student contributions and leadership at every level of the theatrical process.
Thursday, March 4 through Saturday, March 6 at 7:30 PM
Classic percussion ensemble music by John Cage, Matthias Schmitt, and Terry Riley.
Saturday, March 6 at 7:30 PM
Join us for the New Music in Spring Concert featuring works recently composed by Jacksonville University faculty and students.
Tuesday, March 9 at 7:30 PM
Lunch Music: Jazz Combos
The Jacksonville University Jazz Combo 1 features top scholarship Jazz and Commercial performance majors in a lunchtime concert of challenging and exciting repertoire.
Wednesday, March 10 at Noon
An evening featuring the wind faculty of Jacksonville University and music from the great composers of wind repertoire.
Thursday, March 11 at 7:30 PM
Join us to celebrate Beethoven's 250th birthday with two of the composer's most important chamber works: Ghost and Archduke Trios. Marguerite Richardson, violin – Shannon Lockwood, violoncello – Scott Watkins, piano.
Tuesday, March 16 at 7:30 PM
Music majors perform music by female composers and poets in honor of Women's History Month.
Tuesday, March 23 at 6:30 PM
To kick off the JU Week of Jazz, join the JUJO for an exciting evening of big band, featuring the glory and majesty of the Count Basie Orchestra.
Thursday, March 25 at 7:30 PM
The Jacksonville University's Jazz Combos will perform original arrangements and projects, creating an intimate evening fashioned to the best listening rooms on the caliber of the New York scene. Focusing on iconic small groups in the rich history of jazz that advanced the musical language of the greatest American artform, this concert concentrates on the nuance and sophistication that can only exist in its finest through chamber jazz.
Friday, March 26 at 7:30 PM
The Jacksonville University Jazz Festival
Now our third annual middle and high school jazz festival, this event has become a much-anticipated highlight of Jacksonville University Jazz Week, offering opportunities for local jazz bands to perform and learn from clinicians. This event will feature performances by the JU Jazz Combo I and the JU Jazz Orchestra.
Saturday, March 27 from 9:00 AM - 9:00 PM - Cancelled
Take a trip to the sultry city of Aranjuez in central Spain as JU faculty member Dr. Brian Luckett joins the Jacksonville University Camerata in a performance of Joaquin Rodrigo's beloved Concierto de Aranjuez for classical guitar and orchestra.
Tuesday, March 30 at 7:30 PM
Visiting Artist: Angela Dominguez
Through HarperCollins, Virginia Center of the Book, and Scholastic, Angela has written and illustrated over 15 books for children, many of them are dual language books that help children learn Spanish. Her debut middle grade novel, Stella Díaz Has Something To Say, was a New York Public Library and a Chicago Public Library pick for Best Books for Kids in 2018, Sid Fleischman Award winner, and an ALA Notable. She is also a two-time recipient of Pura Belpré Illustration Honor. Angela visits grade schools all around the country to read from her books to young students, and also teaches at the Academy of Art University, which honored her with their Distinguished Alumni Award in 2013.
Monday, March 31 from 10:30 AM - 11:30 AM
APRIL
Percussion Faculty Concert
Enjoy a fun-filled hour of popular music for the American Songbook and the xylophone. Professor Tony Steve will be joined by BERT Quartet: Boril Ivanov - Piano, Ernie Ealum - Bass, and Ricky Kirkland - Drums. This evening will also be the release date of Professor Steve's EP of the pieces played at the concert.
Thursday, April 1 at 7:30 PM
From trios to quintets, enjoy an evening of chamber music performed by Jacksonville University student groups, including the Honors chamber ensembles.
Friday, April 2 at 7:30 PM
School of Art & Design: Annual Thesis Exhibition
The graduating seniors in the School of Art & Design will exhibit their Senior Thesis projects in this annual exhibition. A variety of media will be represented, including 2-dimensional artworks, design displays with commercial applications, 3-dimensional sculptural representations and installations, animated shorts, and film productions.
Thursday, April 8 through Monday, May 3
Secret Garden
This enchanting classic of children's literature is reimagined in brilliant musical style by composer Lucy Simon and Marsha Norman, the Pulitzer Prize-winning playwright of 'Night Mother. Orphaned in India, 11 year-old Mary Lennox returns to Yorkshire to live with her embittered, reclusive uncle Archibald and his invalid son Colin. The estate's many wonders include a magic garden which beckons the children with haunting melodies and the "Dreamers," spirits from Mary's past who guide her through her new life, dramatizing The Secret Garden's compelling tale of forgiveness and renewal. Presented in concert style. Directed by Adrian Sanchez. Music Direction by Benjamin Beck.
April 8, 9, 10 at 7:30 PM
Jacksonville Children's Chorus Workshop
Jacksonville University Choirs in partnership with the Jacksonville Children's Chorus host the First Coast Honors Choir Festival featuring clinicians Robyn Reeves Lana and Barbara Sletto. Middle and high school students from across the region will join together for a day of song culminating in a combined virtual performance.
Friday, April 9 at 4:00 PM
Bassoon Day
Reed masterclasses and ensembles for bassoonists (and bassoon-lovers) of all ages and abilities.
Saturday, April 10 from 9:00 AM - Noon
The Jacksonville University Wind Ensemble will present a program that explores various iterations of the concept of fluidity. Nautical themes, liquid states, and the fluidity of life and mind will be represented in music by Robert Russell Bennet, Jay Bocook, Kazuhiro Morita, and others.
Sunday, April 11 at 3:00 PM
Music of the Edison Era – Rags, and more rags! Join us outside of the lower level Phillips Fine Arts percussion studio. Bring chairs and sit in the shade of the oak tree with your lunch.
Wednesday, April 14 at Noon
Visiting Artist: Scott Bakal
Scott Bakal is an educator and illustrator whose client list includes New York Times, Rolling Stone, Wall Street Journal, The Washington Post, The Boston Globe, Variety, Family Circle, O Magazine (Oprah), Smithsonian, Scientific American, as well over 100 other publications and media. His work hangs in the permanent collections of the Norman Rockwell Museum, the Museum of American Illustration, New Britain Museum of American Art, and National Museum of the United States Air Force. Scott has won most of the major American illustration awards including Gold and Silver medals from the Society of Illustrators of New York, the Society of Illustrators of Los Angeles, Creative Quarterly, and Communication Arts, and has received the honor of being published as one of the 200 Best Illustrators Worldwide by Luerzer's Archive. As Associate Professor at the Massachusetts College of Art & Design, his students have won many awards. In 2010, he was honored to receive the Artist/Educator of the Year by 3×3 Magazine.
Thursday, April 15 from 10:00 AM - 11:00 AM
The Paul and Linda Kahn Foundation focuses on projects in the fields of History, Education, the Arts, and Religion. A music award was first established through the efforts of its arts director, Louise McClure. The McClure Music Performance Award features the winner of a skill-based performance competition open to Jacksonville University junior and senior music majors.
Sunday, April 18 at 3:00 PM - Postponed
Come enjoy the talent and musicianship of the violin and viola students in the studio of Dr. Marguerite Richardson as they perform in their annual showcase concert.
Sunday, April 18 at 7:30 PM
First Coast Wind Symphony "Family Concert"
This concert of music for all ages will feature two unlikely concerto instruments. FCWS principal trombonist Bill Hazlett will perform his own arrangement of the Georg Wagenseil Concerto for Alto Trombone. 2020 FCWS Concerto Competition winner Sam Watson will perform the Mozart Bassoon Concerto. The program will also feature some of our small groups in concert.
Sunday, April 25 at 3:00 PM
As the countdown to summer winds to a close, Jacksonville University's choral ensembles present a timely program of temporal classics. Share a few minutes with us as we celebrate life's most valuable commodity: time.
Tuesday, April 27 at 7:30 PM
Fiat Lux Film Festival
This end-of-the-year film festival is a celebration of hard work put forth by Media Art students. Projects range from introductory through intermediate to advanced and thesis-level cinematic storytelling from the 2020-21 academic year as well as select films from the 2019-20 academic year. Also included are awards selected by an international jury and a Q&A with selected filmmakers.
Friday, April 30 from 4:00 PM - 9:00 PM
Infinitus explores love in the 21st century. In this one-of-a-kind ensemble, student conductors, composers, and singers work collaboratively to present the music of our time.
Friday, April 30 at 7:30 PM
MAY
Composed in 1893 and premiered just nine days before his death, Tchaikovsky's Symphony No. 6 in B minor, Pathétique, is known for its soaring melodies and emotional impact. The passion of French Romantic music opens the concert in a performance of Saint-Saëns' Cello Concerto in A minor, featuring Jacksonville University faculty member Dr. Shannon Lockwood as soloist.
Saturday, May 1 at 7:30 PM
Sunday, May 2 at 6:00 PM at St. Augustine Catholic Church, St. Augustine
For this series of performances, Jacksonville University Dance will push the boundaries of contemporary choreography with original works produced for the public by our senior class. You don't want to miss this evening of cutting edge choreography and exciting electrifying dance. Join us as we celebrate the Jacksonville University Dance graduating class of 2021!
Saturday, May 1 at 2:00 PM and 6:00 PM
Sunday, May 2 at 2:00 PM
Digital Release: May 8th
This final honors recital features outstanding seniors nominated by their professors in recognition of distinguished performance.
Tuesday, May 4 at 7:30 PM
Swing into Spring with Jacksonville University's vocal jazz ensemble The RiverTones at the 4th Annual SpringSing! In celebration of female songwriters and performers.
Wednesday, May 5 at 7:30 PM