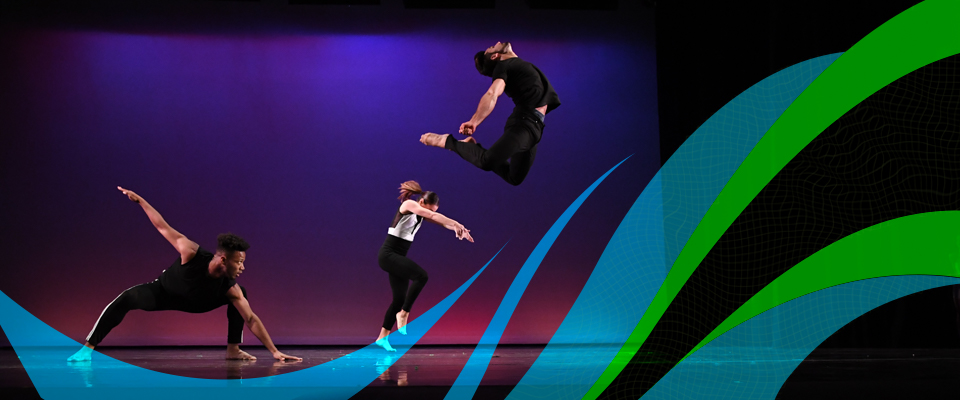 Performing Arts Series
Subscribe to the Linda Berry Stein College of Fine Arts YouTube channel to experience our virtual Performing Arts Series events. For the latest updates and news, follow us on social media and email LBSCFA@ju.edu to join the Linda Berry Stein College of Fine Arts electronic mailing list.
View Creative Current, the Alumni Magazine of the Linda Berry Stein College of Fine Arts.
View the complete Summer & Fall 2020 Performing Arts Series.
Summer & Fall 2020 Performing Arts Series
Virtual Exhibitions
Annual Student Juried Exhibition
Virtual Events Schedule
JULY
MFA: In The Works Online
Ken Huff is showing recent works of Photo haiku from eight years in Singapore and Recently found frames from never-to-be-found films. Jessie Leasure's works use the figure and portraits to convey emotional components of life. Ronda Peck's ceramics are a means to dissect her creative process. Each candidate brings a distinctive approach to their medium and expression.
Thursday, July 23
#JUMFAintheworks
AUGUST
School of Art & Design Faculty Biennial Exhibition
A variety of media and styles will be exhibited by the Jacksonville University School of Art & Design faculty. Work presented will include paintings, illustrations, photography, ceramics, sculpture, glass, and computer-generated works.
Thursday, August 20 through Monday, October 12
SEPTEMBER
A lecture recital presentation of Beethoven Opus 27 no. 1 and Opus 26.
Tuesday, September 1 at 7:30 PM
You are cordially invited to A Musical Soiree featuring the Jacksonville University vocal jazz ensemble, The RiverTones and special guests!
Thursday, September 3 at 7:30 PM
Join us for the annual Faculty Music Showcase featuring the broad-ranging talents of our distinguished faculty of artist-teachers performing from Terry Concert Hall.
Friday, September 11 at 7:30 PM
The Jacksonville University Jazz Faculty Concert
The Jacksonville University Jazz Faculty come together to perform their yearly concert in Terry Concert Hall, highlighting compositions and arrangements by each of the faculty members. Join us for an evening of world-class talent in jazz performance.
Tuesday, September 22 at 7:30 PM
OCTOBER
Diastole: Songs for Inspiration in Turbulent Times
"Diastole" refers to the natural resting phase of the heart in a cardiac cycle. The title reflects on the spirit of this cabaret, which is soaked in the creative exploration of the human experience as it relates to medical situations in the canon of musical theatre. As the title suggests, Diastole: Songs for Inspiration in Turbulent Times, offers the audience a chance to reflect on the history through which we are currently living. This all-digital production will be produced by Kennedy Center American College Theatre Festival award winning directors Erik DeCicco and Jay Ivey, and will be delivered to the audience virtually in the spirit of safety and continued artistic expression. It will feature show tunes from popular and unique productions like Next to Normal, The Who's Tommy, A New Brain, and more! The cabaret will air digitally October 2nd, 3rd, and 4th.
Friday, October 2 at 7:30 PM
Saturday, October 3 at 7:30 PM
Sunday, October 4th at 3:00 PM
Lunch Music with the Jacksonville University Singers
The University Singers present a virtual concert of solo and chamber vocal music. From Madrigals to Brahms, tune in for some of choral music's greatest hits!
Wednesday, October 7 at Noon
Senior Spotlight
The School of Art & Design is honored to present the student work from the 2020 Annual Thesis Exhibition. The Senior Spotlight is an online showcase that celebrates the achievements of the seniors from the class of 2020.
Thursday, October 8 through Wednesday, November 18
"Decisions"
Life or death, left or right, love or leave, umbrella or impromptu dancing in the rain? Life is full of choices. Join the Jacksonville University Choirs for an evening exploring some of life's most pressing questions.
Saturday, October 10 at 7:30 PM
The Jacksonville University Camerata: Bach and More!
Join us for the inaugural concert of the Jacksonville University Camerata, a chamber orchestra of students and faculty playing a wide range of repertoire. Featured in the opening concert will be works by Bach and Haydn.
Tuesday, October 13 at 7:30 PM
Percussion Ensemble
Duos at a Distance.
Saturday, October 17 at 7:30 PM
Black Voices Matter
So much beautiful music and poetry composed by people of color has been sidelined by history. This concert continues the long process of righting this injustice by highlighting classic works by William Grant Still, Florence Price, Jon Hendricks, and Billie Holiday alongside living artists including Joel Thompson, Rosephanye Powell, and Beyonce.
Thursday, October 29 at 7:30 PM
Annual Student Juried Exhibition
Always a favorite among participants and viewers, this juried showcase features undergraduate student work that is a reflection of the contemporary pulse in art making of Northeast Florida. The eclectic exhibition consists of a variety of media, including animation, ceramics, computer generated images, drawings, film, glass art, graphic design, paintings, photographs, prints, and sculpture. Awards are given for outstanding work.
Thursday, October 29 through November 18
Nosferatu: An Annual Halloween Tradition with the Jacksonville University Percussion Ensemble
Professor Tony Steve (Percussion) and alumnus Bob Moore (Piano-Keyboard) perform an original score to "Nosferatu"-the original vampire movie of 1922 directed by F.W. Murnau - which brings to life (sort of) the story of Count Orlok. A perfect way to spend All Hallows' Eve - at home with family enjoying this classic production. The presentation will be a stream of a pre-recorded performance.
Saturday, October 31 at 7:30 PM
NOVEMBER
Jacksonville University Chamber Ensembles
Chamber music performances by Jacksonville U student groups, including the Honors chamber ensembles.
Tuesday, November 3 at 7:30 PM
Electro Acoustic Barn Dance
The Department of Music at Jacksonville University is pleased to sponsor the Tenth Annual Electroacoustic Barn Dance, a three-day festival of music and art.
Thursday, November 5 through Saturday, November 7
Collaboration
Jacksonville University's newest choral ensemble presents their inaugural concert following a semester of collaboration, based on the model of C4: The Choral Composer/Conductor Collective. Functioning without a single artistic director, the ensemble makes decisions by consensus and performs music written in the past 25 years--much of it composed by members of the group. You might be wondering about the ensemble's name; they'll let you know as soon as they've chosen it.
Sunday, November 8 at 3:00 PM
New Music at Jacksonville University - Fall Concert
Join us for the New Music in Fall Concert featuring works recently composed by our faculty and students.
Sunday, November 8 at 7:30 PM
The Kinne Trio-Beethoven
Join us to celebrate Beethoven's 250th birthday with two of the composer's most important chamber works: Ghost and Archduke Trios. Marguerite Richardson, violin – Shannon Lockwood, violoncello – Scott Watkins, piano.
Tuesday, November 10 at 7:30 PM
The Jacksonville University Jazz Combos & Jazz Orchestra in Concert: Thriller Nights
Join the Jacksonville University Jazz Orchestra with the university chamber jazz ensembles for a"thrilling" Friday the 13th evening sure to offer a few surprises! This yearly event from the Terry Concert Hall stage features a wide range of ensemble styles, interesting twists on familiar fare, and celebration of jazz heritage of the American standard song. Support the jazz ensembles and swing out with us!
Friday, November 13 at 7:30 PM
Beethoven's Birthday Celebration
Come celebrate Beethoven's 250th Birthday with the Jacksonville University Orchestra! Featured will be Beethoven's Piano Concerto No. 4, opus 58, with Scott Watkins at the piano.
Saturday, November 14 at 7:30 PM
Jacksonville University Music Honors Recital
The Student Honors Recitals feature outstanding musicians nominated by their professors in recognition of distinguished performance.
Sunday, November 15 at 7:30 PM
Gift of the Magni: A Joint Recital
Adjunct faculty members Brian and Stephanie Magnus present a recital featuring the bassoon and cello.
Wednesday, November 18 at 7:30 PM
Lunch Music with the Jacksonville University Chamber Strings
Jacksonville University's string chamber ensembles, under the director of Dr. Marguerite Richardson, Dr. Shannon Lockwood, and Mr. Brian Magnus perform favorites of the chamber music repertoire.
Thursday, November 19 at Noon
Prologue and Present Time – Jacksonville University Wind Ensemble
The Jacksonville University Wind Ensemble will present a program juxtaposing early and contemporary works for band. The first half will include some of the earliest compositions for "military band" including the work of John Phillip Sousa and Gustav Holst's original 1911 orchestrion of his "2nd Suite in F". The second half will include Vince Oliver's "Press Play" for band and electronics and will be highlighted by the premier of "Concerto for Alto Saxophone and Wind Ensemble" by Daniel Fulmer and featuring guest artist Patrick Meighan.
Friday, November 20 at 3:00 PM
DECEMBER
Fall Dance Concert
In an exploration of invention and creativity Jacksonville University Dance will present their annual dance concert filled with faculty works and nationally recognized guest choreographers. From process to product each piece will examine movement from the limitations of distancing set on our current dance students. Join us as we connect in new ways!
Friday, December 11 at 7:30 PM
The Romantic Beethoven - Scott Watkins, Piano
Ludwig van Beethoven was born this day in 1770. Dr. Watkins presents a program featuring the composer's beloved Moonlight Sonata. Also included are the Andante Favori, and the Sonata in E minor, Op. 90.
Wednesday, December 16 at 7:30 PM
The Holiday Prism
The Jacksonville University Department of Music presents a prism concert showcasing soloists and ensembles from across our areas of study. Jazz, winds, choirs, and small ensembles combine and contrast in a kaleidoscope of holiday music.
Saturday, December 19 at 7:30 PM
Sunday, December 20 at 7:30 PM