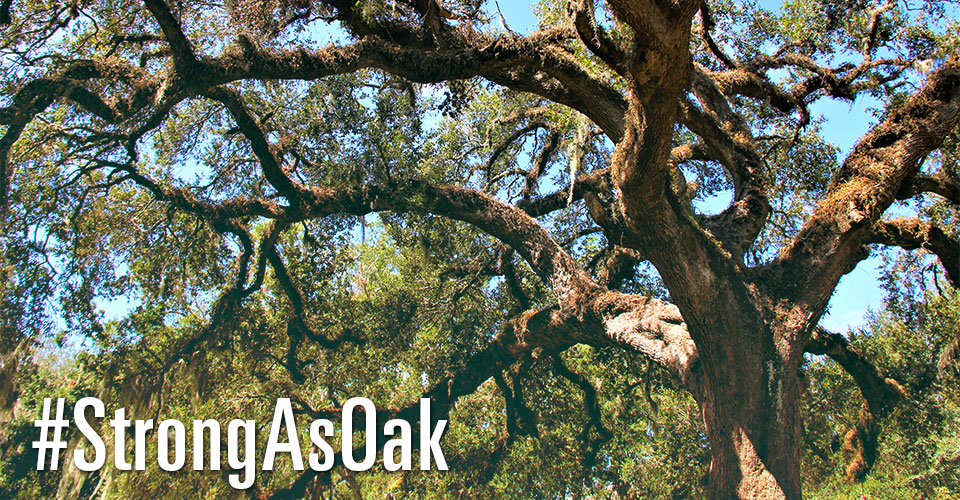 We are #StrongAsOak
Since Hurricane Irma, many of you have asked how you can help Jacksonville University. To answer your question – you can help by giving. While our academic and residential buildings have survived in good order, we suffered substantial damage to several of our athletic facilities and our iconic tree canopy endured the impacts of two hurricanes in as many years.
The Damage
We experienced upwards of $1 million in damages.
We have lost more than 40 mature oak trees between the two catastrophic weather events, but our losses could have been much more. We routinely invest in the professional care and maintenance of our trees for the safety and beauty of our community and these efforts helped limit our damages. Additional investment will be required to replenish the funds needed for the continued care and restoration of these massive trees.
Several athletics facilities suffered damage that will require the relocation of one or more of our teams to off-campus facilities. The tornado spun from Irma damaged the perimeter of D.B. Milne field and struck the roof of Historic Swisher Gym, causing massive flooding to our newly renovated playing surface. The beautiful Negaard Rowing Center suffered extensive flooding, with almost a foot of water throughout the first floor.
Insurance will help, but it cannot restore the momentum we have built in improving our campus for the past four years.
How You Can Help
Together with the help of the JU Family, we can restore our beautiful campus and safeguard our facilities for the future. We have established the Hurricane Restoration and Preparedness Fund, which will help us immediately this year, and in future years as disasters strike.
We are humbled that an anonymous donor has pledged to match gifts, dollar for dollar, up to $100,000 for this important effort. Let's rise to the challenge and ensure we are forever #StrongAsOak.
Our Hearts Are Full
Thank you for standing with us through the storm. We cannot overstate our appreciation for your thoughts, prayers, and support, both for our community and for our campus.
Thank you for entrusting us with the care and safety of your children, your families, your campus, your alma mater.
Dolphins in the Community
The Need for Help
For some of us, it feels like a lifetime since Hurricane Irma made landfall in Florida, something we've moved past and look back on as a surreal interruption to our day-to-day life. For others, the effects of the storm are ongoing in the form of lingering debris, increased stress, damaged property, and even lost loved ones.
Our thoughts are with the many people in our community who've been affected by Hurricane Irma, including thousands of alumni, parents and students in the state of Florida and throughout the southeastern United States and the Caribbean.
We urge you to help our neighbors. Volunteer to participate in cleanup efforts. If you're in the area impacted by Irma, consider giving blood. The most helpful thing you can do is make a donation to a reputable charity like the United Way, the American Red Cross, the American Society for the Prevention of Cruelty to Animals, and many others.