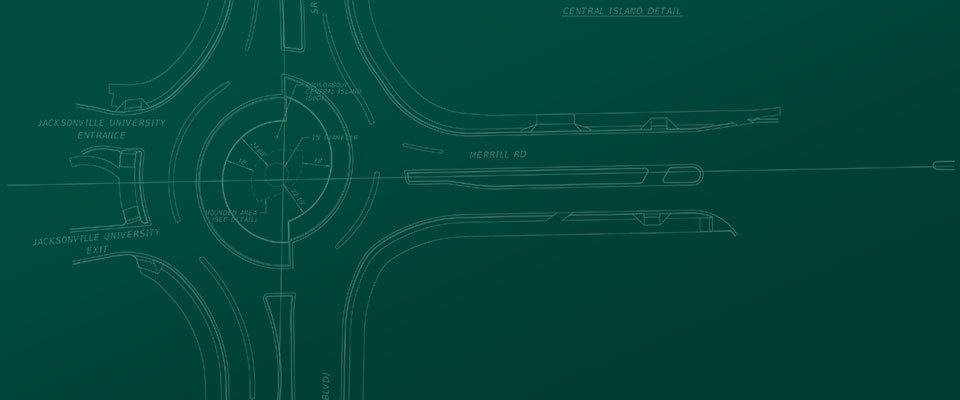 Roundabout Art Project
Jacksonville University and the Cultural Council of Greater Jacksonville seek an artist or artist-team to design, fabricate, and install a large scale, dynamic, site-specific artwork for a newly constructed roundabout. Located at the intersection of University Boulevard and Merrill Road in Jacksonville, Florida, also the location of the main entrance to the JU campus, the primary goal of this roundabout public art piece is to serve as a landmark for the Arlington neighborhood.
The community of Arlington is a historic area of Jacksonville that seeks to enhance its livability, business environment, and infrastructure through the Renew Arlington initiative. Renew Arlington encompasses Economic Development, Community Engagement, and Neighborhood/Infrastructure Enhancement as part of this community renaissance. A key element of this initiative is the Complete Streets Program that enables safe, convenient, and comfortable travel and access for users of all ages and abilities regardless of their mode of transportation. Complete Streets for Arlington includes upgrades to the University Boulevard and Merrill Road corridors. The creation of the roundabout alters the traffic flow for both safety and aesthetics.
Jacksonville's people are diverse, and we value working with artists who can incorporate the community's cultural and ethnic identities into public art. The project will involve working with professionals from different backgrounds, including city engineers, public safety officials, and university officials. The Cultural Council and JU may also host meetings with the community to gauge interest and support of finalist designs. Integrity of materials and fabrication should be warranted against defects for one year after installation. Monthly progress reports, with images, will be expected. Upon completion of the sculpture, the City of Jacksonville and JU will retain rights for the purpose of creating reproductions.
Meet the Finalists
Jacksonville University and the Cultural Council of Greater Jacksonville is pleased to announce the three finalists for the Roundabout Art Project.
Join us as the artists meet members of the community in three upcoming 45-minute Open Forum sessions held at the Frisch Welcome Center at Jacksonville University:
Jim Benedict + Lily Kuonen, Jacksonville, FL
Thursday, May 9, 2019, at 11:00 a.m.
Jim Galucci, Greensboro, NC
Thursday, May 9, 2019, at 4:00 p.m.
Shan Shan Sheng, San Francisco, CA
Friday, May 10, 2019, at 4:00 p.m.