LECOM at Jacksonville University
Coming to Northeast FloridaFirst Four-Year Medical School
Through an innovative new partnership, Jacksonville University (JU) and Lake Erie College of Osteopathic Medicine (LECOM), the nation's largest medical college and osteopathic academic health system, are opening the region's first four-year medical school located at JU's Arlington campus, "LECOM at Jacksonville University".
LECOM is a leader in student-centered innovation and medical innovation that produces more primary care physicians than any other U.S. medical school, as recognized by U.S. News & World Report. LECOM also offers the lowest tuition among private U.S. medical schools, as recognized by U.S. News & World Report.
This medical school is supported by clinical agreements with the region's preeminent healthcare providers, including Baptist Health, Flagler Health+, AdventHealth, HCA Florida Memorial Hospital, Brooks Rehabilitation, and others.

APPLICATIONS
Applications to the Doctor of Osteopathic Medicine program ahead of the inaugural LECOM at Jacksonville University class which is expected to begin in 2026.
questions?
Visit our Frequently Asked Questions page to learn more about LECOM at Jacksonville University.
To contact LECOM directly, please visit their website.
Jacksonville University Medical Mall
LECOM at Jacksonville University joins four other locations around the country, including Bradenton, FL, Elmira, NY, Greensburg, PA, and the original site in Erie, PA. This facility will build upon Jacksonville University's established Medical Mall at the north end of the Arlington campus. The Medical Mall is currently home to University's 104,000-square-foot Health Sciences Complex and its School of Orthodontics Clinic; Jacksonville University's Occupational Therapy teaching facility for immersive clinical training; and the 146-bed skilled nursing and rehabilitation facility, Dolphin Pointe Health Care.
Why osteopathic medicine?Treating the whole patient
Osteopathic medicine is one of the fastest growing healthcare professions built on the philosophy that physicians should take a total-person approach to healthcare encompassing the mind, body, and spirit of the patient. It takes a holistic approach to healthcare that focuses on health promotion and disease prevention.
According to the Osteopathic Medical Profession Report, the number of osteopathic physicians in the U.S. climbed to nearly 135,000 in 2021. Today, more than 25 percent of medical students in the U.S. are training to be osteopathic physicians.
Still, the nation faces a critical physician workforce shortage. According to a report by the Association of American Medical Colleges (AAMC), only 32 percent of Florida's population has adequate primary care, and nearly half of primary care physicians are expected to retire in the next 15 to 20 years.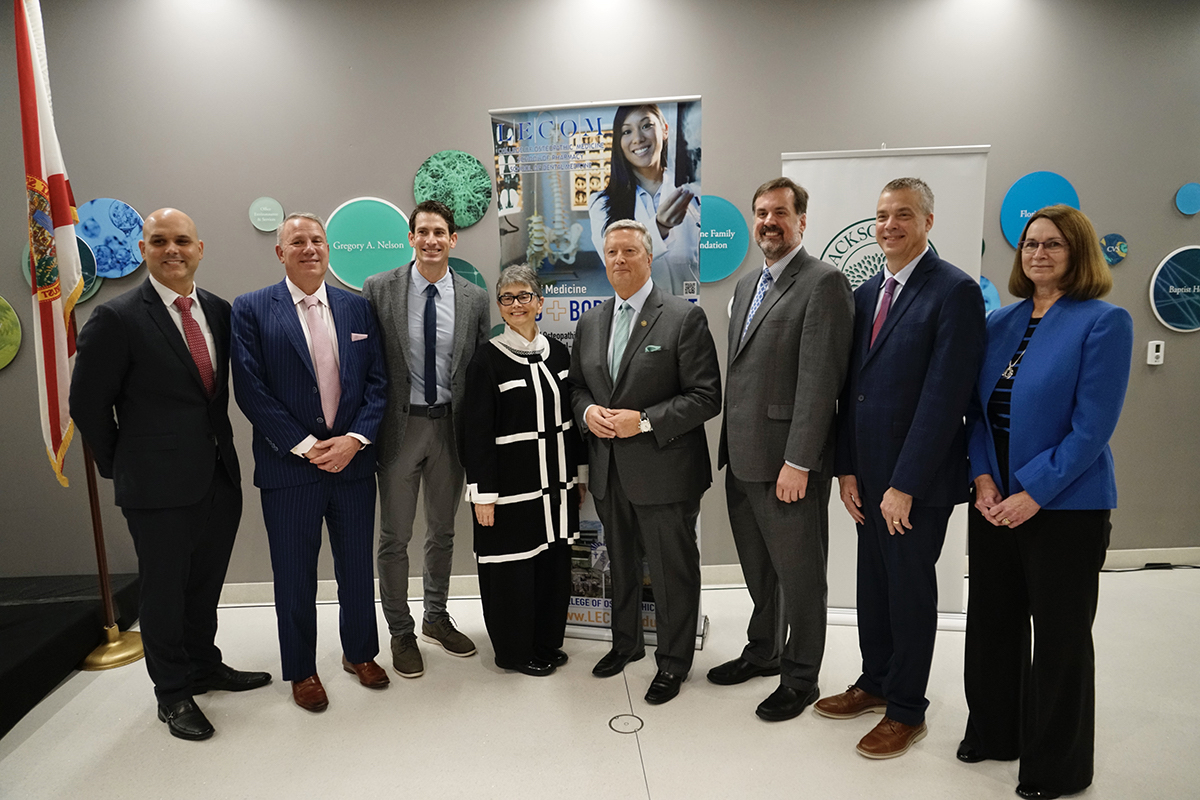 "With the addition of LECOM at Jacksonville University, we expect to be a thriving home for medical students, faculty and staff, all of whom will need places to study, live, eat and socialize and that will drive economic growth in the surrounding area."
Support the Medical Mall
We are fortunate to have the continued support of our community and donors. Your gift today will help us improve campus resources and support students and faculty within the Medical Mall at Jacksonville University.
Contact Us
Lake Erie College of Osteopathic Medicine
1858 West Grandview Blvd
Erie, PA 16509
(814) 860-5125
Contact Information LECOM at Jacksonville University
1858 West Grandview Blvd., Erie, PA 16509
Quick Links