This spring, Jacksonville University's vocal ensembles, University Singers and Infinitus traveled to New York to perform in iconic venues with other leading vocal groups.
The University Singers, known for their JU-green scarves and ties, performed at the stunning St. Patrick's Cathedral in New York City, which attracts thousands of visitors every year. The concert, titled "THIS Day," celebrated the life and legacy of Dr. Frances Bartlett Kinne.
"The University Singers worked diligently to prepare for this opportunity. St. Patrick's Cathedral is one of the best acoustics in the country, and performing there is a great privilege. We love any opportunity we have to collaborate with JU alum and Director of Music at St. Patrick's Cathedral, Dr. Jennifer Pascual," added Dr. Julian Bryson, Director of Choral Activities at Jacksonville University.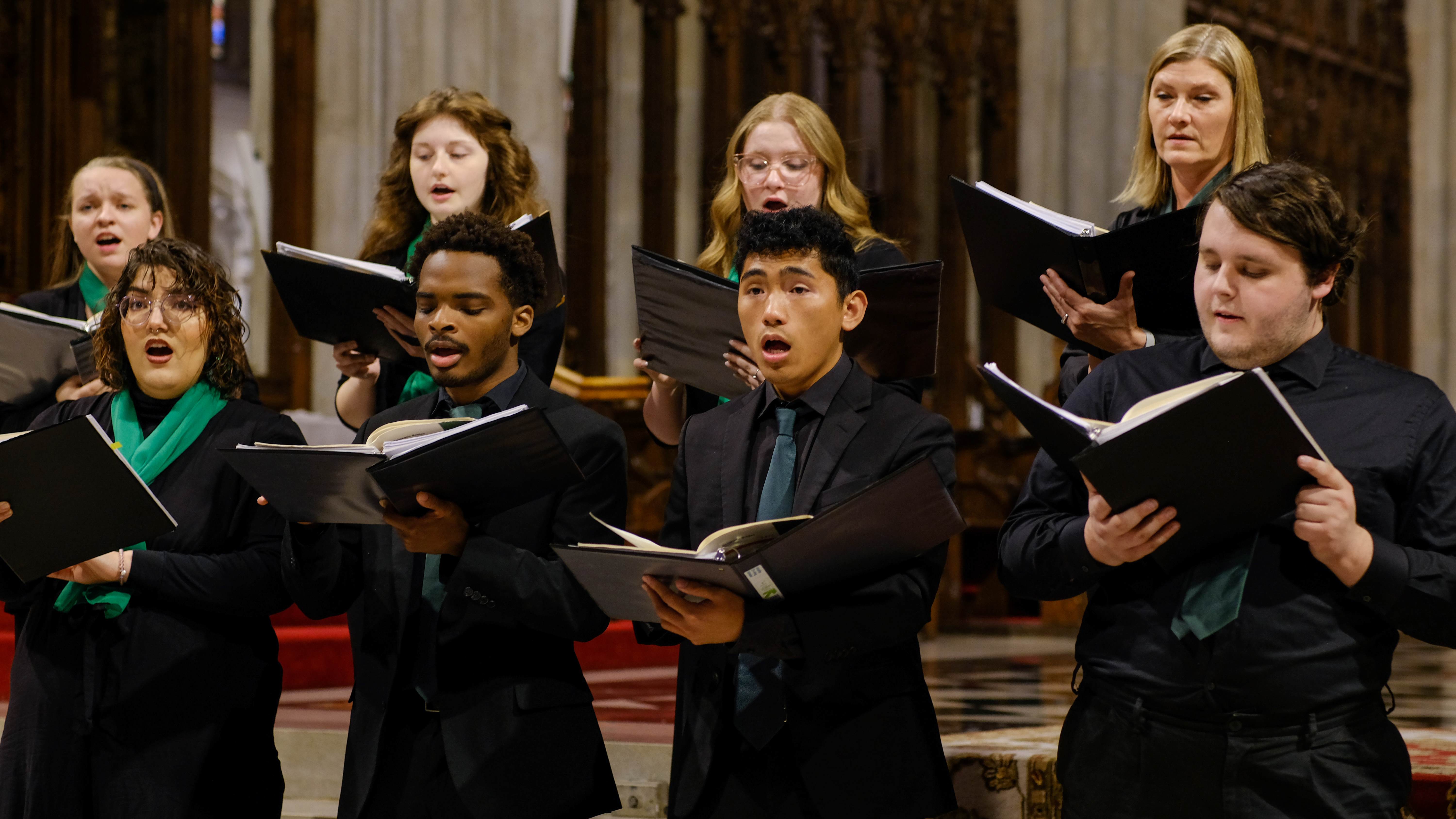 THIS Day featured pieces that reflect Dr. Kinne's mantra of giving back to the world. Dr. Kinne, who passed away in 2020, was a pioneer for women's education and served as a president, then chancellor emerita, of Jacksonville University. The concert showcased her commitment to philanthropy and love for a wide range of musical performances.
In special attendance were President Tim Cost and Stephanie Cost, Linda Berry Stein, Dr. Tim Snyder, and President and Artistic Director of the Jacksonville Children's Chorus and Chair of the Stein College Advisory Board, Darren Dailey.
The University Singers are selected annually by audition, and perform a wide range of repertoire spanning centuries and the globe, including Renaissance polyphony, Baroque and Classical masterworks, folksongs, musical theatre, opera, and new music by living composers.
Infinitus is a student-led, new music choral collective at Jacksonville University that is modeled after the group whose stage they shared, the Choral Composer/Conductor Collective (C4) of New York City. At the Church of the Transfiguration in Manhattan, Infinitus and C4 presented a concert entitled "A Parable of Choices" inspired by Bryson's 2017 composition by the same name. Written from the view of a soldier on the front lines, Bryson's work, A Parable of Choices, analyzes what choices led up to World War I by parallelling Wilfred Owen's anti-war poem The Parable of the Old Man and the Young with the story of Abraham and Isaac in Genesis.
"These performances are important opportunities for our students to network with professional musicians in one of the biggest music cities in the world. Whether sharing a stand with a C4 member or singing a solo with the organist at St. Patrick's, our students are stepping onto some big stages and are ready to share with the world what they have learned at JU," said Bryson.
The concert challenged the listener to consider the many choices we make throughout our lives, exploring themes such as the balance of planning for the future against yearning to live in the moment, choices of loyalty to the state or our friends, and whether or not we help those who are marginalized. It also confronted the tension between comfort and risk, asking the audience to consider whether to cling to the familiar or dive into the unknown.
"Infinitus stood side-by-side with one of the most innovative professional choirs in the world. C4 established the model of a collectively organized choir that performs new and adventurous repertoire and provides a workshop environment for its members. Infinitus has spent three years adapting and applying those principles to our own educational growth, so this concert was a full-circle moment for the ensemble," said Bryson.
Infinitus is unique in that it has no single artistic director, and artistic and executive decisions are made through conversation and consensus. Members of Infinitus include student composers, conductors, and singers who also manage publicity, repertoire selection, outreach projects, logistics, and more. The ensemble performs music written in the past 25 years, with a focus on new works by their members, local composers, and those who are underrepresented in the historic canon.
The trip to New York was made possible by the unwavering support and dedication of President Cost, Linda Berry Stein, Dean Snyder, Prof. Kimberly Beasley, Dr. Julian Bryson, and the Stein College Advisory Board.
"Under Dr. Julian Bryson's expert leadership and innovative vision, the university choirs are building a long history of national and international concertizing including performances at England's Canterbury Cathedral, St. Peter's Basilica in Rome, Chartres Cathedral in France, and now St. Patrick's Cathedral New York City. Kudos to Dr. Bryson and our students who are a great source of pride to the university and the city of Jacksonville" added Dr. Snyder.