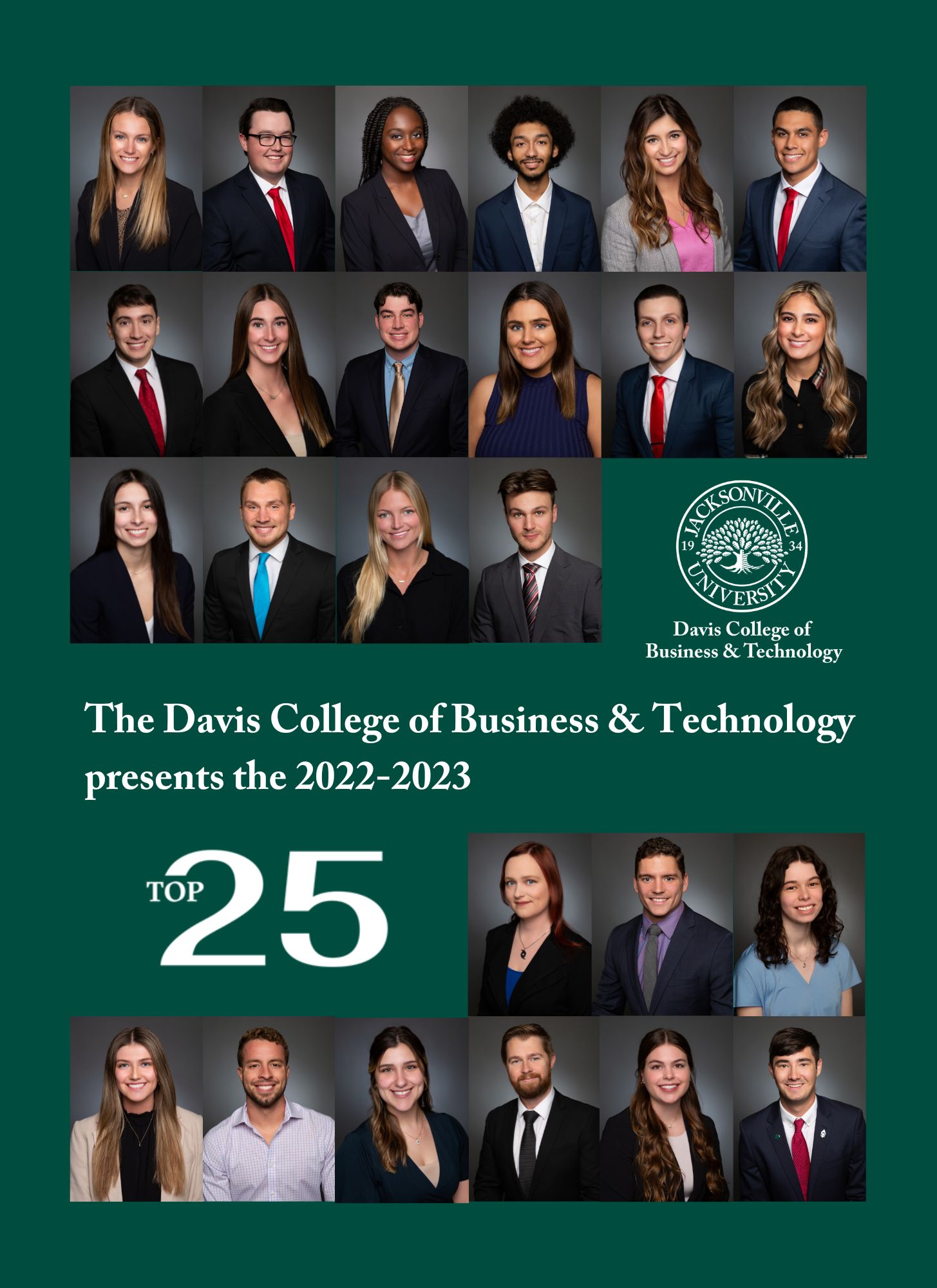 Jacksonville University's Davis College of Business & Technology announced their 2022-2023 Top 25 students, an elite group of promising young scholars at the undergraduate and graduate level who were selected by Davis College leadership, faculty, and staff.
This year's class of Top 25 students consists of well-rounded, high-achieving students involved in areas across campus, and the greater Jacksonville community. They are honor society members, campus leaders, star student-athletes, interns at top companies, volunteers in the community and more.
"These 25 students represent the Davis College of Business & Technology so well, and we are proud to have them in our classes, campus organizations and in the Jacksonville community," said Dr. Barbara Ritter, dean of the Davis College of Business & Technology. "I want to congratulate each and every one of them on their unbelievably hard work in and out of the classroom."
Some will go on to further their education through pursuing postgraduate degrees, others will serve the country through military service or and many will begin their careers, making immediate impacts at companies of their choice. And they'll do it with the same drive and tenacity that landed them in the Davis College Top 25.
"To me, being a Top 25 student means that I am always striving to represent the Davis College of Business & Technology in the best light possible, whether that be through my academics, on and off campus extracurriculars, networking opportunities, or employment," said third-year Finance, Management and Marketing student Taylor Ruiz.
Ruiz said her campus involvement is a big piece of her academic success at Jacksonville University. She's part of the Dean's Fellow Program, Zimmerman Scholars Program, Panhellenic Council and serves as a student ambassador.
"I worked consistently on my academics, made connections with faculty and staff through campus leadership positions, and kept a positive attitude towards any curve balls thrown my way," Ruiz said.
Gabriel Hoff, another member of the Top 25, is a senior Communications major and editor-in-chief of The Navigator student newspaper. He's a member of the National Society of Leadership and Success, Florida Public Relations Association and the Dean's Fellows Program. He's currently interning for eXp Realty in St. Augustine, and upon graduating hopes to continue his career in real estate.
"I always work towards exceeding standards and overcoming any obstacle in the way of success; being part of the Davis College Top 25 is an honorable recognition of the hard work and self-discipline I exercise daily," Hoff said. "I have always worked hard at whatever I put my mind to. I achieved mention in the Top 25 by always giving my fullest effort to whatever it is I am involved in."
Top 25 students were treated to a professional photoshoot and personal branding session led by JU's career management team and were formally recognized in a ceremony on March 2.
Read more about the 25 students here.