The Jacksonville University Marine Science Research Institute honored physicist and oceanographer Dr. Helen Czerski with the 2023 Marine Science Pioneer Award.
The Marine Science Pioneer Award honors a distinguished individual working within the realm of marine science, whose commitment to life-long learning and scientific contributions have left an indelible mark on global progress in their field. Past award recipients have included geophysicist and President of the National Academy of Sciences Dr. Marcia McNutt; OCEARCH Founding Chairman and Expedition Leader Chris Fischer; and ocean explorer and discoverer of the RMS Titantic wreck Bob Ballard.
During her visit to Jacksonville University, Dr. Czerski engaged with students and faculty in a special discussion, followed by a reception with members of the JU and surrounding Jacksonville community in attendance. She then delivered a presentation in Terry Concert Hall, at the end of which Jacksonville University President Tim Cost ('81) presented her with the Marine Science Pioneer Award.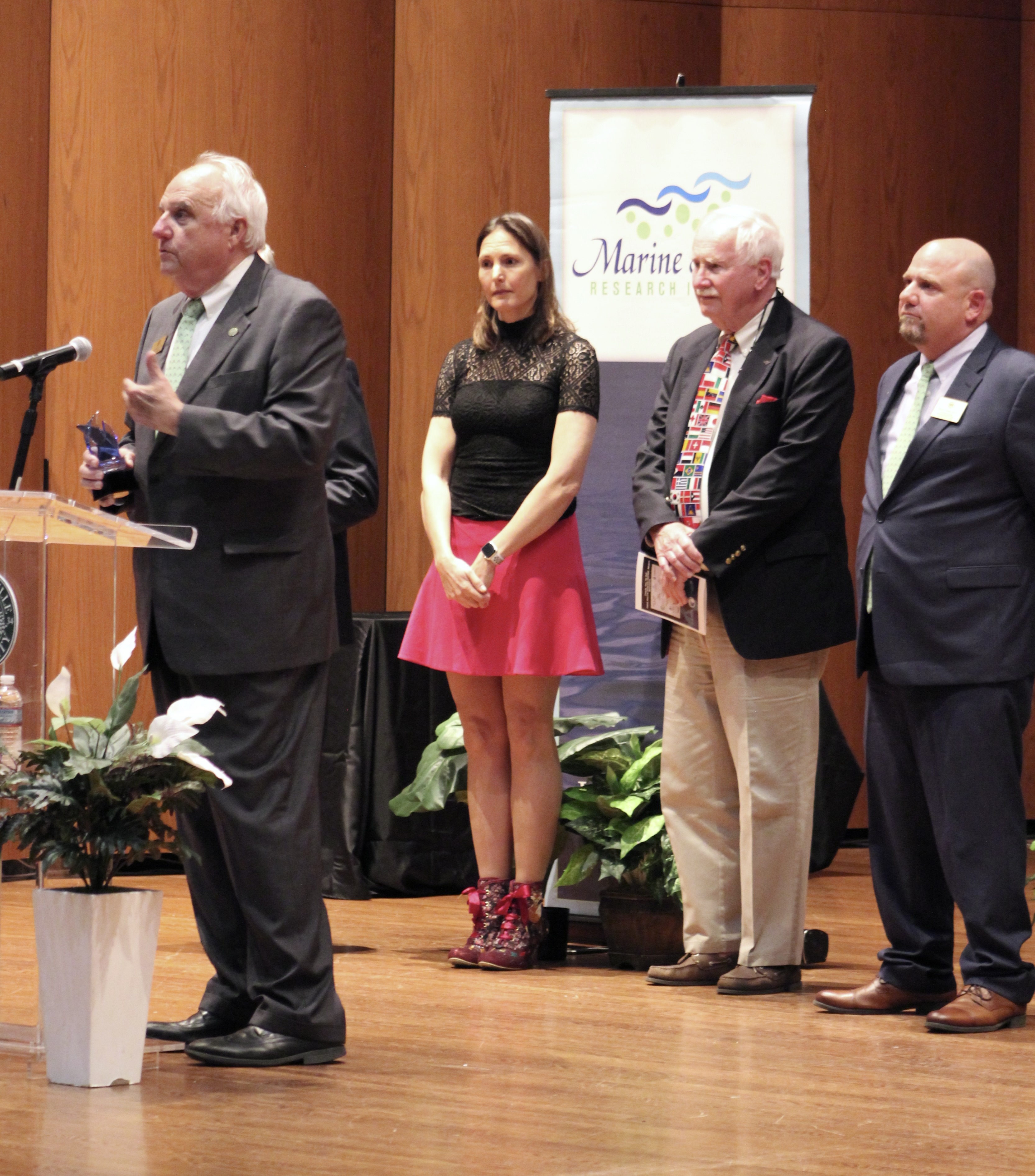 In her introductory remarks at the award presentation, Dr. Sherri Jackson, Jacksonville University's Interim Provost and Senior Vice President of Academic Affairs, reflected on the Pioneer Award's significance to the Marine Science Research Institute's student body.
Dr. Jackson stated, "Our students learn to view the environment with fresh eyes and empathetic hearts and to keenly apply the tools and techniques they learn in the Institute to the pressing issues of today. They go on to become pioneers, pioneers like those whom we have recognized with this award in the past."
Dr. Czerski, who is originally from Manchester, England, earned her PhD in Experimental Explosives Physics at the University of Cambridge. Looking for a way to apply her experiments to the natural world, she began to research oceans and bubbles at the Scripps Institute of Oceanography in San Diego, California. She said her foundational research on impact explosions, specifically studying what happens in the milliseconds before an explosion occurs, gave her the necessary skills to study bubbles and their role in ocean systems.
She explained, "When I looked for something that wasn't explosives, that took me to the world of bubbles, which are very small and do things very quickly, and that took me to the ocean. I think that it's quite interesting that being interested in mechanisms can take you a lot of different directions."
After completing a post-doctoral degree at the Graduate School of Oceanography in Rhode Island, Dr. Czerski returned to the U.K. to start her own research program on the physics of oceanic bubbles, first at the University of Southampton and then at her current academic home, University College London.
Dr. Czerski's passion for the physics of the Earth's oceans drives her research. She has presented a number of BBC documentaries about atmospheric and ocean science and hosts a podcast for the Bertarelli Foundation called "Ocean Matters."
She has also written two books, The Blue Machine and Storm in a Teacup.
In her presentation before the award ceremony, Dr. Czerski urged the audience to view the ocean as more than just a blank blue mass.
"If you listen to the public debate, we talk about the ocean as though it was a blank void," she stated. "The water itself is the big story, because this is the engine that matters, that surrounds the planet and basically provides the conditions that we take for granted and that influences our lives in more ways than we're ever aware of."
She drove home her point with several surprising and entertaining anecdotes, including how ocean currents have helped create populations of tortoises on remote islands by carrying them hundreds of miles from their native habitats.
Dr. Czerski explained, "The point about all of this is that, if the ocean can carry something the size of a tortoise, it can definitely carry quite a lot of other things and a lot of other things that are very small. And they matter for us. It's not just about the ocean but the fabric of life that is woven through the ocean engine."
Speaking as to why the Institute selected Dr. Czerski for this year's award, Dr. Bryan Franks, Interim Director of the Marine Science Research, shared "Not only is her expertise remarkable, but her ability to take highly complex subjects and make them understandable is important. And equally important is her ability to convey why this understanding is critical for the future of our planet."
Learn more about Dr. Helen Czerski and the Marine Science Pioneer Award here.