Convocation – August 5, 2022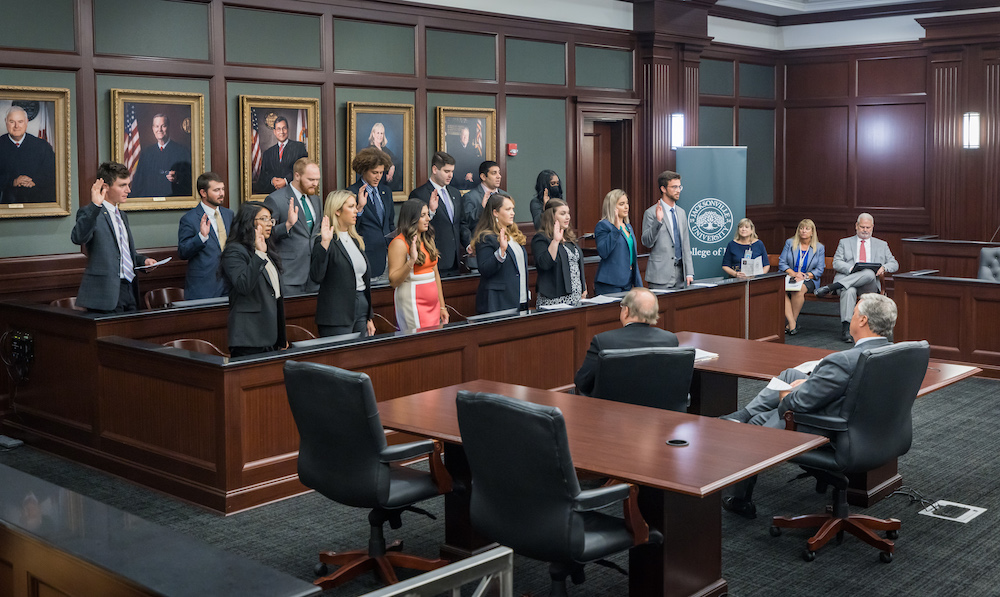 Before classes began on August 8, the law students participated in convocation at the Duval County Courthouse, where they took an oath of professionalism in a formal ceremony, which included remarks from several University and community leaders, including Fourth Circuit Chief Judge Mark Mahon, JU President Tim Cost, JU Provost Chris Sapienza, and Dean Allard.
"Today you begin the formal part of your legal education," Dean Allard told the students during his convocation remarks. "After earning your J.D. – which we are confident you can and will do – and after you join the ranks of the best lawyers – which we expect you to be –you will become lifelong learners of the dynamic and ever-changing demand for law and justice."
Jacksonville Daily Record cover story – August 19, 2022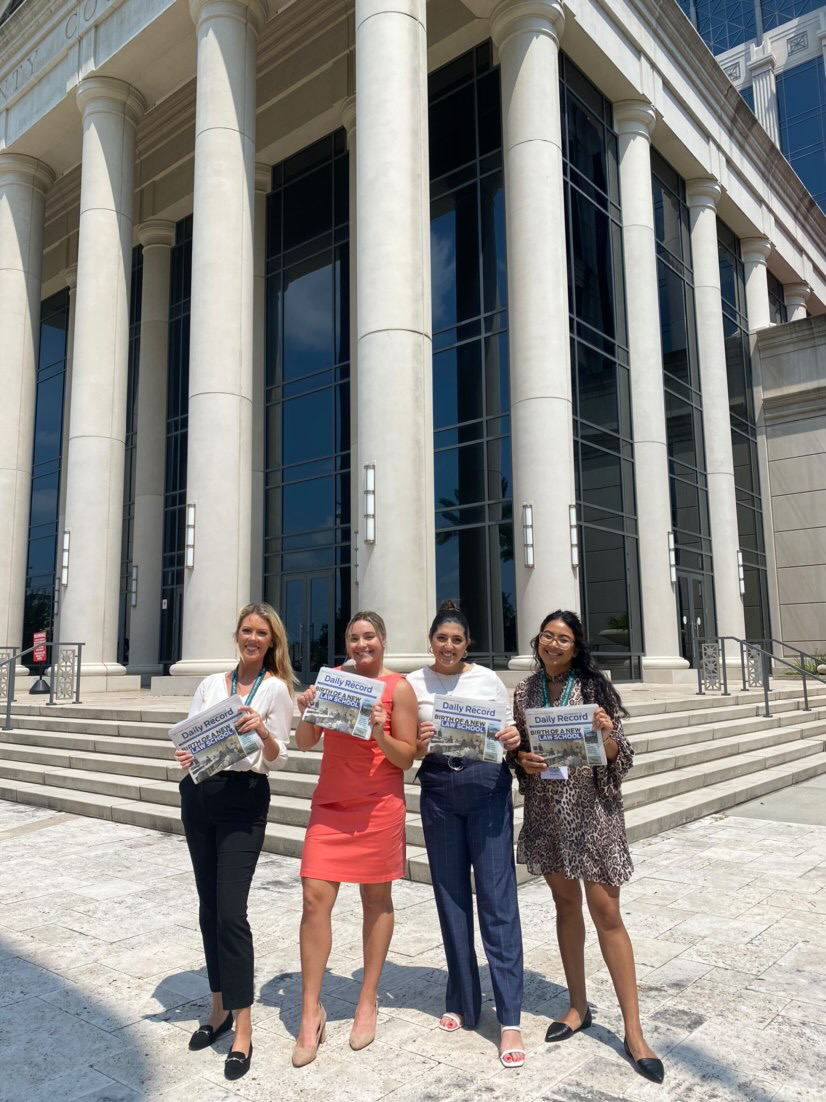 Some of our JU Law students showed off copies of our cover story feature, "The birth of a new law school" in the Jacksonville Daily Record. Students and faculty were featured in the story as the College of Law started classes. Read the story here.
College of Law Ribbon Cutting – September 1, 2022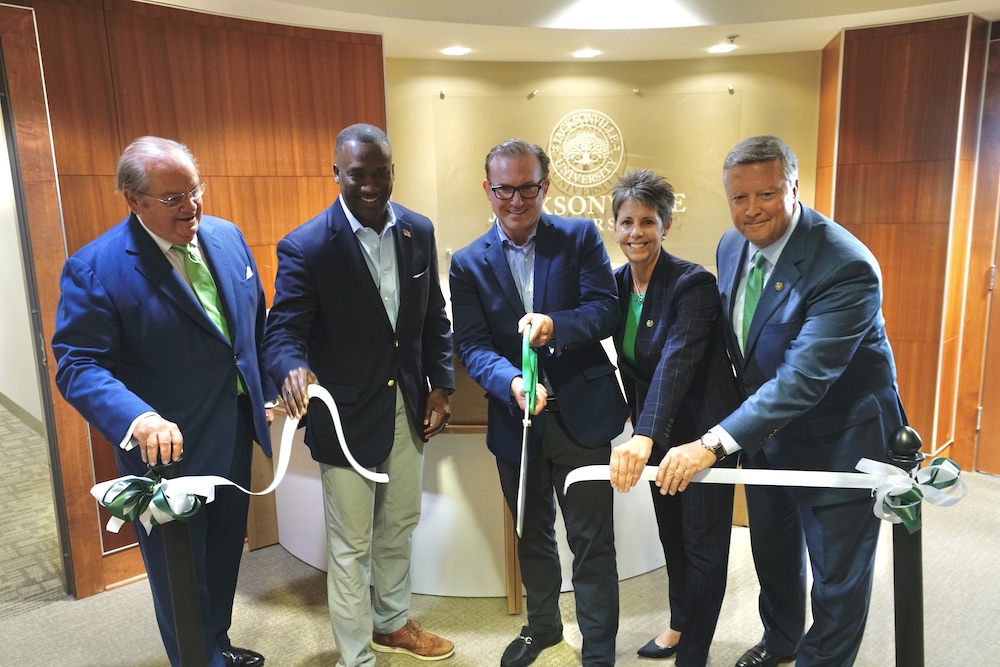 Dean Allard welcomed JU President Tim Cost and Provost Christine Sapienza, City Council President Terrance Freeman, and Mayor Lenny Curry to cut the ribbon at the JU College of Law. They were joined by the inaugural JU Law class and esteemed members of the Jacksonville legal community to celebrate.
Florida Board of Bar Examiners visits campus and gives a presentation on Florida Bar application processes – September 1, 2022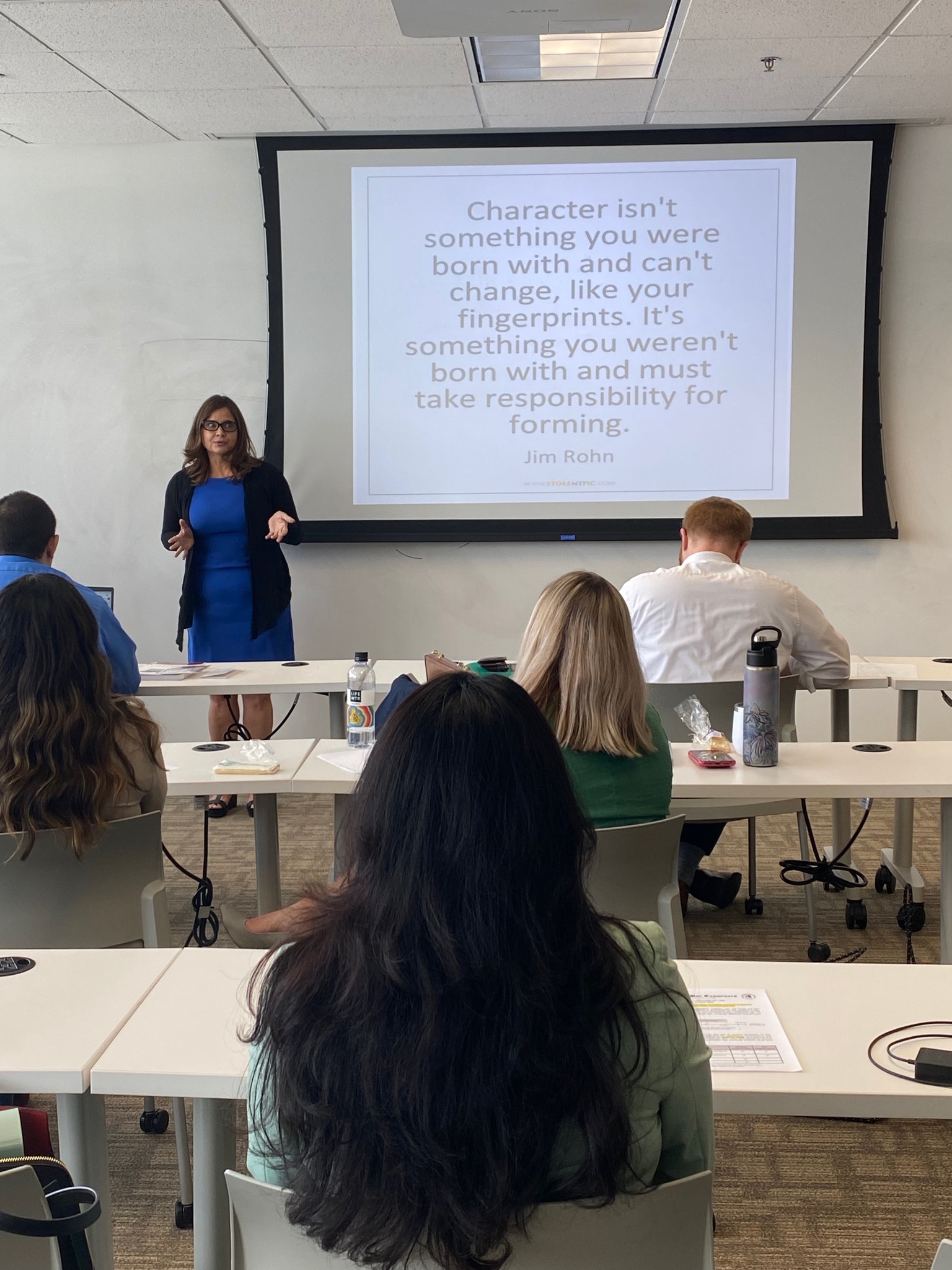 Representatives from the Florida Board of Bar Examiners attended the ribbon cutting ceremony and gave JU Law students a presentation on Florida Bar application processes, a unique opportunity for students in their first year of law school.
Area lawyers visit campus for professional development – September 6, 2022

The College of Law welcomed legal professionals from organizations including Pajcic & Pajcic, McGlinchy Stafford, Farah & Farah, and Boyd & Jenerette, P.A. to speak at a professional development panel on the practice of Civil Litigation. This was one of many professional development panels that took place during the law school's first semester, which welcomed practicing attorneys from DiFranza Law P.A., Marks Gray P.A., and more, to speak on criminal law, civil litigation, pro bono work, family law, and more.
JBA Luncheon and Check Presentation – October 6, 2022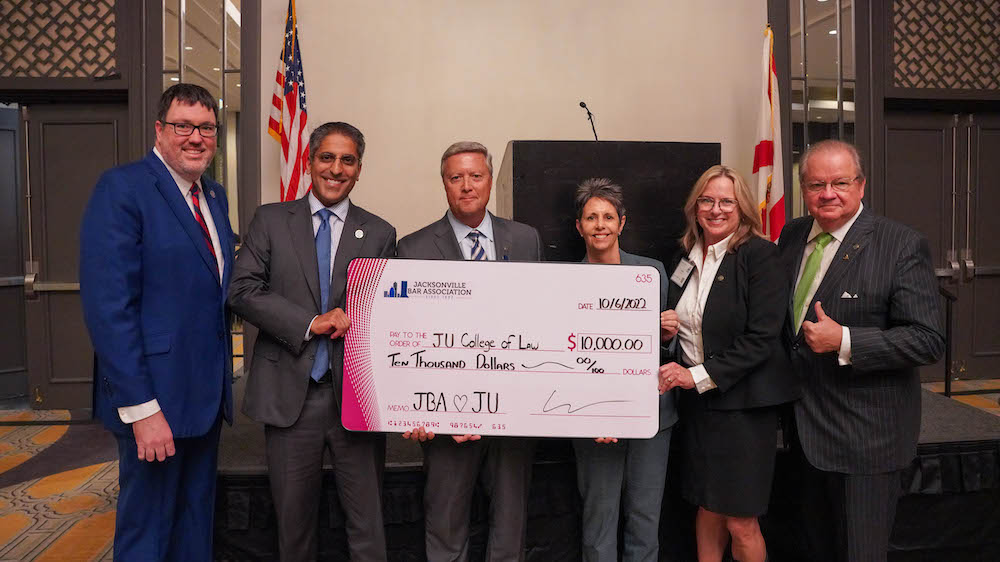 Students and leaders attended the Jacksonville Bar Association's October member meeting and heard from our very own Dean Nick Allard, the keynote speaker for the luncheon. President Tim Cost and Provost Christine Sapienza joined College of Law leaders to accept a $10,000 gift from the Jacksonville Bar Association toward our student scholarship fund, helping ease the cost of quality legal education for our students.
Carlos Muniz, Chief Justice of the Florida Supreme Court, visit campus – October 25, 2022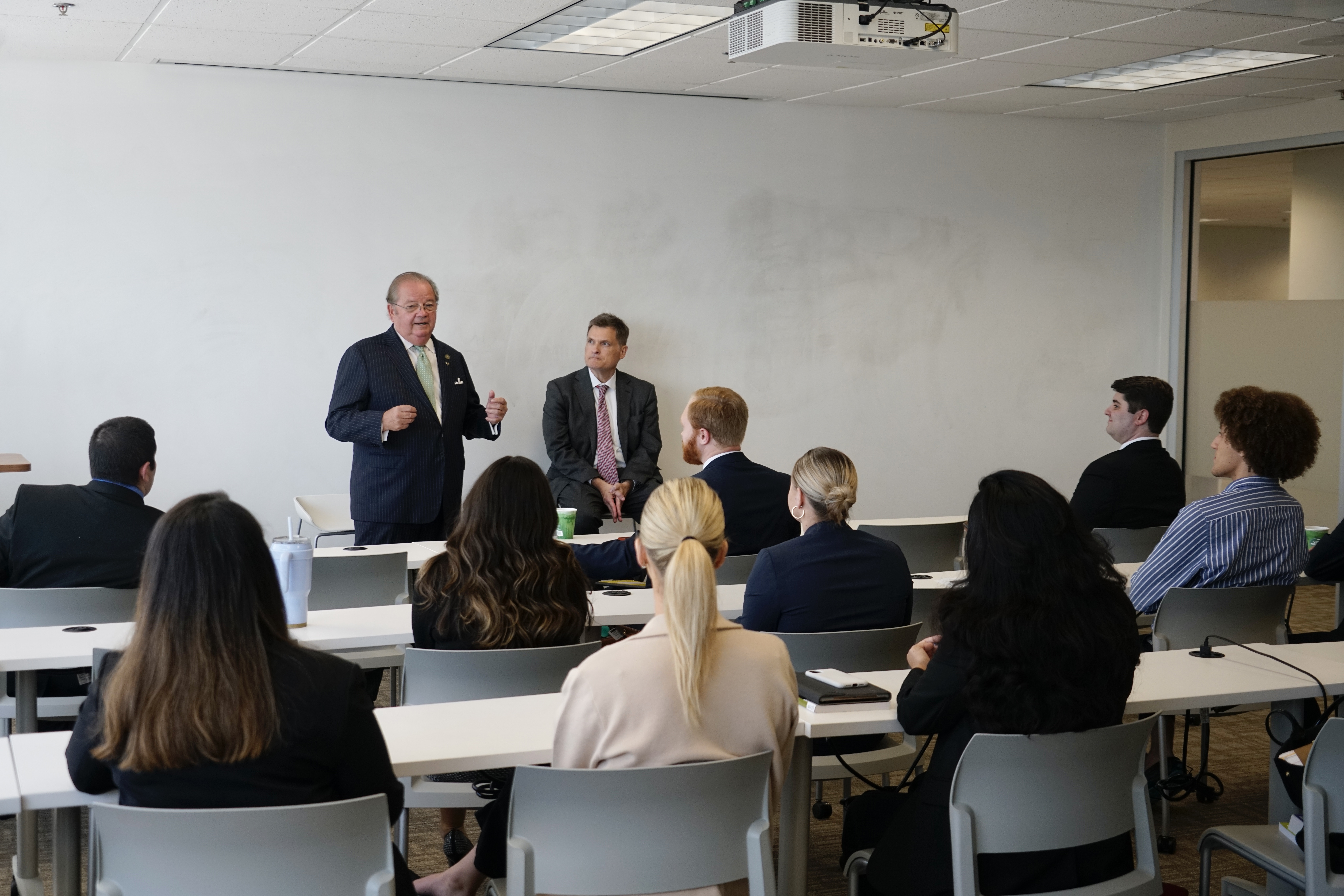 The JU College of Law welcomed Chief Justice Carlos Muniz of the Florida Supreme Court for a tour of campus and to speak to students. Chief Justice Muniz spoke about his background and judicial philosophy, and took questions from students regarding career advice.
Following this session, the Jacksonville University College of Law and Public Policy Institute joined the Federalist Society Jacksonville Lawyers Division at the Duval County Courthouse for a reception and "fireside chat" with Chief Justice Muniz.
Cravath Swaine & Moore and Guidewell panel – February 9, 2023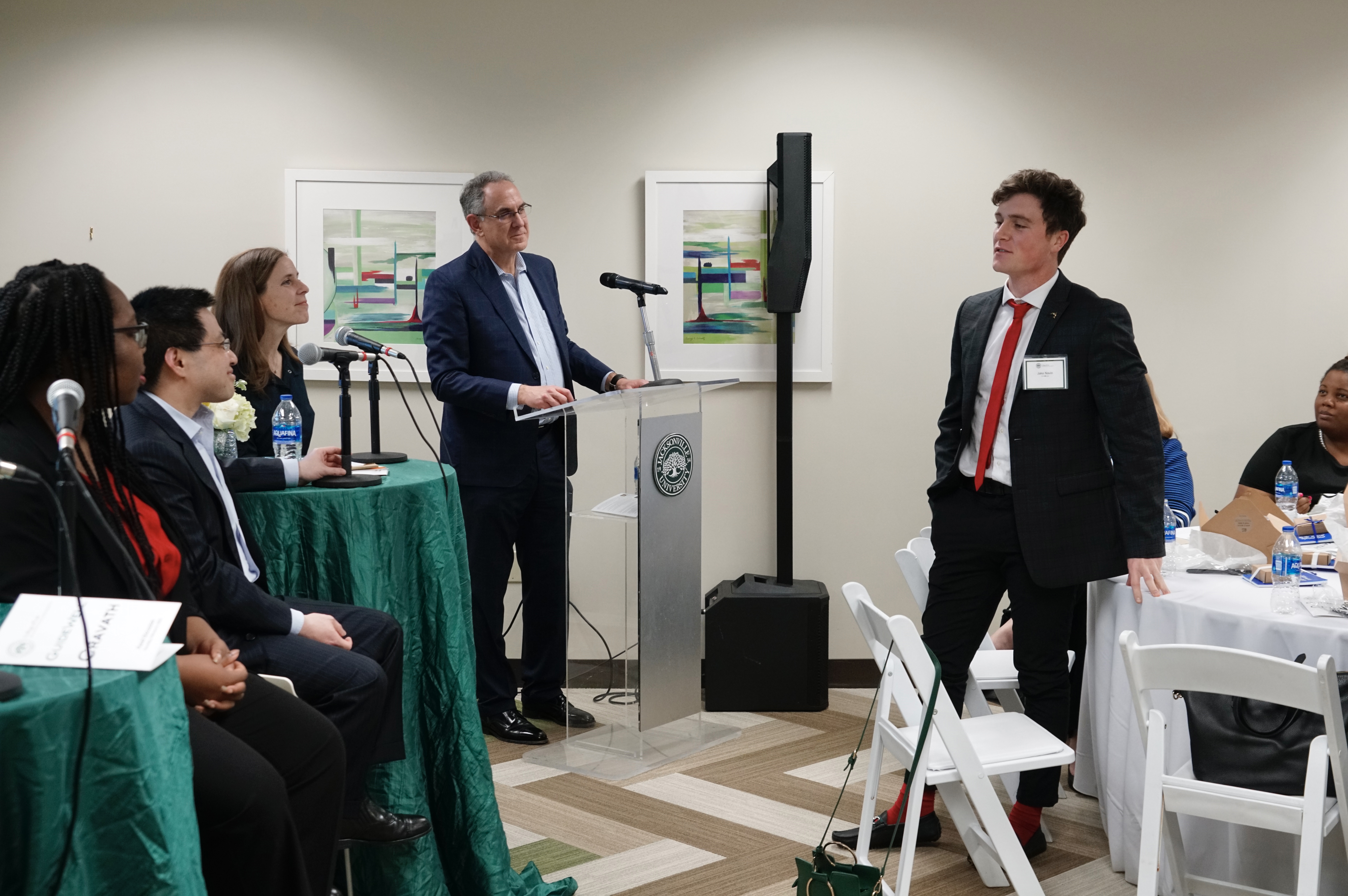 Executives and attorneys from GuideWell, Florida Blue, and Cravath, Swaine & Moore LLP visited the College of Law for a discussion about career paths in law, advice for professional success, work/life balance, and the importance of diversity in legal education and the practice of law.
During the event, President Tim Cost announced that GuideWell, Florida Blue, and Cravath are supporting $125,000 in scholarship funding for the College of Law to promote diversity in legal education.
"The financial aspect of law school is a barrier for many people and that's why I was so proud to see our firm partner with GuideWell to support law students," said Karin A. DeMasi, Managing Partner of Litigation at Cravath and a participant in the panel. "Scholarships like this have an incredible impact on access to education, and that is so important to me."
College of Law wins the Dolphin Dash college challenge – February 24, 2023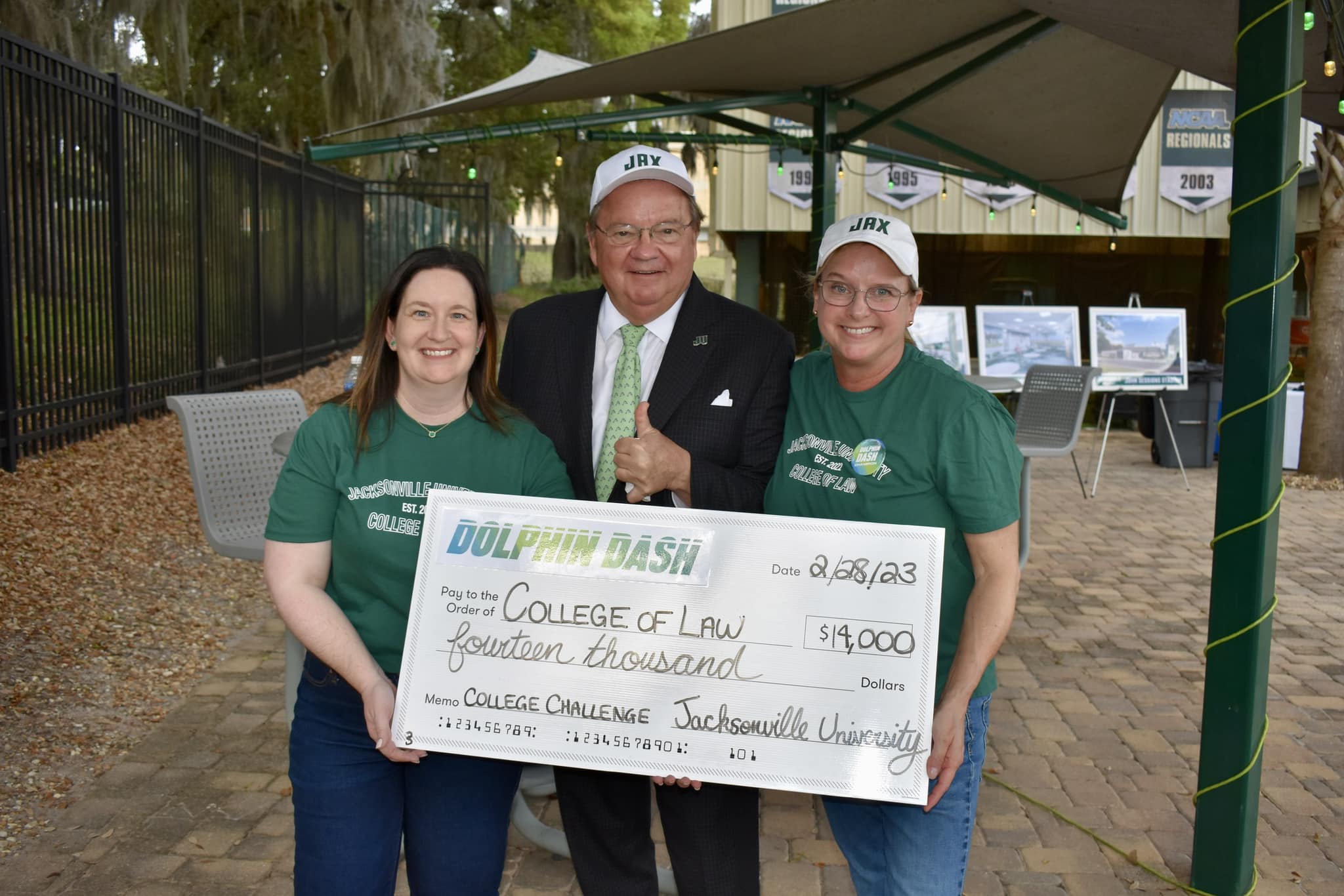 The College of Law participated in Dolphin Dash, JU's annual giving campaign, for the first time. By the end of the dash, the College of Law won the title for most dollars raised in the "College Challenge," unlocking an extra $14,000 for law student scholarships. 100% of the inaugural class even participated, stepping up to support the University.
ABA 19th Amendment exhibit ribbon cutting – March 6, 2023
The law school played an integral role in unveiling its newest addition to the campus collection, an American Bar Association traveling exhibit. Created and sponsored by the American Bar Association and the Law Library of Congress, the exhibit celebrates the 19th Amendment's centennial and commemorates the long struggle for women's rights which continues to this day. The exhibit has been displayed at hundreds of public venues across the country and was in place on the first floor of Jacksonville University's Swisher Library as part of the University's celebration of Women's History Month.
"To recognize the passage of the 19th amendment helps to bring light to a very important part of history," said Jacksonville University law student Marisa Materazzi. "It puts into perspective that without the hard work and determination of these women in the past, I wouldn't have the opportunities I have today; this exhibit puts Jacksonville University on the map as a champion of women's rights and the fight for equality."
Students complete oral argument competition – March 31, 2023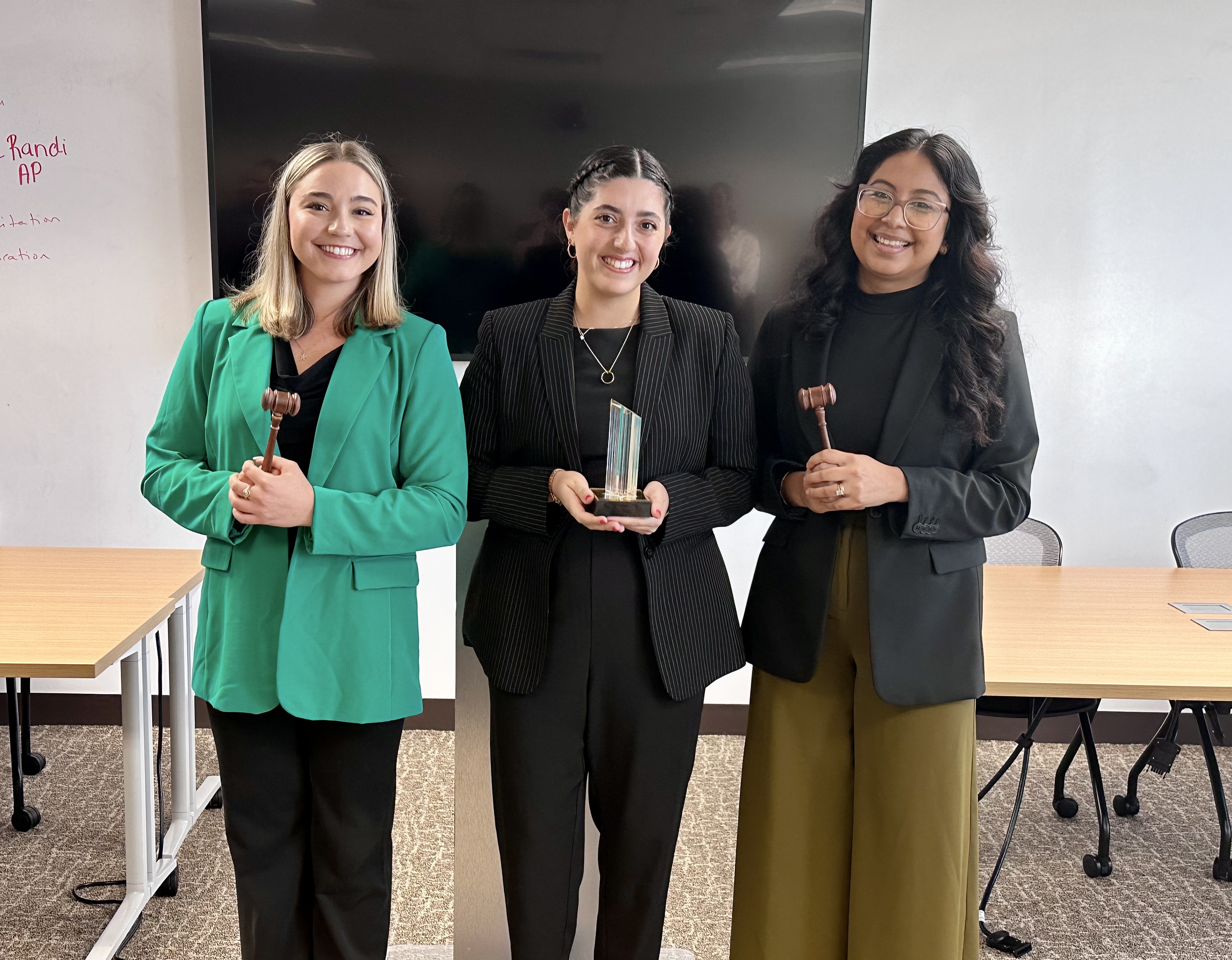 Members of the inaugural class participated in the College's first oral argument competition. Students argued the case from both sides, professors acted as judges, and winners were selected based on the strength of their legal arguments, responses to questions, and presentation ability.
Keiry Soto-Chavez and Randi Alt tied for second place, and Marisa Materazzi placed first.
Students successfully complete their 1L year – May 5, 2023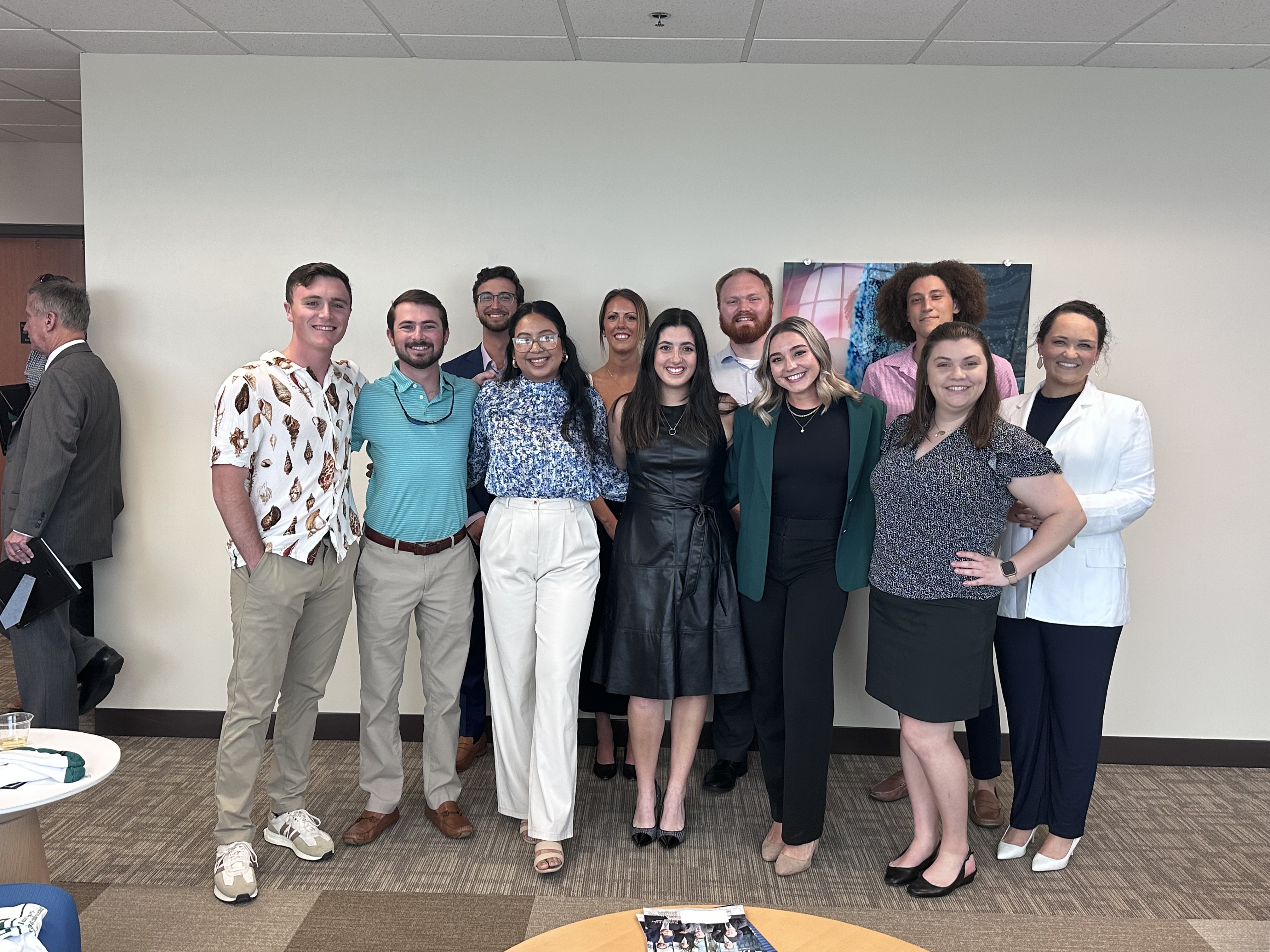 The "Fabulous First 14," celebrated a successful completion of their 1L year today after wrapping up a week of final exams. The inaugural class also voted on JU Law's first Professor of the Year, which was awarded to Professor Matthew Reiber, and Staff Member of the Year, which was awarded to Thomas Taggart.