Of the 12 academics who make up the national Phi Kappa Phi board of directors and divisional vice presidents, two have ties to Jacksonville University. Phi Kappa Phi is the nation's oldest collegiate honor society with more than 1.5 million members inducted since its founding in 1897.
Dr. Jim Mirabella, a professor of decision sciences and information technology at the Davis College of Business & Technology, was selected as the Division IV Vice President. In that position, Dr. Mirabella oversees 73 colleges and universities, helping their chapter presidents run successful organizations. Dr. Mirabella also serves as the Jacksonville University Phi Kappa Phi chapter president, and has for five years.
"I am truly excited to see what I can do at the national level," Dr. Mirabella said. "Phi Kappa Phi is a prestigious organization that does a lot of good for universities and communities, and now I can make a difference all over the USA as I serve in this new role."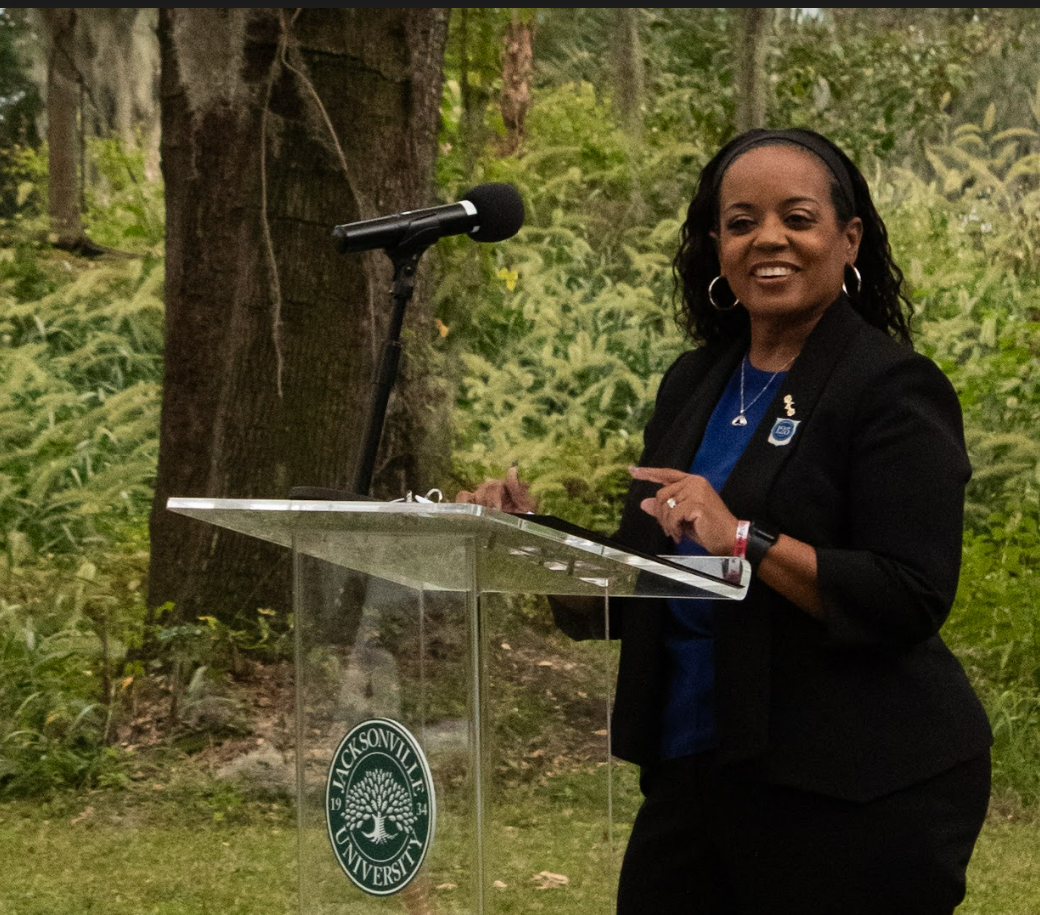 Sharhonda Rush MBA '02/MPP '19 was selected as President-Elect of the board of directors. In addition to representing JU on the national board, Rush is the first African American and person of color, as well as the first person in a career outside of academia to hold the position. Rush is employed at BlackLine.
As President-Elect, Rush will take over as president from 2024 until 2026.
"My election as the first female African American president-elect is personally huge, humbling, and inspirational all at once. I'm ready and excited to serve, and look forward to all the future holds for us as an organization and the opportunity to leave a lasting legacy," Rush said.
Earlier this month, Rush was back at Jacksonville University to deliver the president's address at the Phi Kappa Phi induction ceremony. Nine faculty members and 112 students were inducted into the honor society.
To qualify for the multi-disciplinary honor society, juniors had to rank in the top 7.5% of their class by GPA and seniors and graduate students had to rank in the top 10% of their class by GPA in their class or respective programs. Faculty needed to be nominated, then unanimously confirmed by the chapter's officers.
Jacksonville University's chapter was also named a Circle of Excellence Platinum Chapter this year, the highest honor a Phi Kappa Phi chapter can receive from the organization. It signifies that a chapter has gone above and beyond its expectations, demonstrating sustainability and viability as a chapter of Phi Kappa Phi. Just 23 of the 325 chapters received the designation.
"I am so proud of our chapter," Dr. Mirabella said. "We have earned back-to-back Platinum awards, and now have two members who were recently elected at the national level to serve the roles of Division IV Vice President and President-Elect. Jacksonville University continues to demonstrate that it is truly a place of excellence."