Jacksonville University welcomed its inaugural class of Juris Doctor students at the JU College of Law in downtown Jacksonville – the first new law school in the state of Florida in more than 20 years.
The 14 students – seven women and seven men – were selected from a pool of several hundred candidates and are attending courses at Jacksonville University's downtown location within VyStar Tower, right in the heart of the city and just a 10-minute walk from the Duval County Courthouse.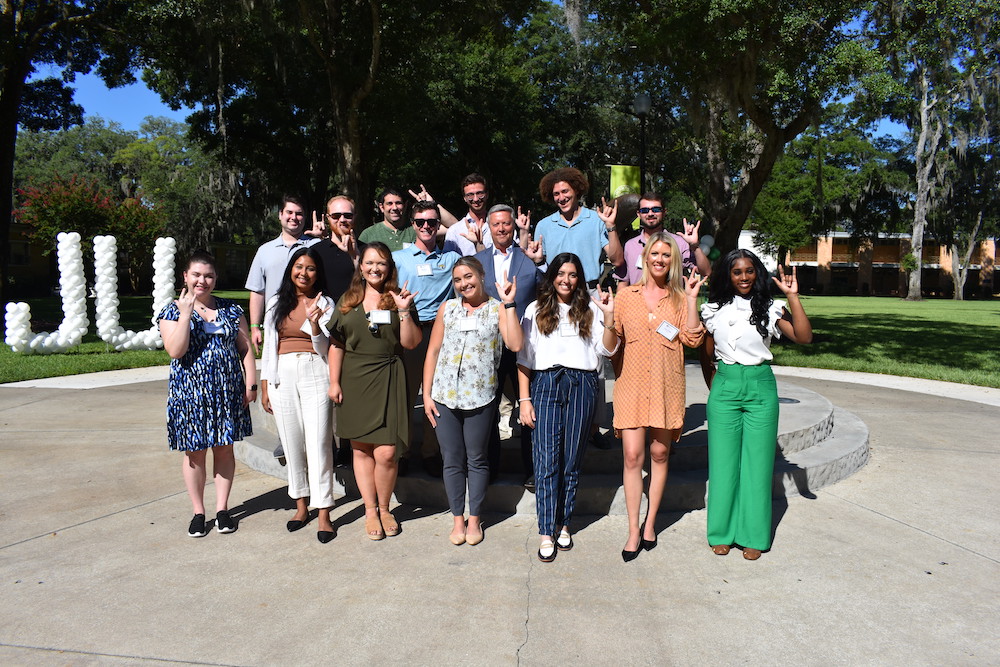 "This intentionally small, tight-knit, path-clearing class of students will learn in a highly personalized, hyper-attentive academic environment," said JU College of Law Founding Dean Nicholas Allard, Esq. "Our inaugural class holds a unique and unprecedented opportunity both to learn and to help us shape the future of the College of Law, as we continue to build it from the ground up on the foundation of our talented faculty, JU's multidisciplinary platform, and extraordinary professional and financial support from the local bench, bar and civic leaders."
Six respected faculty members are teaching JU's first cohort of law students: Associate Professor Scott DeVito, Professor Robert Mensel, Professor Matthew Reiber, Professor Nathan Richardson, Associate Professor Vanessa Zboreak, and Law Librarian and Assistant Professor Colleen Skinner.
"The faculty and staff that the University has put together is really impressive," said JU law student Alex Wicks, who heard about the new law school while working part-time at the Jacksonville office of corporate law firm Gunster.
"It seemed meant to be," Jacksonville native Marisa Materazzi said about applying to JU's College of Law. "I definitely wanted to apply to a law school that was opening in my hometown and I'm also interested in helping grow the legal community here in Jacksonville."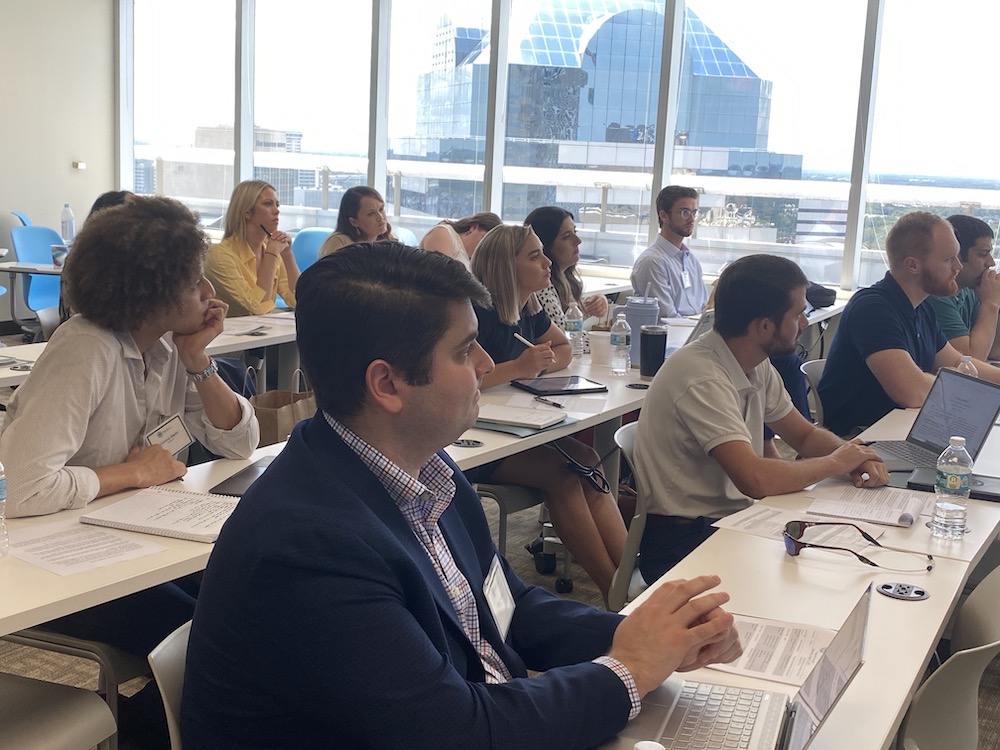 Fellow student Dominic Martin added: "I was interning at a local law firm when I heard Jacksonville University was going to start a law school. It worked out perfectly, because I had just taken the LSAT. Plus, I really like Jacksonville and want to stay in the legal community here. So I figured that this was just the perfect opportunity."
Before classes began on August 8, the law students participated in orientation, which included meeting their professors, touring the downtown courthouse and its library, and participating in a panel discussion featuring prominent local attorneys. The students also took an oath of professionalism in a formal convocation ceremony at the courthouse, which included remarks from several University and community leaders, including Fourth Circuit Chief Judge Mark Mahon, JU President Tim Cost, JU Provost Chris Sapienza, and Dean Allard.
"Today you begin the formal part of your legal education," Dean Allard told the students during his convocation remarks. "After earning your J.D. – which we are confident you can and will do – and after you join the ranks of the best lawyers – which we expect you to be –you will become lifelong learners of the dynamic and ever-changing demand for law and justice."
Read Founding Dean Nick Allard's full convocation remarks.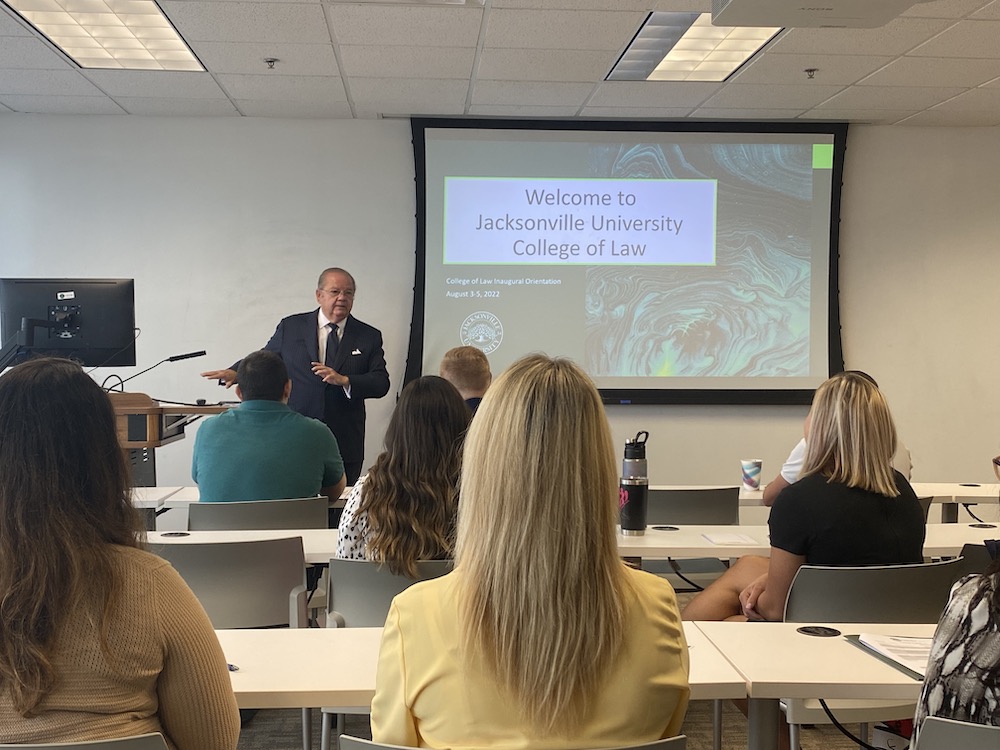 Overwhelming support and engagement from Florida's stellar Fourth Circuit and the region's broader legal community is energizing the inaugural class of students and faculty within the College of Law – a reflection of the collaborative public-private partnership upon which the College was founded.
"As Chair of the ABA Standing Committee on the Law Library of Congress, I am especially excited about the hub of knowledge acquisition services our students have access to daily through the law library of the nearby state and federal courthouses, as well as through the College's own library collections and databases," said Dean Allard. "This in turn will expose them to learning about law in practice as they have regular opportunities to watch judges and lawyers at work."
While the students take a full schedule of classes Monday through Thursday, Fridays are reserved for professional development in which students will engage with practicing attorneys and participate in experiential learning opportunities.
After years of strategic planning and evaluation, Jacksonville University announced its plans to launch the College of Law in February of 2022, in partnership with the City of Jacksonville. JU has successfully launched more than 50 new academic programs over the past decade, earning full accreditation from 12 accrediting bodies.
"Our faculty and staff and I all feel an exhilarating responsibility to deliver the education our students need to succeed," Dean Allard said. "We will also equip them to adapt to the ever-changing nature of what lawyers do to advance law and justice."