Sixty-five Jacksonville University women were recognized at the 2023 Women's History Month Celebration and Award Ceremony as nominees for the annual Woman of the Year awards.
Four women were named Woman of the Year in their respective categories in the March 21 ceremony in the Terry Concert Hall, which featured performances from the Jacksonville University RiverTones led by Professor Dina Barone, Choral Union led by Dr. Julian Bryson, and spoken word and instrumental groups organized by Dr. Kimberly Beasley.
Categories for the Woman of the Year award include student, graduate student, faculty, and staff. Winners had to be nominated by someone on campus and were selected by a panel of faculty, staff, and former Woman of the Year honorees.
Student Woman of the Year:
Amanda Bacallao was named the 2023 Student Woman of the Year.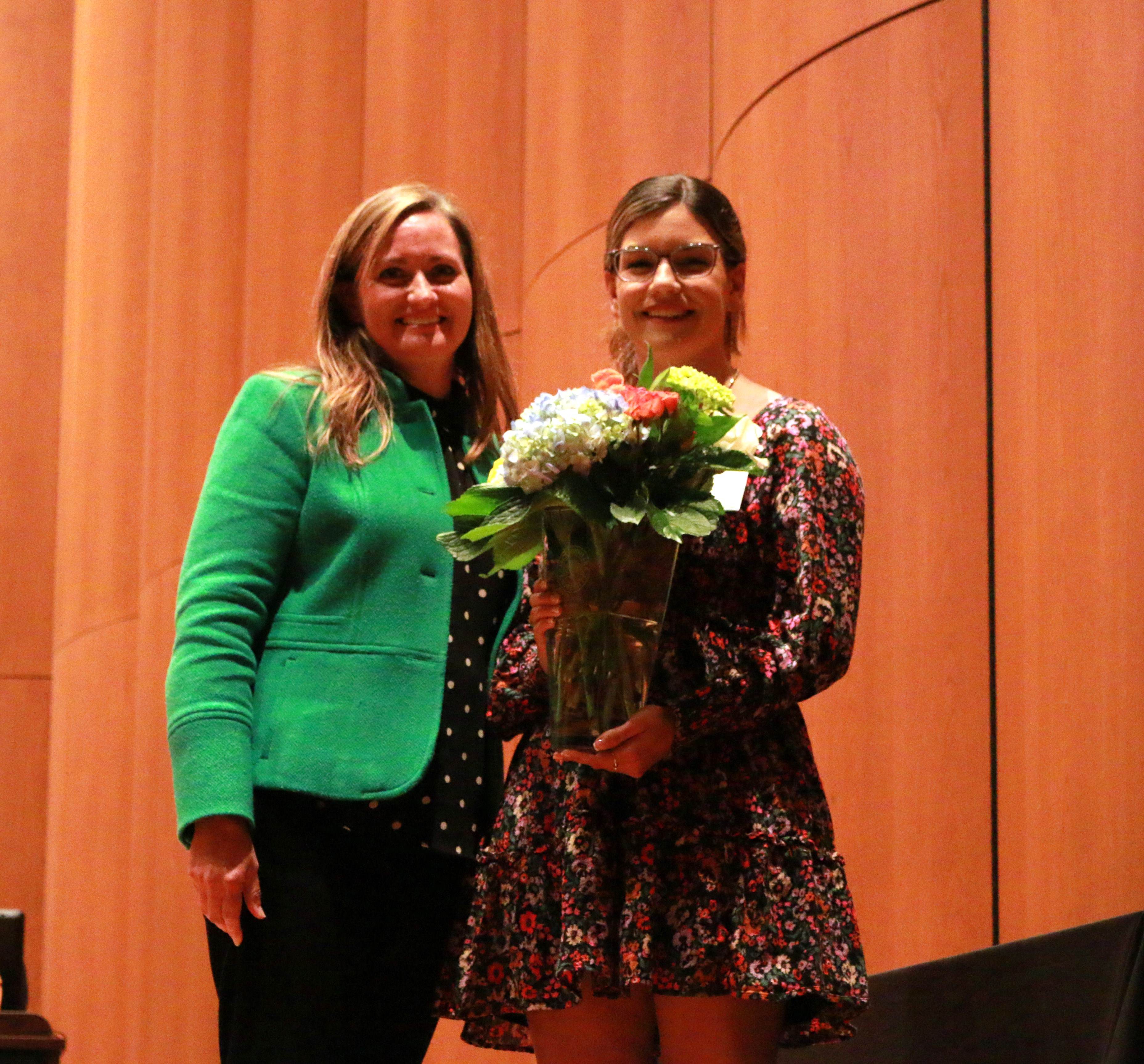 Bacallao is a senior this year and will graduate in April with a double major in French and Spanish, and a triple minor in Philosophy, Ethics and Leadership, and Naval Science. She also has a certificate in Global Teaching and Learning after spending a winter term in Quebec. Bacallao recently and successfully completed Officer Training Camp in Quantico, Virginia to become a bonafide Marine, so when she graduates this April, she will commission at the rank of second lieutenant.
As involved as Bacallao is in her academic studies, she is just as involved in extracurriculars. During her time at JU, Bacallao led two student organizations as president—The Outing Club and Le Cercle Francophone—that were recognized as Student Organization of the Year, served as Attorney General of the Student Government Association, and served as Vice President of her sorority. She is an active member of the Hispanic Latinx Student Association, Phi Sigma Iota, and Phi Sigma Tau.
One person who nominated her described Bacallao this way, "Amanda Bacallao is the hardest-working and most ambitious student of my year career in higher education, representing the absolute best that JU has to offer. Mature, poised, and clearly intellectual, she is an outstanding student leader. She is a true superstar, making the most of every second of her time."
Graduate Student Woman of the Year:
Lanitra Ferguson was named the 2023 Graduate Student Woman of the Year.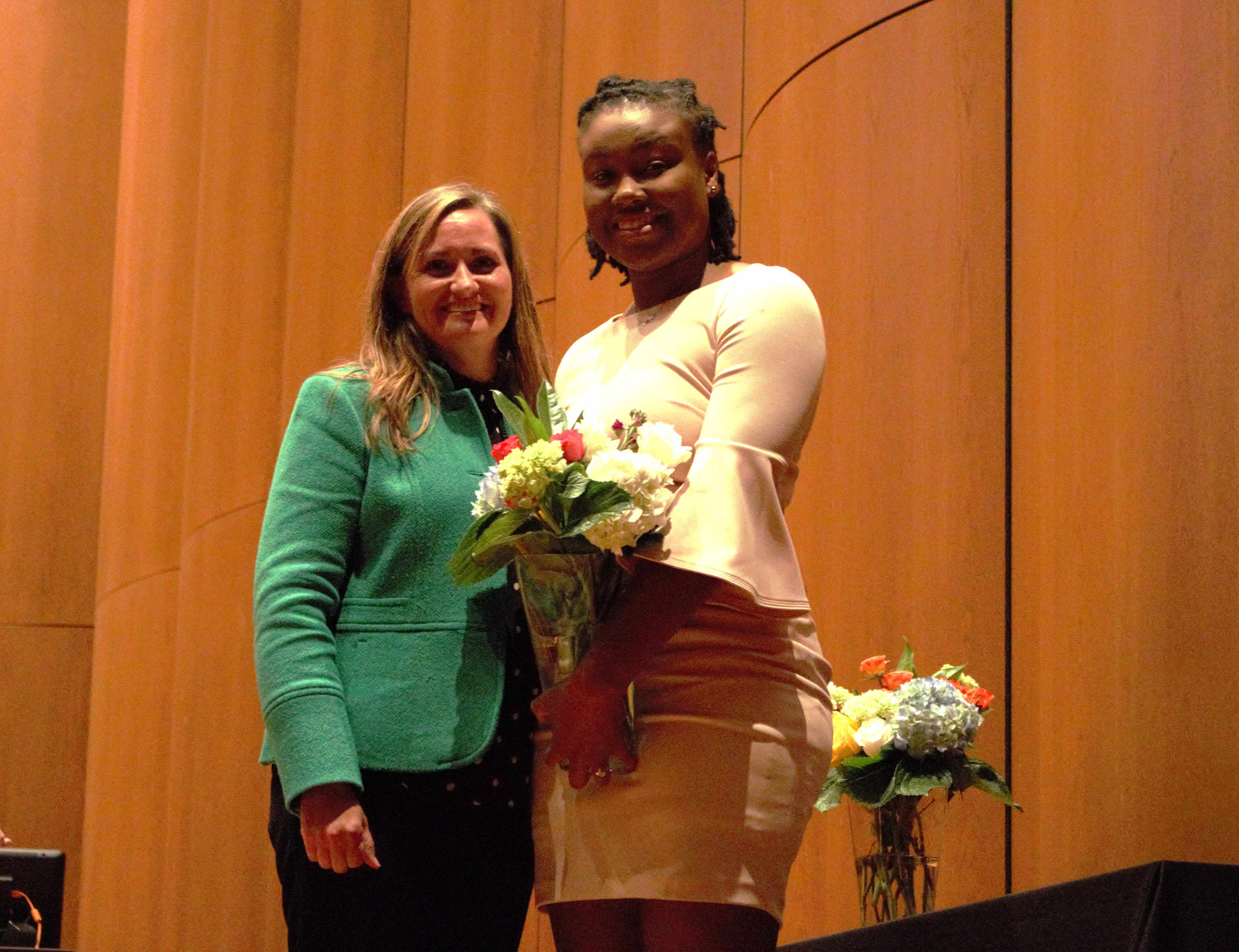 Ferguson is a graduate student in Jacksonville University's Master of Science in Clinical Mental Health Counseling program, where she focuses her studies in Marriage and Family Counseling. Ferguson graduated from Clemson University with a major in Psychology and a minor in Women's, Gender, and Sexuality Studies, reflecting a commitment to diversity, equity, and inclusion. She maintains a GPA of 4.0 in a demanding graduate program while serving as a Graduate Assistant in the Office of Student Inclusion. When the department opened a search for a director this year, Ferguson stepped into the role of Interim Director of Student Inclusion where she planned programming for Black History Month and facilitated conversations to create inclusion-centric environments. Additionally, Ferguson serves as a liaison between students, organizations, and university departments. Ferguson personifies student excellence and leadership, while actively demonstrating and promoting an environment of support and inclusivity.
One person who nominated Ferguson described her in this way, "Lanitra is one of the most impressive examples of student leadership I have seen. She did an amazing job pulling together events for Black History Month and helping our students feel supported and heard."
Faculty Woman of the Year:
Dr. Sarah Parker was named the 2023 Faculty Woman of the Year.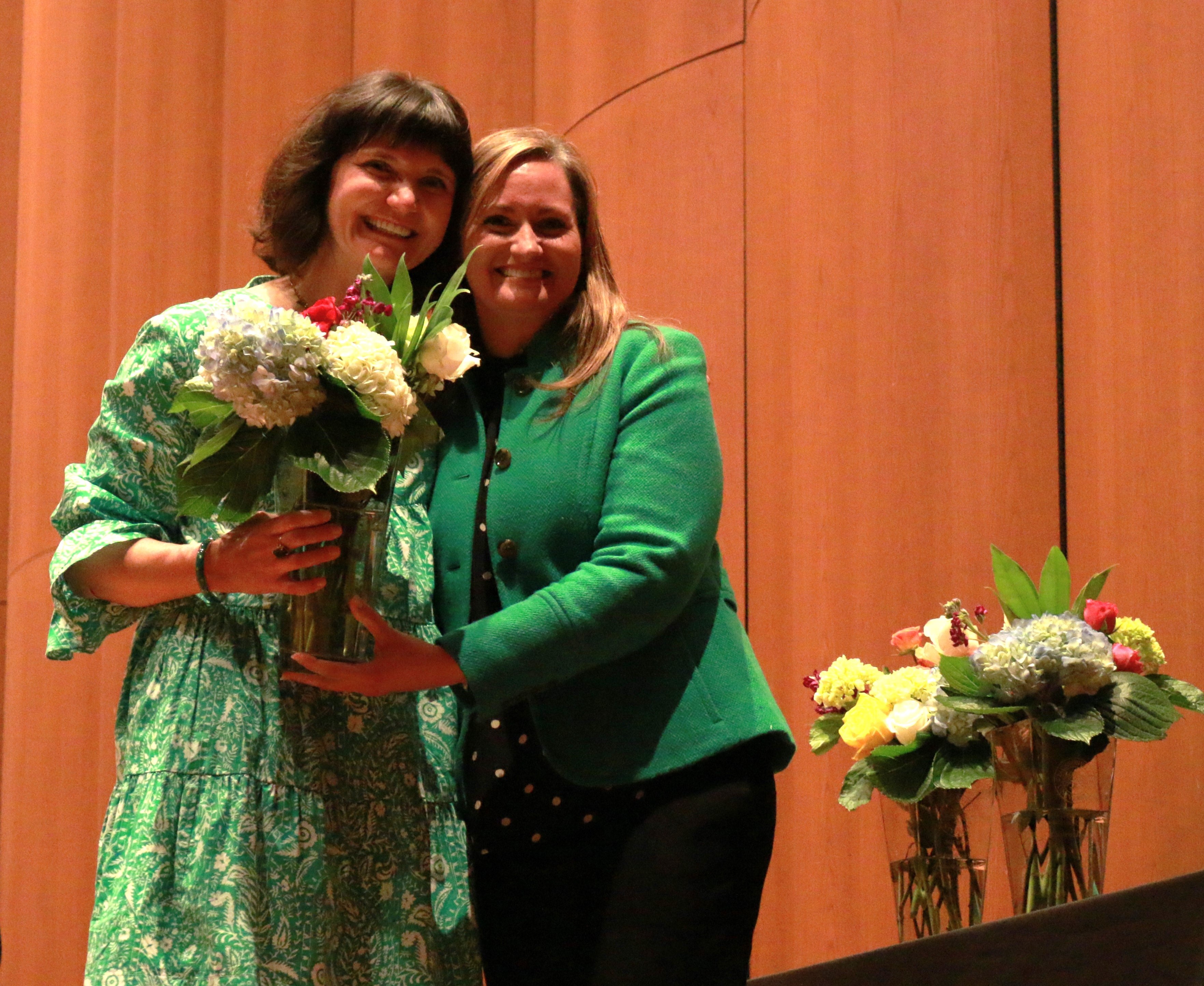 An award-winning instructor, a celebrated scholar, and a campus leader, Dr. Parker is beloved by her students and colleagues alike for her wit, intelligence, charm, and charisma. She is the chair of the English department, a trusted resource for students, and a highly-regarded volunteer at the Mayo Clinic. Dr. Parker is also one of the foremost advocates on this campus for women's rights and our LBGTQ+ community through her incredible work with the Women & Gender Studies minor and as the inaugural director of the Center for Gender + Sexuality.
In her nominations, she was described as a "powerhouse," a "role model," and "a beacon of light on this campus." One nomination detailed, "Dr. Parker is the faculty woman I admire most in the world because she is, indeed, so hard-working and whip-smart, tough on the outside yet caring on the inside, and at the end of the day an absolute joy and delight—a beacon of light on this campus, the pure embodiment of our Latin motto Fiat Lux."
Staff Woman of the Year:
Dr. Jennifer Weldon was named the 2023 Staff Woman of the Year.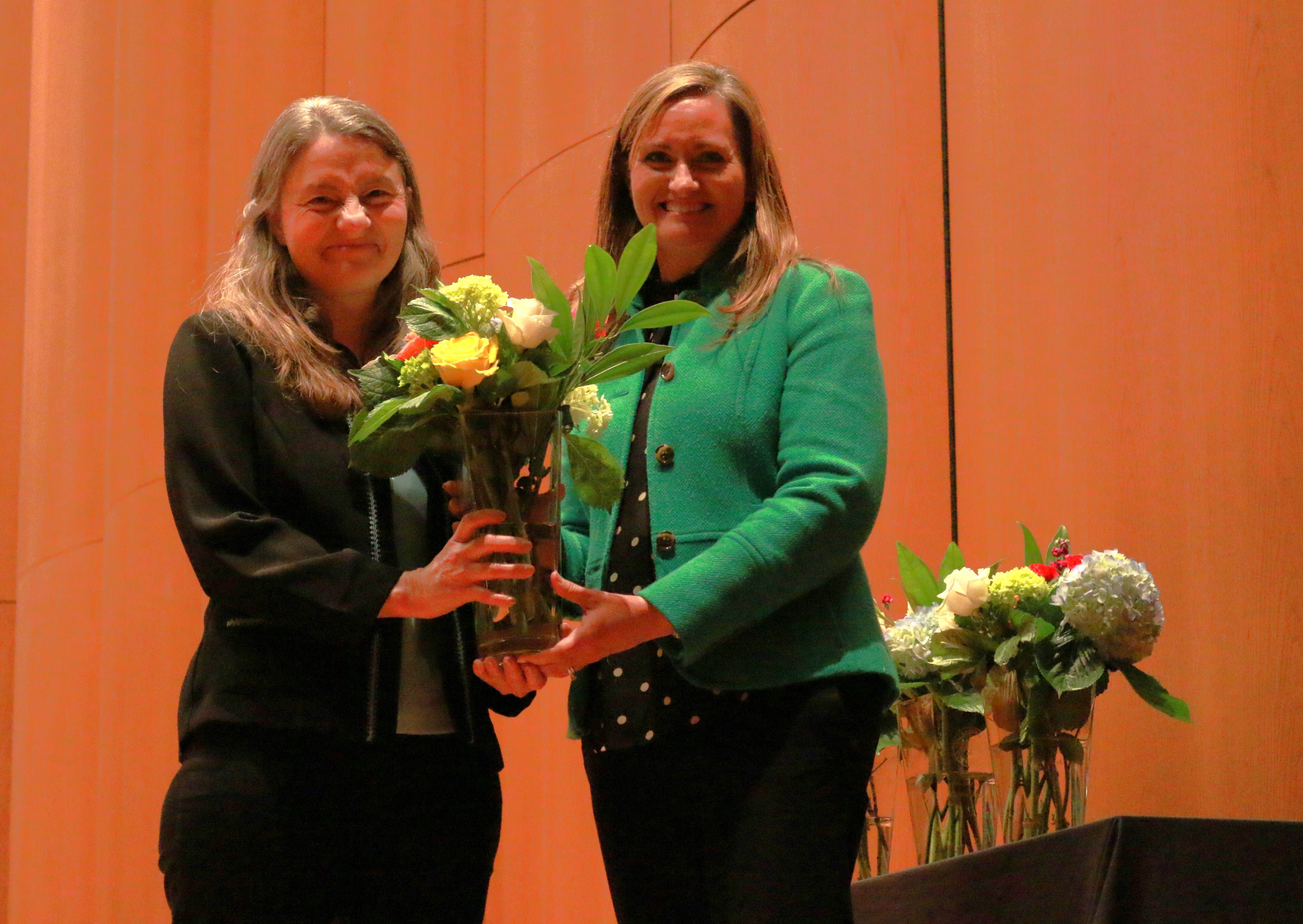 Dr. Jennifer Weldon is a Licensed Psychologist in the Student Counseling Center, maintains multiple impressive certifications, and actively strives to be up to date on current research within her field. She also completed credentials for maintaining her Board Certification in TeleMental Health and adapted to virtual counseling sessions to provide quality and continuity of care during ongoing COVID-19 challenges.
She is a valuable presence both on campus and in the Jacksonville community. Students often speak about her genuineness, respect, and understanding. In addition to counseling students, Weldon manages a counselor internship training program, where she coordinates the training of more than 100 professionals in the field of mental health. She also supervised a doctoral intern who provided Career Counseling and Assessment services in the JU Career Center to assist with at-risk and undecided majors for JU retention. For Weldon, 2023 marks her 20 years at Jacksonville University.
Dr. Weldon also wrote and obtained a grant of over half a million dollars for the Green Dot Violence Prevention Program, and serves on the Duval County Sexual Assault Advisory Council. Recently, she was recognized for her JU and community contributions at the SHE-RO Jacksonville City community awards event.
As one of her nominations says, "Dr. Weldon literally saves lives. She is one of the most caring and compassionate people on our campus. Due to the highly confidential nature of her amazing work, Dr. Jennifer Weldon truly exemplifies an unsung hero."
Here are the honorees from each category:
Student Woman of the Year:
Chloe Mattivi

Taylor Ruiz

Emma Clark

Erianna Williams

Jashma Cockhren

Logan Void

Sommer Kinsler

Joi Taylor

Alexa Harper

Jenesis Lawerence

Kaylan Green

Kira Kieler

Shanori Stanley

Hailey Grover

Amaya Wright

Madelynne Eash

Alexis Grant

Summer Lewis

Karley Dry

Andrea Wollitz

Hadley Burton

Macy Vestal

Abigail Neff

Amanda Bacallao

Sommer Marroquin

Sarah Moloney

Paige Pagano

T'Myia Scott
Graduate Student Woman of the Year:
Rachel Walters

Hailey Blachly

Alexa Stucke

Hannah Bateman

Ashley Greenawalt

Rhianna Scyster

Leah Dunlap

Sydney Schmidt

Adia Barlow

Hailey Haid

Elizabeth Pozen

Ainslee Nipper

Carmella Limon

Serinna Meister

Lanitra Ferguson
Faculty Woman of the Year:
Chelsea Gentry

Laura Atkins

Courtney Barclay

Tiffany Leach

Gail Maetozo

Melba Wagstaff

Lindsay Wolf

Shannon Lockwood

Sarah Parker

Sarah Murphy

Kara Conway

Megan Bewernitz

Pamela Resnick
Staff Woman of the Year:
Amanda Billy

Jenna Blyler

Caroline Busker

Rachel Cohen

Leslie Redd

Margaret Dees

Kathleen Griggs

Courtney Taybron

Danielle Della Rocca

Vickie Jones

Jennifer Weldon
"Women's History Month pays tribute to the important contributions, sacrifices, and accomplishments of amazing women around the world. I'm proud to work for a University that recognizes the importance of celebrating these milestones every day of the year, and most notably, honors all women throughout the month of March with special programming, conversations, and topics for and by women. On a campus where the majority of our students, faculty, and staff, are women, I'm proud to see our work, research, and contributions highlighted and celebrated by all stakeholders year-round. While I know this is not yet the norm, I ask you to settle for nothing else," said Allana Forte, Chief People and Culture Officer.