The recognition, named after longtime Jacksonville University supporter and philanthropist Robert T. Shircliff, goes to an individual who demonstrated courage in their service to Northeast Florida.
The Jacksonville University Public Policy Institute presented former City Council President Scott A. Wilson with its inaugural Shircliff Courage Award in recognition of his role in launching a historic and unprecedented city council investigation into the proposed JEA sale and bonus plan in 2019.
The Shircliff Courage in the Community Award recognizes the importance of courage in transformational leadership and serving the Jacksonville and North Florida community. It honors an individual who, despite pressure from others, risks their career, reputation, or financial future in seeking to do what is right for the community. In short, it honors an individual who puts community ahead of self in pursuit of public good.
"I am honored and humbled to receive the inaugural Shircliff Courage in the Community Award. Mr. Shircliff was an extraordinary individual who shared his passion for Jacksonville by giving to and supporting others," Wilson said. "I would like to thank those who provided guidance and supported me throughout my term as Council President. I would also like to thank the committee who nominated me for this prestigious award."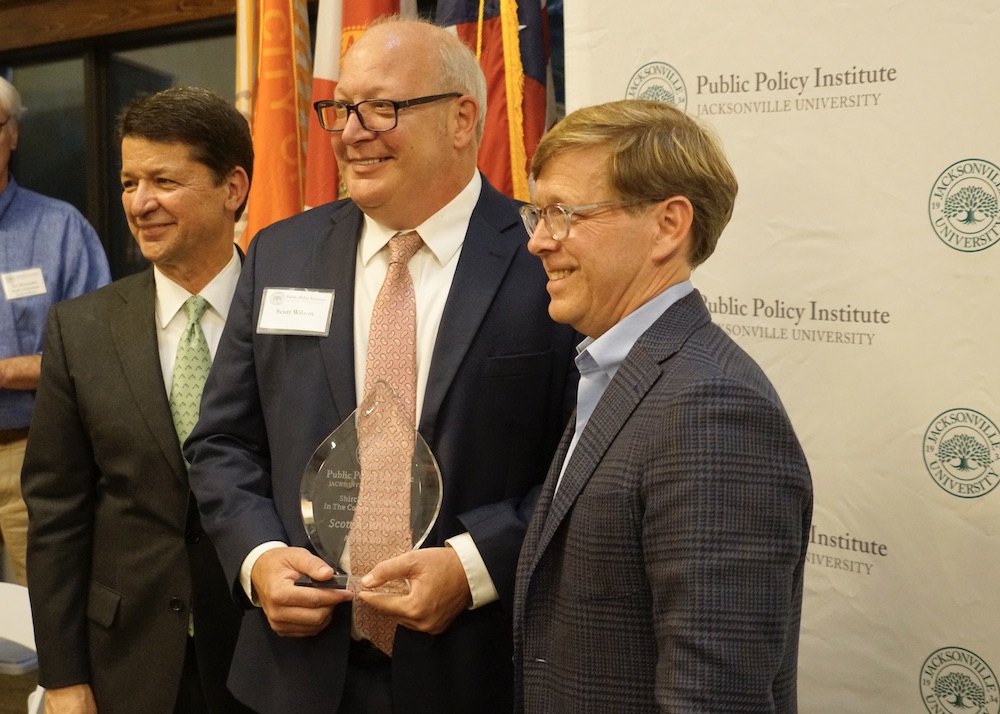 As City Council President, Wilson publicly called for an end to discussions surrounding a sale of the public utility, and launched the city council's Special Investigatory Committee on JEA Matters. The committee investigated the attempt to privatize JEA and provide a bonus plan of potentially more than a billion dollars.
"The unprecedented investigation into the proposed JEA sale and bonus plan, made possible by Scott Wilson's leadership and courage, utilized outside counsel, put witnesses under oath, and issued a historic 132-page report," said Rick Mullaney, Shircliff Executive Director of the Jacksonville University Public Policy Institute. "The investigation and report provided rare transparency and accountability in the JEA scheme and assisted a federal investigation that subsequently indicted the JEA CEO and CFO. His courage, in putting community before self in one of the biggest proposed financial transactions in our city's history, makes Scott a worthy recipient of the inaugural Shircliff Courage in the Community Award."
Wilson served on the Jacksonville City Council from 2015 to 2020 as the District 4 representative. He served as council president from 2019 to 2020. He's dedicated his life and career to public service, working up the ranks in the County and Circuit Clerks of Courts offices. He worked as an executive council assistant for the District 4 representative for eight years prior to running for, and winning, the seat in 2015. Wilson now works for Jacksonville-based Total Military Management, where he assists military families move throughout the country.
"As then-City Council President, Scott Wilson stood up against significant political pressure when he appointed and supported the Council's special committee to investigate the City's purposefully opaque and ultimately unsuccessful effort to sell JEA," said Stephen D. Busey, chairman of Smith, Hulsey & Busey, and counsel to the City Council Special Investigatory Committee. "But for Scott's courage and unsung tenacity, the true story behind the City's failed and fraudulent scheme may have never been told."
Former Jacksonville University Board of Trustees member and philanthropist Robert T. Shircliff enjoyed a special relationship with Jacksonville University for nearly half a century. As a founding member of the Public Policy Institute Advisory Board, Shircliff's belief in integrity, courage, and stewardship was instrumental in establishing the Institute's culture and driving its success.
He and his wife, Carol, were ardent supporters of the University. Their namesake can be found across campus at the Shircliff Hall at the Village Apartments, the Shircliff Conference Room and Carol Shircliff Healing Gardens in the Brooks Rehabilitation Center of Healthcare Sciences and Shircliff Circle annual giving society.