For the first time, engineering and aviation students in the JU Davis College of Business & Technology came together this semester for cross-major collaboration projects as part of Aerospace Week.
"This real-world collaborative effort allowed our students to experience the challenges and benefits of working with different groups on a complex project," said Dr. Paul Dinius, assistant dean and clinical assistant professor of Mechanical Engineering in the School of Engineering.
Students comprised of eight teams were tasked with working collaboratively to create a presentation describing their aircraft system, or a part of the system, in terms of an enhancement, demonstration and/or display, using all available resources, including Artificial Intelligence.
"Aviation students working with engineering students gives both contributors a valuable inside track about what to expect 'in the real world.' Engineers are the designers of safe and expedient flying machines, while pilots supply firsthand reports on the value and success of those engineering accomplishments," said Dr. Angela Masson, assistant professor of Aeronautics in the School of Aviation. "What may appear to be a solution to an engineer, may indeed be a huge improvement to a pilot's workload, or, alternatively, an effort that requires additional adjustment. Conversation and collaboration are the key to success in both environments."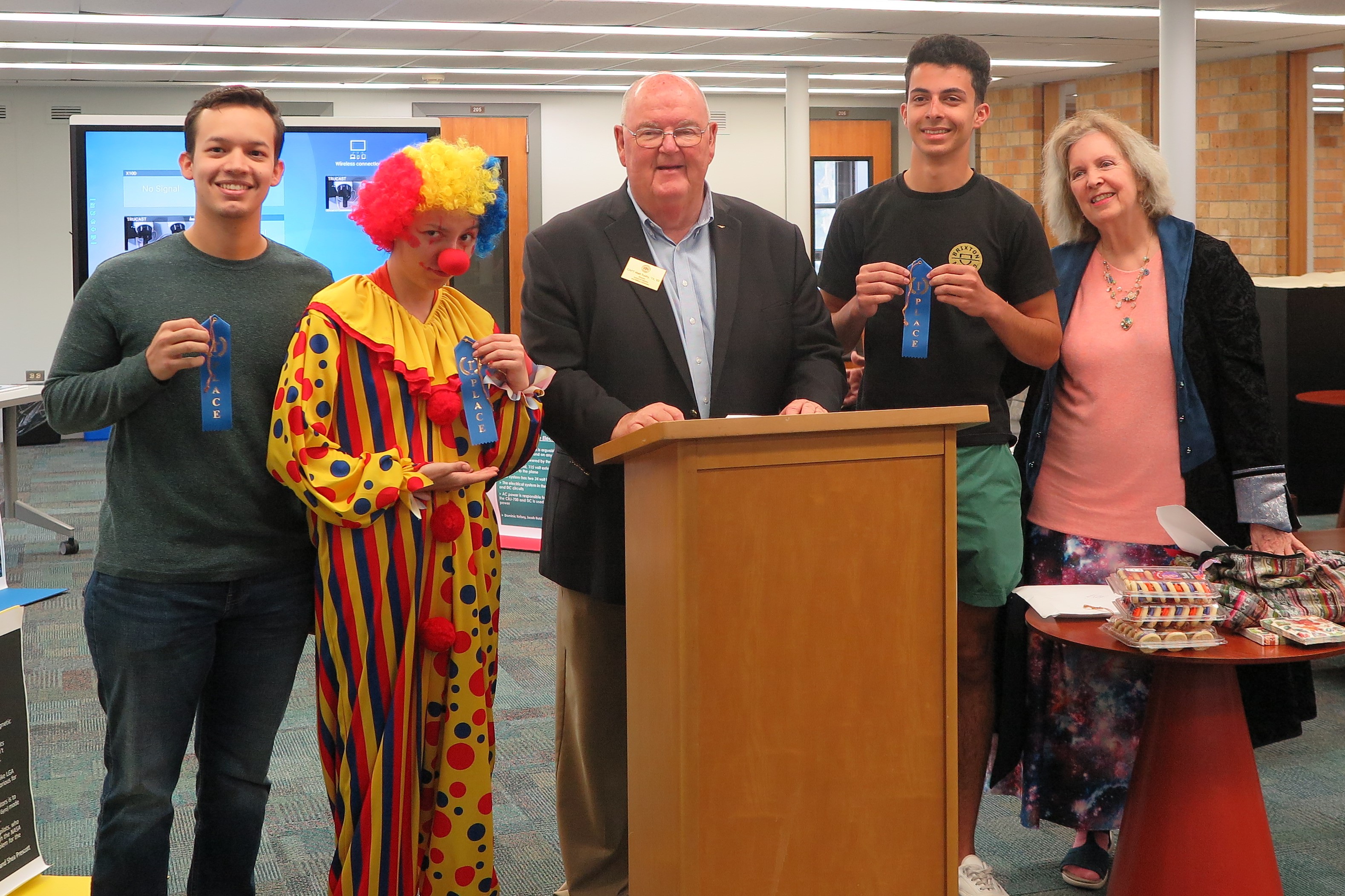 Out of the eight participating teams, three were named winners. First place was a tie between Team Flight Instruments and Team Navigation, while second place went to Team Pressurization & Pneumatics and third place to Team Flight Controls.
Team Flight Instruments was comprised of aviation students Eduardo Carrasquillo and Philip Pinto as well as mechanical engineering student Rachel Peet. This team's objective was to create a model fuselage section with a working air data computer system to demonstrate the process of air data collection and its transformation into airspeed readings in an aircraft.
Team Navigation is made up of electrical engineering students Fritz Ilner and Shea Prescott, along with aviation students Devon Graham and Trevor Shuba. The CRJ aircraft's navigation system is known for interference with the magnetometer, an instrument that measures changes in the Earth's magnetic field on the plane. The team used AI to reduce the instance of interference and improved the reliability as well as safety of the system.
"I thought it was quite interesting working with engineering students," said Graham. "I enjoyed greatly working with my peer Shea. He's very knowledgeable and super intelligent. We were in constant communication and updated each other on the project daily."
"I think this collaboration helped me regarding communication with people that are not in the engineering community. As an engineer, it's our job to understand the needs of the customer, even though initially we might not completely understand their field," said Peet. "Being patient and willing to explain our thoughts proved to be essential, and this project was a great testament to that.
"I was initially nervous about the project since aviation students don't get to do projects like these very often. Fortunately, Rachel Peet was the best project partner I could have asked for. We worked great together. A combination of good communication, sharing ideas and some ingenuity made the project as good as it was," said Carrasquillo.
Team Pressurization & Pneumatics included aviation students Alyssa Pouget and Ammar Mesairy and mechanical engineering student Zachary Howard. The pressurization system regulates the cabin pressure altitude to maintain a safe and comfortable environment for the passengers, while the pneumatic system helps supply bleed air from the engine compressors or APU compressors for the engine air conditioning, pressure regulation, wing anti-ice heating and cooling. The team analyzed the outflow valve's current design in comparison to industry standards and cutting-edge innovations.
Mechanical engineering student Zachary Leinart as well as aviation students Darby Smith and Tristan Zimmerman made up Team Flight Controls. The team's idea for the flight controls was to create a better environment for airplanes to incorporate artificial intelligence to communicate with the flight controls without having to monitor them every second of the flight, thus creating as little drag as possible.
The School of Aviation educates and trains professional pilots, air traffic controllers, and aviation executives. With one-of-a-kind industry partnerships, a world-class curriculum centered on a strong business foundation, and direct paths to the career of your choice, JU Aviation gives students the skills and experience to achieve their dream of becoming an aviation professional. JU aviation degree programs have earned the "seal of approval" from the Aviation Accreditation Board International.
The School of Engineering's programs are built on innovative, design-based curriculum developed in close collaboration with industrial partners and the best engineering education system in the world. JU engineering students work on real-life design projects every semester. Its programs challenge students and bring out their creativity in developing solutions to complex, real-life problems. Built on the concept of active learning and intrinsic motivation, the School of Engineering integrates the "practice of the engineering profession." It ensures design classes are represented each semester from freshman to senior year, binding the educational experience with hands-on learning.
The Davis College of Business and Technology is the only triple-accredited private college in all of North Florida and South Georgia, with AACSB, ABET, and AABI accredited programs. Its mission is to empower students to achieve sustainable career success with a high quality, relevant and applied educational experience that is delivered by faculty committed to advancing the individual development of each student.