At the center of the turbo roundabout welcoming drivers and pedestrians to Jacksonville University, the University has installed a "love letter to the Arlington community" in the form of a 20-foot glass-and-steel obelisk, thanks to generous support from private donors. The unique piece of public art was designed and installed by internationally renowned artist Shan Shan Sheng.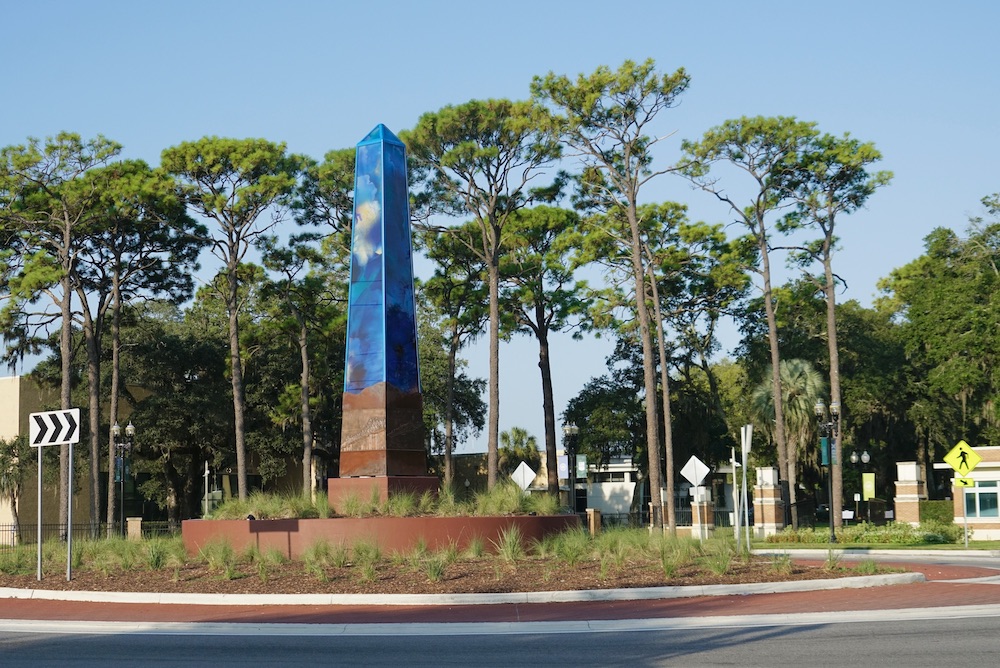 Jacksonville University donated the custom-made sculpture, titled Obelisk, to the City of Jacksonville through the Cultural Council of Greater Jacksonville. Sheng designed, fabricated, and installed the piece with support from the Renew Arlington CRA, the Cultural Council and longtime Jacksonville University partner Haskell. Its location within the turbo roundabout, which serves more than 30,000 automobiles daily, is the main welcoming point to the University.

"Shan Shan Sheng's Obelisk stands as a monumental work that recalls the history of our community and invites us to imagine a bold future. Public art humanizes public space," said Dr. Timothy Snyder, Dean of the Linda Berry Stein College of Fine Arts & Humanities at Jacksonville University. "Obelisk, at the center of the new turbo roundabout, creates a dynamic new civic plaza that we hope will be a source of pride to the citizens of Arlington and city of Jacksonville for generations to come."

Below the glass are bronze panels embossed with images of the local community and its rich history. One image celebrates Norman Studios, founded in the Old Arlington neighborhood in 1916, which produced silent films featuring African American casts and addressed social issues of the day. Another panel depicts the Mathews Bridge, which connects Arlington to Downtown Jacksonville, while an aircraft carrier represents a celebration of the area's strong Naval presence. A fourth panel will be used as a dedication plaque.

"The shape of the obelisk represents upward vision pointing to the sky, with its bronze base, embossed with symbols of historical significance to the Arlington community of Jacksonville, connecting back to the earth," Sheng said.

Jacksonville University and the Cultural Council of Greater Jacksonville selected Sheng from a year-long national search that generated nearly 40 proposals from experienced artists across the world. Sheng has pieces installed in four of the world's tallest buildings, as well as other major centers of education and civic engagement. She prioritizes universal messages in her artwork, making her pieces accessible across cultures and geographies–from her hometown of Shanghai to Chicago to Hong Kong.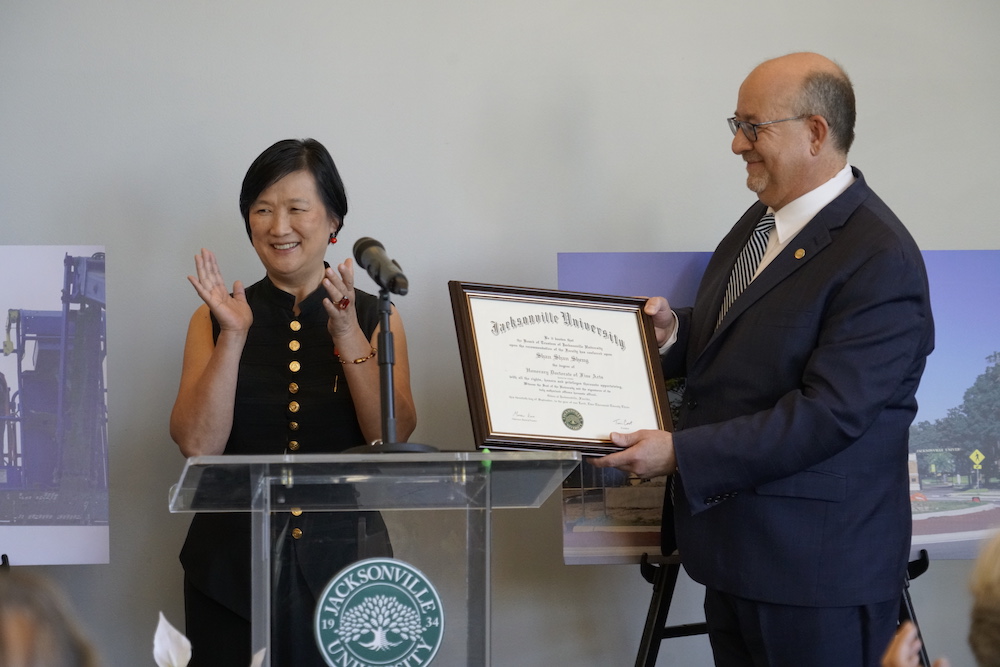 Sheng is a graduate of Mount Holyoke College and the University of Massachusetts at Amherst, where she earned her Master of Fine Art. She's worked
as an artist-in-residence at Harvard University and has completed more than 30 public art pieces across the U.S., Europe and Asia. Sheng's work has earned her myriad awards and honors in the U.S. and Taiwan. She lives and maintains a studio in San Francisco.

Obelisk serves as the latest piece of the University's efforts to revitalize the surrounding Arlington neighborhood. The corridor of growth stretches from the "College Park" mixed-use development at the corner of Arlington Expressway and University Boulevard; to the recently-opened Wawa; the IDEA Public School River Bluff campus serving K-12 students; and further north to the Jackson Commons student apartment complex and the JU Medical Mall anchored by the JU Health Sciences Complex and Nelson Occupational Therapy House, Dolphin Pointe Landing skilled nursing facility and LECOM College of Osteopathic Medicine.

"We're grateful for the immense generosity that made this meaningful piece of public art possible," said President Tim Cost. "A premier private institution has a crucial responsibility to engage in the community that surrounds it. We are a vital gateway to Downtown. Jacksonville University has long been dedicated to promoting the arts and with this installation, we're pleased to be able to share that with our Arlington neighbors."