The Fall term of 2023 marks the start of Jacksonville University's 90th academic year. That's nine decades of Dolphins impacting the world through their research, innovation, and service. And this summer was no exception.
During the summer months, students and faculty traveled to every corner of the globe to explore, research, learn, work and serve. Students, in particular, have the opportunity to apply their knowledge in real-world situations, to engage with other cultures, and to gain new perspectives.
They bring those experiences back to campus each fall for the benefit of our entire community. Here are just a handful of the students who made waves around the world this summer.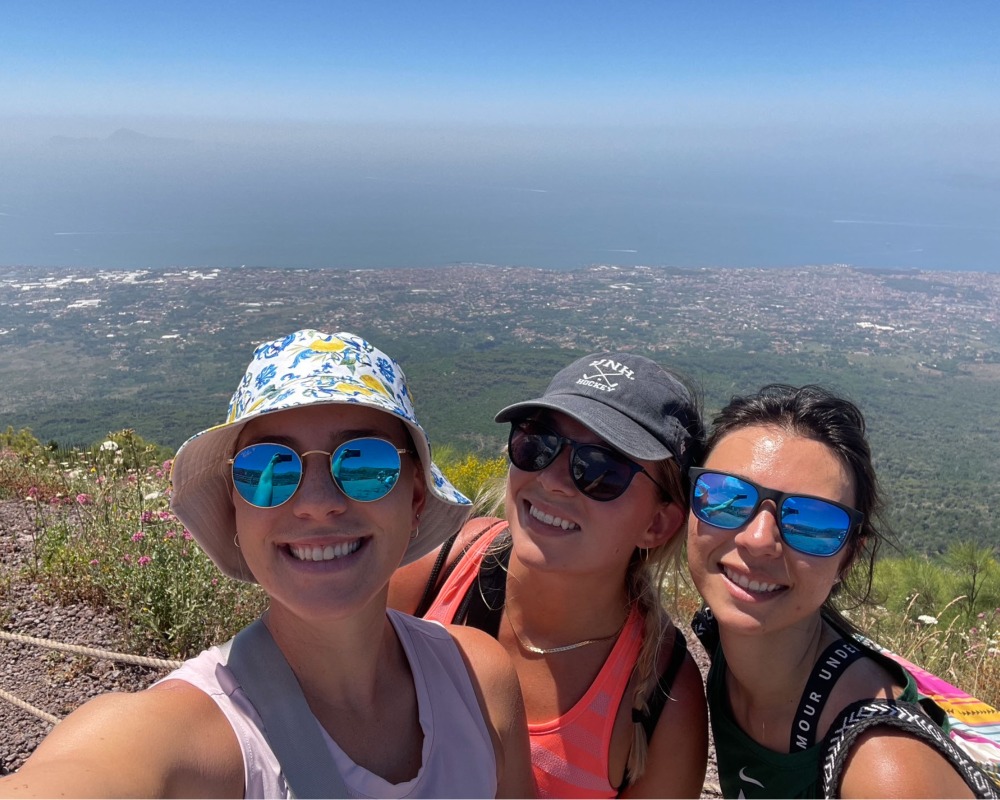 MELANIE DOAN '24
Senior marine science student Melanie Doan (on the far left in the photo) spent July exploring Sorrento, Italy, and the renowned Amalfi Coast during a study abroad experience led by JU professors Dr. Jeremy Stalker and Dr. Dan McCarthy.
During several excursions, Doan and her classmates surveyed fisheries, studied the water quality, and examined rock and sediment structures. She learned how overfishing has impacted apex predators in that region of the world.
"Species like great white sharks and tuna used to frequent the Mediterranean, but now they are hard to find. This affects the whole fisheries food web," Doan says, adding that increased maritime traffic and pollution could also be impacting the local marine ecosystem.
Doan also had the opportunity to explore two active volcanoes in Italy. She climbed the infamous Mount Vesuvius that destroyed Pompei in 79 AD and visited Campi Flegrei, a super-volcano that sits under the city of Naples.
JAMES MARTZ '24
In June, a group of JU film students traveled to the United Kingdom to create two short films – a comedy called Duck Cafe and a chilling horror story called The Book. The students managed every element of the production, from concept development and script writing to filming and editing. James Martz (pictured behind the camera in the photo) served as cinematographer for The Book, which the students filmed in London.
"What I learned most is that you have to be willing to make changes on the fly," Martz says. "We couldn't see the locations ahead of time. So, we couldn't design the set or prepare props until we got there and we had to do that in about a day."
After two days of filming in London, the students traveled to Scotland to film Duck Cafe, with Martz serving as assistant cinematographer. Filming wrapped in just two weeks for both short films. Aside from the hands-on experience, Martz says he was inspired while visiting historic places like The Globe Theatre, where audiences first saw William Shakespeare's plays performed in the early 1600s.
"I'm a writer, and the past couple semesters I was having a really hard time coming up with ideas. But after going over there I came back with a ton of ideas and actually started working on some while I was there," Martz says.
Duck Cafe and The Book will premiere at the Fiat Lux Film Festival on JU's campus this coming spring.
RUTH CORTES CARVAJAL '23
Doctor of Nursing Practice student Ruth Cortes Carvajal (in the center of the photo) and several undergraduate nursing students spent an immersive two weeks in the West African nation of Ghana for a study abroad course focused on community health. They visited local hospitals and community clinics, observing the treatment of infectious diseases such as malaria and leprosy.
"It's important to learn about these infectious diseases in these tropical zones because with global warming we are going to see more of them. In Florida, we had six cases of malaria this summer," Cortes Carvajal says. The Centers for Disease Control also issued a warning about leprosy cases in central Florida in July.
She and the students also had the opportunity to visit local schools and to accompany local healthcare teams for in-home patient visits in the community, sharing some basic health education such as how to conduct a self-exam for breast cancer.
"We saw very rare diseases, including a woman who was covered in tumors. We had a chance to ask patients questions and check their vitals," Cortes Carvajal says. "I grew in many ways from this trip."
JENNA KINSAUL '26
Dance major Jenna Kinsaul spent two weeks in Pietrasanta, Italy for the annual Danza in Arte a Pietrasanta (DAP) Festival, which combines dance, music and visual arts in an inspirational series of master classes and performances. The festival attracts professionals, students and instructors from all over the world and offers nightly performances set in the ancient architecture of the city.
"I had the honor of studying under world-renowned choreographers and professionals in the field," Kinsaul says. "Every night we had the chance to see performances from each of the companies that participated in the festival, along with other students from around the world."
Kinsaul says her favorite part of the trip was meeting people from all over the world and learning from them. "This opportunity taught me so much about myself and my own abilities as well as the culture of other nations. It definitely grew my knowledge of dance…It taught me how to learn from instructors who I was not familiar with and gave me the chance to soak up knowledge from them and my peers the entire time."
HUNTER NUEKU '23
Graduate student Hunter Nueku (far left in the photo) returned to her home of O'ahu, Hawaii, to rescue marine mammals and develop important recovery plans for endangered species. As an intern with NOAA's Pacific Islands Regional Office, Nueku helps respond to stranding emergencies, helps perform surgeries and necropsies, and serves as a liaison between NOAA and the Native Hawaiian Communities.
Summer is pupping season for endangered Hawaiian monk seals. Nueku works with NOAA scientists to identify newborn monk seals and create a 150-foot barrier to protect the mother and pup from humans. She and the NOAA team monitor the pups daily to ensure they are thriving. When the baby seals are weaned, the scientists tag and vaccinate them. Nueku also helped rescue a hawksbill sea turtle this summer.
"All of this has contributed to my understanding of the actions laid out for the population recovery of a protected species. With this type of knowledge, I've been given a new project in helping to create that starting point for a recently listed species – the giant manta ray," Nueku says. "Since the giant manta ray is a global species, this document will be used by agencies around the world."
TYLER KOPF '24
As a senior chemistry major specializing in biochemistry, Tyler Kopf is in pursuit of a scientific breakthrough that will reverse paralysis. He was selected for a distinguished National Science Foundation summer research program at the University of Notre Dame, where he joined a team of researchers studying nerve cell growth in the spinal cord.
"Nerve cells search for partners. When one of them gets cut, it wants to find a partner, and it keeps building structures as it searches for a new partner. They'll extend their structure and they'll retract it, extend it and retract, and if they don't find something, then eventually they give up," says Kopf. Once the nerve cells give up, they die, and that leads to loss of function.
Kopf and the team of researchers focused on a specific protein that helps nerve cells bind to receptors in the dorsal root entry zone and dictates the stages of cell development. Learning how to manipulate this protein could be the key to nerve cell regeneration, researchers believe.
"When those nerves can go back into that zone, now you have a new hope of integrating that nerve cell back into the whole body, into the whole system and possibly regaining function," Kopf says.
He's hopeful that one day this research will not only help paralyzed individuals walk again, but will also reverse the effects of neurodegenerative diseases by helping the brain regenerate lost nerve cells.
SETH HOGUE '24
Senior engineering student and Jacksonville University men's lacrosse athlete Seth Hogue spent his summer optimizing jet engine enclosures during an internship at Collins Aerospace in Foley, Alabama.
Hogue worked on the production line with a team of mechanical engineers, quality engineers, quality assurance experts, team leaders, and product control experts. The focus of their work is to help to solve design issues on the production line, while improving quality and efficiency.
"I have had a lot of fun and learned a ton. Most of it was completely new to me, but I was part of a great team that helped and taught me throughout the process," Hogue said.
Hogue designed and 3D printed a tool that improved the efficiency of the production process and the manufacturability of a new product. It's a test apparatus that helps ensure the fasteners sit at the correct depth according to precise design specifications.
"A lot more goes into the manufacturing process than I thought. There are more types of fasteners than I think I could have ever imagined, all with specific applications and purposes inside of the jet engine," he says. "I have learned that while a design might be perfect on paper, it usually is hard to build," says Hogue, adding that this can be improved with more communication across different types of engineering teams.
Hogue says JU's design-based curriculum helped better prepare him for the internship. "Being able to apply and test my knowledge rather than regurgitate it for a test has given me a greater understanding and confidence with the material, which is shown in my work now."
KAYLEN GREEN '25
Kaylen Green (far left in the photo) customized her path by double majoring in psychology and english, with a minor in gender studies, and this summer, she applied that uniquely tailored education in an exciting new field – medical humanities.
Green was selected for a highly competitive internship at the Mayo Clinic's Center for Humanities in Medicine, which promotes the artful and compassionate delivery of healthcare. The Center integrates the arts and expressions of human culture into the healing environment.
While Kaylen helped facilitate patient activities such as art by the bedside and programming designed to relieve stress for physicians and residents, she also had the opportunity to research an emerging new field.
"Currently I'm working on a project called social prescribing," Green says. "The UK is in the forefront in this field. It's all about holistic healing, mental, physical and social wellness."
Social prescribing involves referring patients to non-clinical services or activities that may help promote their healing and overall health. This may include activities such as gardening, volunteering in the community, or group exercise. Green says there is very little research available on social prescribing and she hopes to continue studying it by extending her internship at Mayo Clinic through the fall.