The Jacksonville University Varsity Sporting Clays, Skeet and Trap Team took home another ACUI/SCTP national championship title this spring in San Antonio, Texas, bringing the team's total count to 29 national championship ACUI/SCTP event wins since their inception in 2009.
The team, competing in Division 1, placed first at the ACUI/SCTP National Collegiate Championships in American Trap and captured RU National Champions in the Skeet and Skeet Doubles events. They also took Third Place National Champions in the Sporting Clays, Super Sporting and Trap Doubles events, placing third overall in the national composite for all six events.
Earlier this year, the team also took home trophies from the NCSSAA Southeastern Regional Collegiate Spring Championships in Jacksonville. Kevin Bandt ('21/'25) took High Overall Champion in the Men's American Skeet event with Chloe Mattivi ('23) taking RU Women's Champion in both the Women's Sporting Clays event and Women's Overall Composite for all events. Freshmen Reaganne Gates took Women's RU American Skeet champion and Bailey Oliver took third in Women's American Skeet. JU swept the Fall SE Regionals in Jacksonville.
Head Coach David Dobson said he credits his students for the program's consistent, unprecedented success over the years, and that this year is no different.
"We have always had strong varsity shooting teams since our inception in 2009 – 29 national event championship titles and multiple individual national champions are no accident," Dobson said. "Having another 4 team members on the USA Shooting Team also speaks to the excellent reputation of the program not just nationally, but internationally."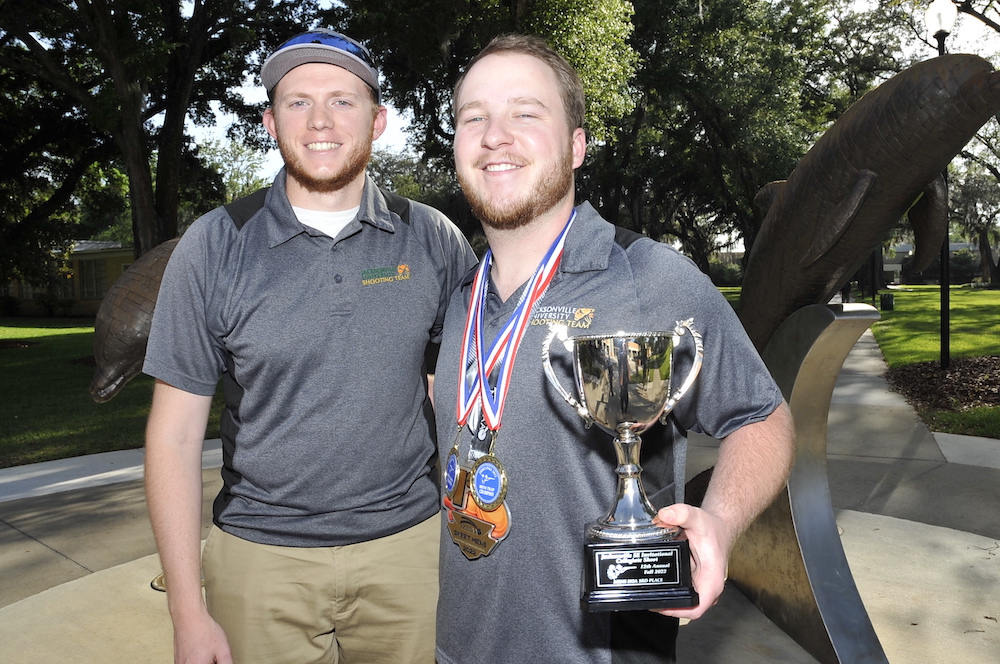 Lance Thompson, Chantry Stermer, Boyce Privetts and Manny Butdorf were the four named to the USA Shooting Team. Stermer and Thompson competed internationally last year in the ISSF World Cup Junior and the ISSF World Championship Shotgun events, taking Gold and Silver medals respectively.
"The amount of talent this team has is amazing," Dobson said. "They stepped up their game in the fall, dominating the Jacksonville Southeastern Collegiate Regionals, then went to the NCSSAA Nationals in Las Vegas, and finally to the biggest event (ACUI/SCTP Nationals) in San Antonio, where they dominated in Division I. Our freshmen especially stepped up and performed brilliantly in San Antonio. I am beyond proud of these fine young men and women."
Coach Dobson said that beyond the immense talent he sees on his team, he's impressed by the 67-member squad's ability to manage themselves independently, rely on each other and give back. The team elects their own captains, with this year's being Ross Johnson and Brooks Wiley. The team also has 12 members who are certified instructors, and they use their training to help not only their teammates, but out in the community as well. In addition, the members of the program maintained a 3.3 team GPA.
"It is about accountability, responsibility and being professional, as well as giving back to the community," Coach Dobson said. "We are like one big nutty family who looks out for each other."