More than 1,000 students will cross the stage this weekend as Jacksonville University celebrates the end of another academic year. Students from more than 20 countries are represented in the Class of 2023, and each graduate this weekend will join the more than 40,000 alumni of Jacksonville University, dating back to the 1930s.
But as their time as JU students comes to an end, commencement also marks the beginning of a new chapter as graduates take what they've learned on campus into the real world, or back into the classroom to further their education.
Many have jobs lined up or have plans for continued education in their fields. While many outstanding graduates who will cross the stage this weekend, learn about a few students who exemplify the caliber of excellence and determination that's found throughout the Class of 2023.
Victoria Caetano
Biology major, psychology minor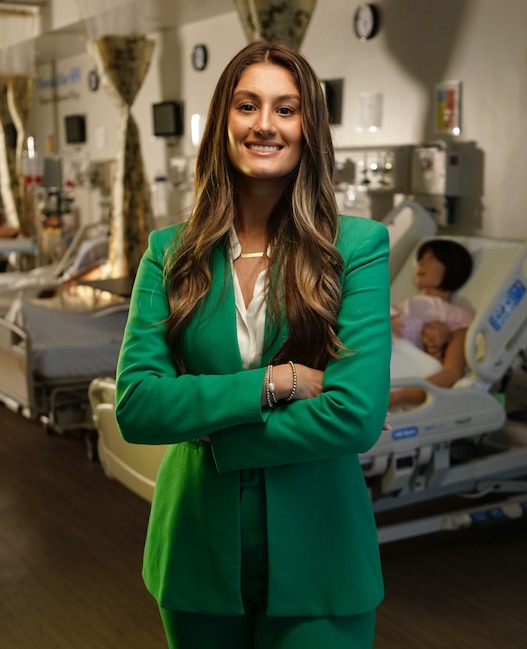 Victoria Caetano wasn't sure if she'd even make it to Jacksonville University as an incoming freshman, but not because she didn't want to go.
Just days after visiting JU for the first time, and several months before move-in day, Caetano underwent spinal surgery – one of dozens of surgeries throughout her young life to mitigate her spina bifida. The surgery left her paralyzed for three months, and her recovery involved intense rehabilitation.
"The doctors told me I probably wouldn't go to college," Caetano said. "But I was able to overcome a lot of challenges and I made it to JU my freshman year, which was the fall of 2019. And I've been here and fine since."
Four years later, Caetano will cross the stage at graduation having overcome those challenges while making the most of her time at Jacksonville University. Caetano could often be found giving tours to prospective students, leading her sorority Delta Delta Delta and completing biology research. Caetano also can be seen in JU's episode of "The College Tour."
Caetano plans to attend medical school following a gap year in her home state of New Jersey, where she will work in the field while she studies for the MCAT and applies to schools.
"I would love to go into pediatric neurosurgery or pediatric urology because I feel like that's what I most experienced as a kid," Caetano said. "Being able to be a doctor, but also as someone who was a patient before would be a really full-circle moment for me, being able to treat children that are just like me."
Luke Stoeber
Marine Science major, minors in Chemistry and GIS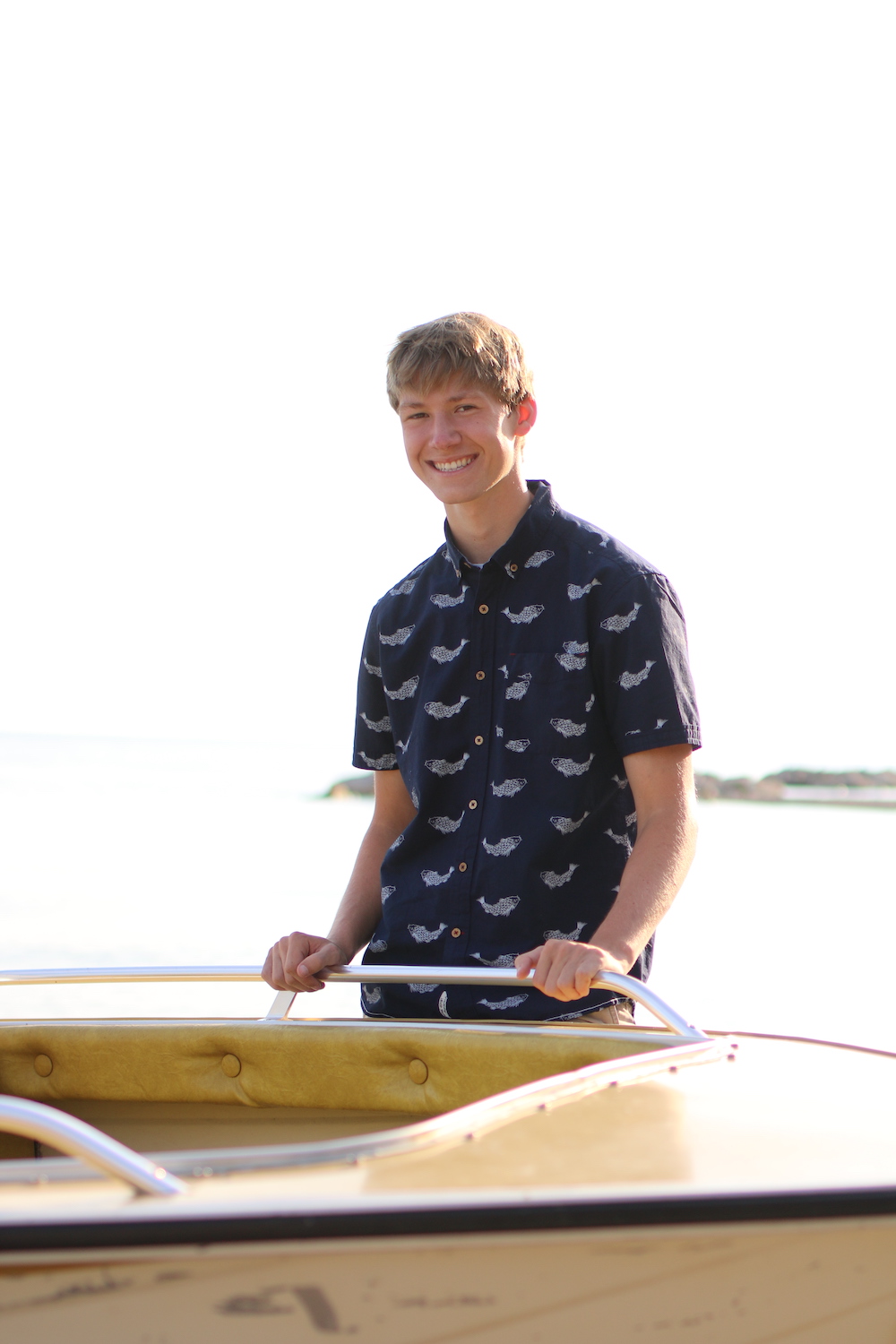 Coming to Jacksonville University, Luke Stoeber knew he wanted to study marine science. To do that, he'd need to leave his home state of Ohio to find a college, preferably one with easy access to marine environments to study.
Four years later, Stoeber said he not only found a place to study marine science, but countless opportunities to get involved in undergraduate research, gain experience in the field, and expand his horizons.
Stoeber was able to participate in research projects with JU faculty ranging from studying gray seals and red lionfish to monitoring the effects of microplastics. Throughout his time at JU, he's also been involved in various academic organizations, and led the Green Keys, a group of the top academic performers at the University. He was also a member of the FC Phins club soccer team.
Following graduation, Stoeber is heading to South Carolina to attend Clemson University to study coral reef ecology, an area Stoeber was able to dive head first into during his time at JU through two trips – a study abroad trip to Belize and a research trip to Key West.
"I feel very well prepared for that next step," Stoeber said. "The access you have to professors, and having them know who you are opens the doors to a lot of opportunities. I was able to get my hands on a lot of different research opportunities, and that's what makes you competitive in getting to that next step, whether it's the workforce or trying to go to graduate school."
Christian Cornella-Carlson
Majors in Sports Business, Finance, Marketing with minor in Aviation Management & Flight Operations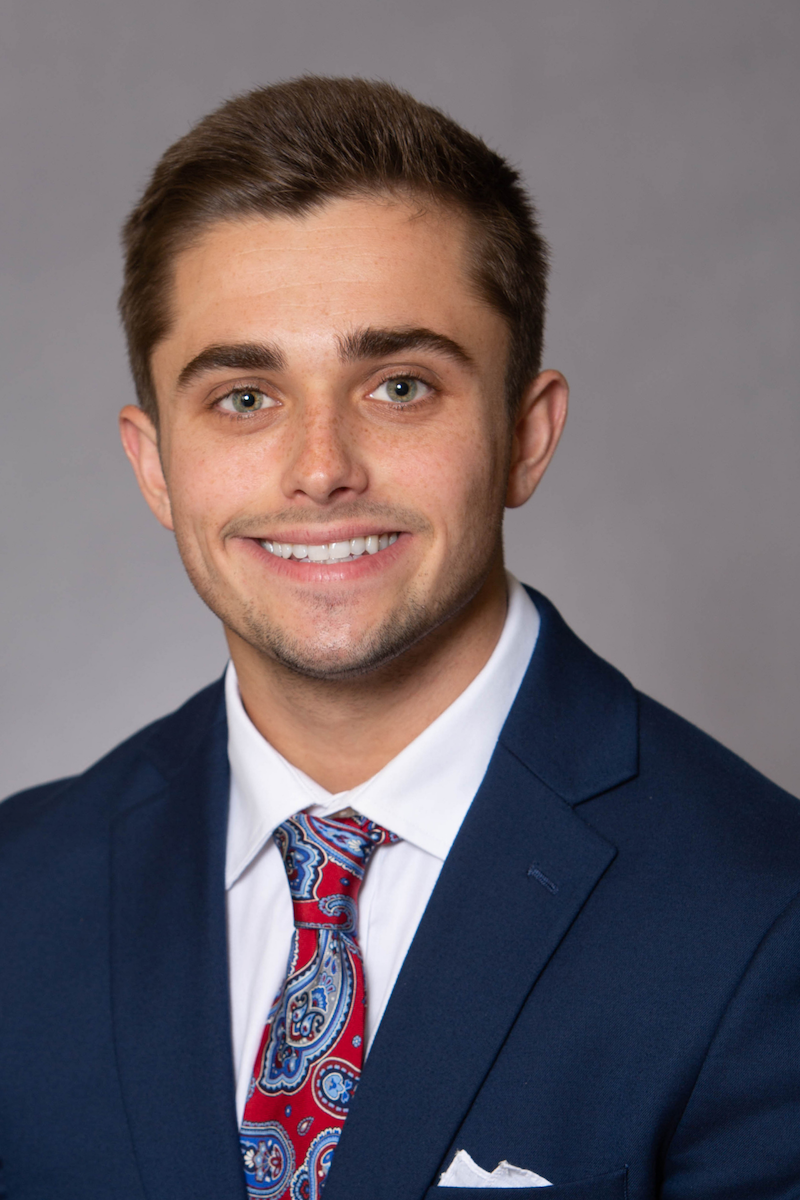 Christian Cornella-Carlson transferred to Jacksonville University in search of the close-knit environment he felt he lacked at his previous university. The Delta Propel program caught his eye to apply, he came down from Wisconsin for a tour and felt like JU would be the perfect fit. And if you ask him, it couldn't have been a better choice.
"I decided JU would be a great fit as their programs are personalized, professors are experienced, and they had the resources and individual attention I needed to succeed early on," Cornella-Carlson said. "My journey has been nothing like any other."
Cornella-Carlson became deeply involved on campus, joining various academic organizations, taking opportunities for leadership positions within the Davis College of Business & Technology and getting involved in Greek Life. He's been named as a top student within his college, both as a Zimmerman Scholar and Top 25 student, and is a lead student ambassador for the Davis College.
"What has stood out to me about JU throughout my time is how relational the professors are as well as higher-up administrators," he said. "I've been blessed to have sit-down conversations on multiple occasions with President Cost and Dean of Students Kristie Gover. They make time for their students and it really means a lot."
Following graduation, Cornella-Carlson is returning to JU to complete his Master of Business Administration, while working as a graduate assistant in marketing for JU Athletics. That will aid him in his long term goal of becoming a NCAA Division I Athletic Director, or leading a professional sports organization.
Samuel Sterling
Nursing major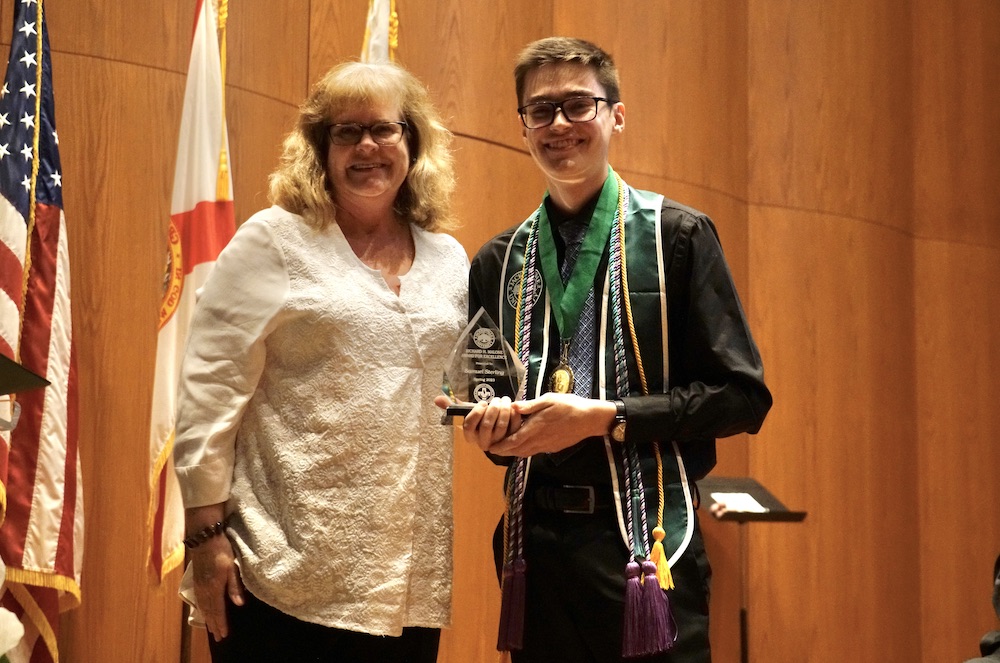 Amongst his peers and faculty in the Keigwin School of Nursing, Samuel Sterling is known as a leader, and someone to look up to as a nurse.
In addition to excelling in classes, Sterling works on campus in the Keigwin's Simulation Training and Applied Research Lab, and as a peer tutor. And his willingness to help others hasn't gone unnoticed. As he received the Richard H. Malone Award for Excellence, his peers had this to say about him:
"He's an extremely driven and dedicated student, an overall phenomenal person and genuinely wants others to succeed and is always willing to help. Sam radiates positivity in everything and is overall who I would want as my nurse," his nomination read.
As part of the JU Honors program, Sterling volunteered with the North Florida School for Special Education and other organizations in the community. He came to JU not only to escape the cold Maine weather, but to get involved at a smaller university. As he graduates amongst the top in his class, Sterling found what he was looking for.
"Assisting in the STAR Lab helped me to connect with other students and grow as a leader through demonstrations and assistance with skills practice," he said. "Tutoring was an amazing chance to grow as a peer mentor and a great way to pass on knowledge and help others. Here at the end of my time at JU I was able to join Sigma Theta Tau, which is our nursing honors association and I found this to be a large achievement for myself."
Following graduation, Sterling is heading to Ascension St. Vincent's nurse residency program here in Jacksonville. He has plans to eventually work in the cardiovascular ICU or open heart recovery units, and return to school to earn his master's degree.