In recognition of their generosity and service to Jacksonville University, a Village Apartment building now bears the name of two of the University's greatest supporters: Frank and Marisa Martire.
The naming of Martire Hall is just one way the University, President Tim Cost and the Board of Trustees have been able to thank the Martire Family for their continued support across campus. With more than $1 million contributed to the University, the Martires have supported JU's Greatest Needs, the Brooks Rehabilitation College of Healthcare Sciences, Davis College of Business & Technology, the STEAM Institute and student scholarships.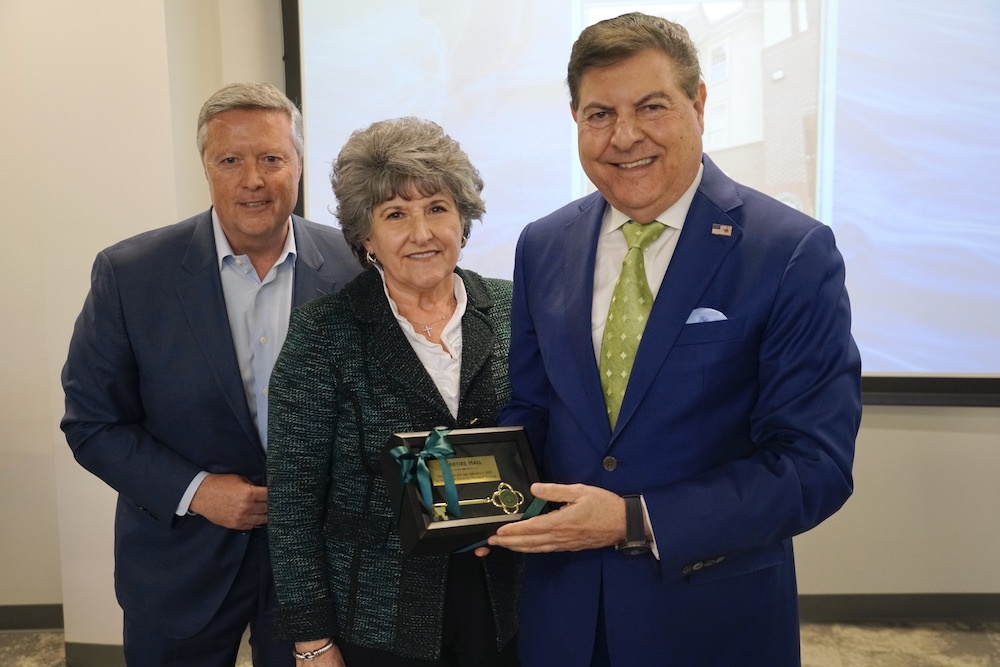 President Tim Cost presented Frank and Marisa with a key to their newly-named hall at the dedication ceremony this spring.
"The students are at the center of everything we do," said Dean of Students Dr. Kristie Gover.
"In Student Affairs, the investment in the student experience allows us to focus on the learning and support that takes place outside the classroom. Over the past 10 years with the vision from President and Mrs. Cost, and support from generous donors like Mr. and Mrs. Martire, we've made significant accomplishments."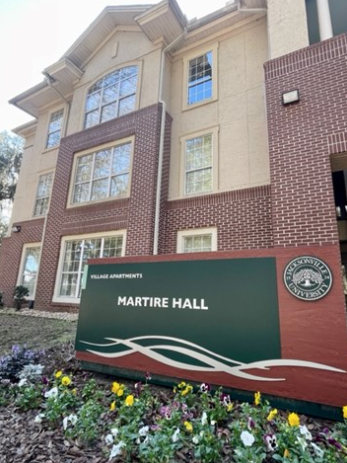 Frank Martire is a member of the Board of Trustees, currently serving as treasurer of the Board and also chairs the board's finance committee. He was elected to the Board in 2017. Frank Martire is Executive Chairman of NCR Corporation, the world's enterprise technology leader for restaurants, retailers and banks. Previously, Martire was President and CEO of Jacksonville-based FIS. Prior to that, Martire served as chairman of the board for Metavante Technologies, Inc. and as CEO for Metavante Corporation.
Prior to the dedication, the Board of Trustees took a tour of campus, focusing on newer additions including the Health Sciences Complex and recently-completed STEAM Institute, and heard from a group of students on their college experience.
"What was most impactful, aside from all the technology we saw today, was the passion of the students and the faculty," Martire said at the dedication ceremony. "They were all so engaged with this University."