Each year, Jacksonville University faculty members recognize their colleagues who excel in four areas: community service, university service, scholarship and professional activities, and teaching. A selection committee determines a winner for each category and announces their choice at the annual Faculty Recognition Event held now at the River House for the second year.
"We are honored each year to put together this event to recognize the many accomplishments of Jacksonville University faculty members. This year, the weather was perfect, the food and drink were plentiful, and the camaraderie was uplifting," said Vice Provost of Academic Affairs, Dr. Sherri Jackson.
Here is more on this year's honorees:
Community Service Award:
Dr. Nisse Goldberg
Dr. Goldberg is a Professor of Biology and Marine Science, Chair of the Department of Biology and Marine Science, and specializes in terrestrial and marine botany and ecology. She is now a two-time winner of the Community Service Award, her first being in 2010. Dr. Goldberg is also a recipient of the Professor of the Year Award in 2017, the University Service Excellence Award in 2018, and the Excellence Award in Research in 2014.
Among Dr. Goldberg's many research interests is the study of subtidal seaweeds in the Antarctic, for which she and a colleague received a National Science Foundation grant. In addition to her research, Dr. Goldberg coordinates the Science and Engineering Lecture Series, led sustainability efforts that include developing the Tree Campus USA designation, served on the Faculty Executive Committee, and currently serves as Faculty Chair, among many other activities.
Nominees:
Nisse Goldberg

Ashley Johnson

Kathleen Kavanagh

Sawsan Tabbaa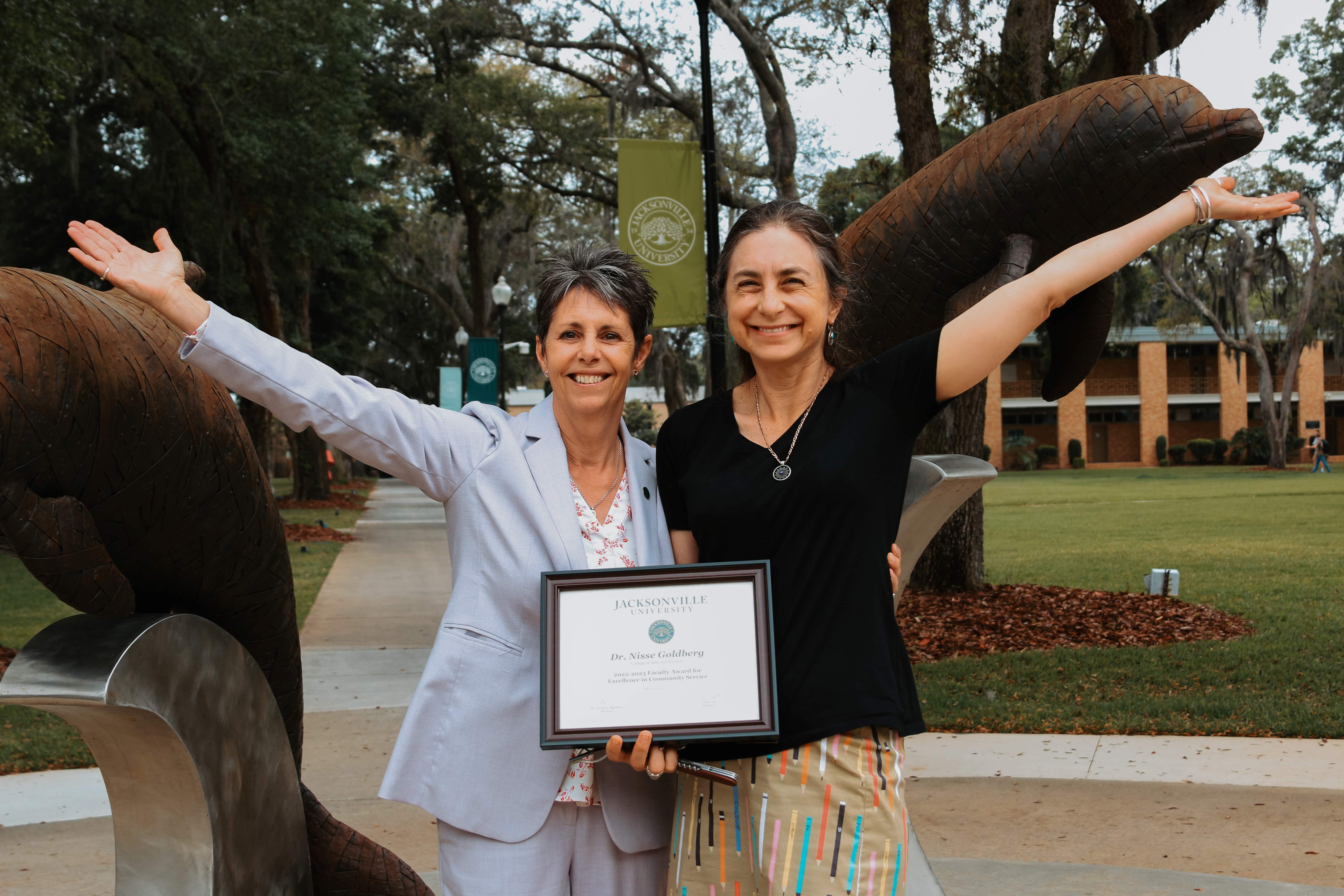 University Service Award:
Dr. Tamara Caudill
Dr. Caudill is an Assistant Professor of French and Chair of World Languages, specializing in medieval and early modern French literature, theatre, performance, and visual cultures. Known to her students as "Madame," Dr. Caudill is passionate about language, literature, and culture as immersive experiences. She brings this focus into the classroom with engaging activities such as cooking demonstrations and interactive murder mysteries, earning her the 2021 Faculty Excellence Award in Teaching. Dr. Caudill is also the President of the International Marie de France Society and Assistant Editor of its journal, Le Cygne. Her recent publications include articles on medieval French literature and culture.
In April 2022, she was tasked with leading a committee to create the First Year Seminar. She worked over the summer to write the syllabus and finalize the curriculum based on the committee's earlier recommendations. Dr. Caudill also taught a section of the FYS to test the curriculum and provided lesson plans to other instructors.
She has embraced advising, departmental administration, and committee work as an integral part of her professional identity. In 2022-2023, she served as co-chair of the SACSCOC QEP Committee, charged with developing the Quality Enhancement Plan that will guide the University for the next five years.
Nominees:
Courtney Barclay

Tamara Caudill

Roberta Christopher

Kara Conway

Bill Hill

Jim Mirabella

Sarah Murphy

Sarah Parker

Ross Stephenson

Sawsan Tabbaa

Lila de Tantillo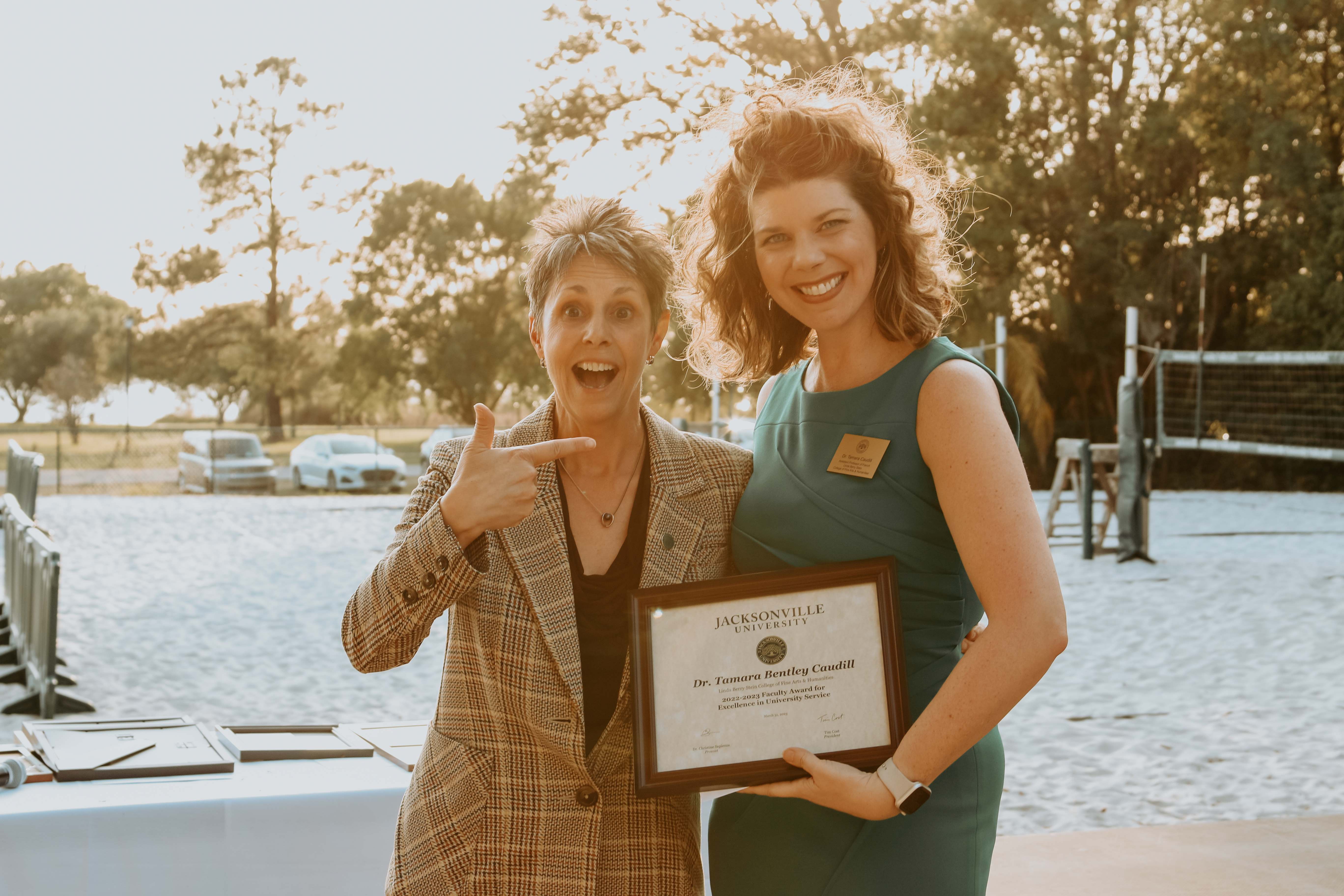 Scholarship and Professional Activities Award:
Dr. Daphne Wang
Dr. Wang holds the prestigious Walker/Wells Fargo Endowed Chair of Finance and is an Associate Professor of Finance. She manages the Dolphin Student Investment Fund, providing Davis College of Business and Technology students with valuable experience in investment portfolio management.
Her research philosophy includes four components: producing high-quality research, contributing to the research production of her college and colleagues, publishing research that supports DCOBT's AACSB accreditation requirements, and teaching and mentoring doctoral students in the DBA program. Dr. Wang's research interests span a wide range of topics including corporate governance, mergers and acquisitions, and cyber security. With nearly 20 works published in esteemed journals such as the Journal of Empirical Finance, Dr. Wang is an incredibly engaged and accomplished scholar who often collaborates with other faculty at Jacksonville University.
Nominees:
Omar Betancourt

Jorge Majfud

Amanda McGraw

Brian Palmer

Sawsan Tabbaa

Daphne Wang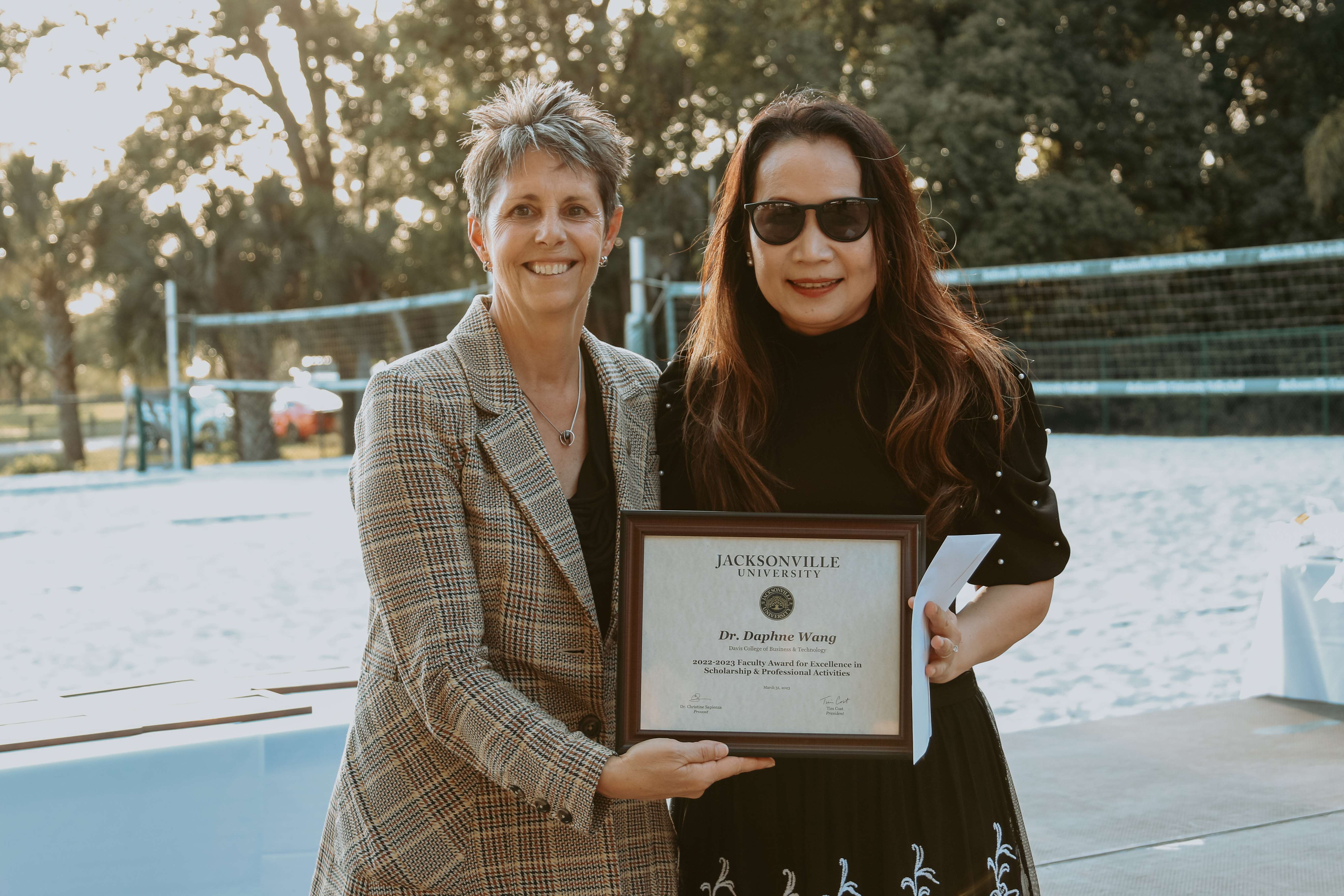 Teaching Award:
Prof. Wyndi Capeci
Professor Capeci is a Clinical Assistant Professor of Communication Sciences and Disorders and a speech pathologist for over 20 years. She is also a nationally elected member of both the 2023 Lisa Scott Leadership Cohort of the Council of Academic Programs in Communication Sciences and Disorders and the 2023 Leadership Development Program Cohort of the American Speech-Language-Hearing Association. She teaches a range of graduate courses including Diagnostic Methods and School-Age Language, as well as undergraduate courses such as Clinical Methods and Phonetics.
Her passion for applied instruction shines through her telehealth labs, where students in CSD 507 Diagnostic Methods interact with clients and receive over 20 hours of virtual clinical experience. At the University, she has grown the speech, language, and hearing screening program to screen almost 6,000 children for hearing loss in 2022 alone. She also created a training program for students to work with young mothers in the prison system and launched the CALLab for high school refugee students in 2022.
Professor Capeci mentors her students in survey-based research studies and leadership, including over 20 students presenting with her at state and national conferences since 2020. Her commitment to experiential learning extends beyond the classroom and into the community, where students apply their knowledge in the field and professional settings to improve the lives of those who need speech therapy, helping others find their voices.
Nominees:
Isil Aras

Omar Betancourt

Sarah Blaylock

J. Rody Borg

Julian Bryson

Joseph Butterfield

Wyndi Capeci

Kara Conway

Jill D'Aquila

Steven Davis

Erik DeCicco

Julius Demps

Heather Downs

Daniel Furnas

Matthew Groe

Charles Harvey

Kelley Holladay

Lauren Holloway

Scott Kimbrough

Kathryn Kott

Adam Lavis

Shannon Lockwood

Nicholas McNally

Thelma Merrick

Wayne Mier

Leyla Pordeli

Diane Raines

Matthew Reiber

Elizabeth Sampson

Amber Santos

Ginger Strong

Dana Tupa

Jennifer Willison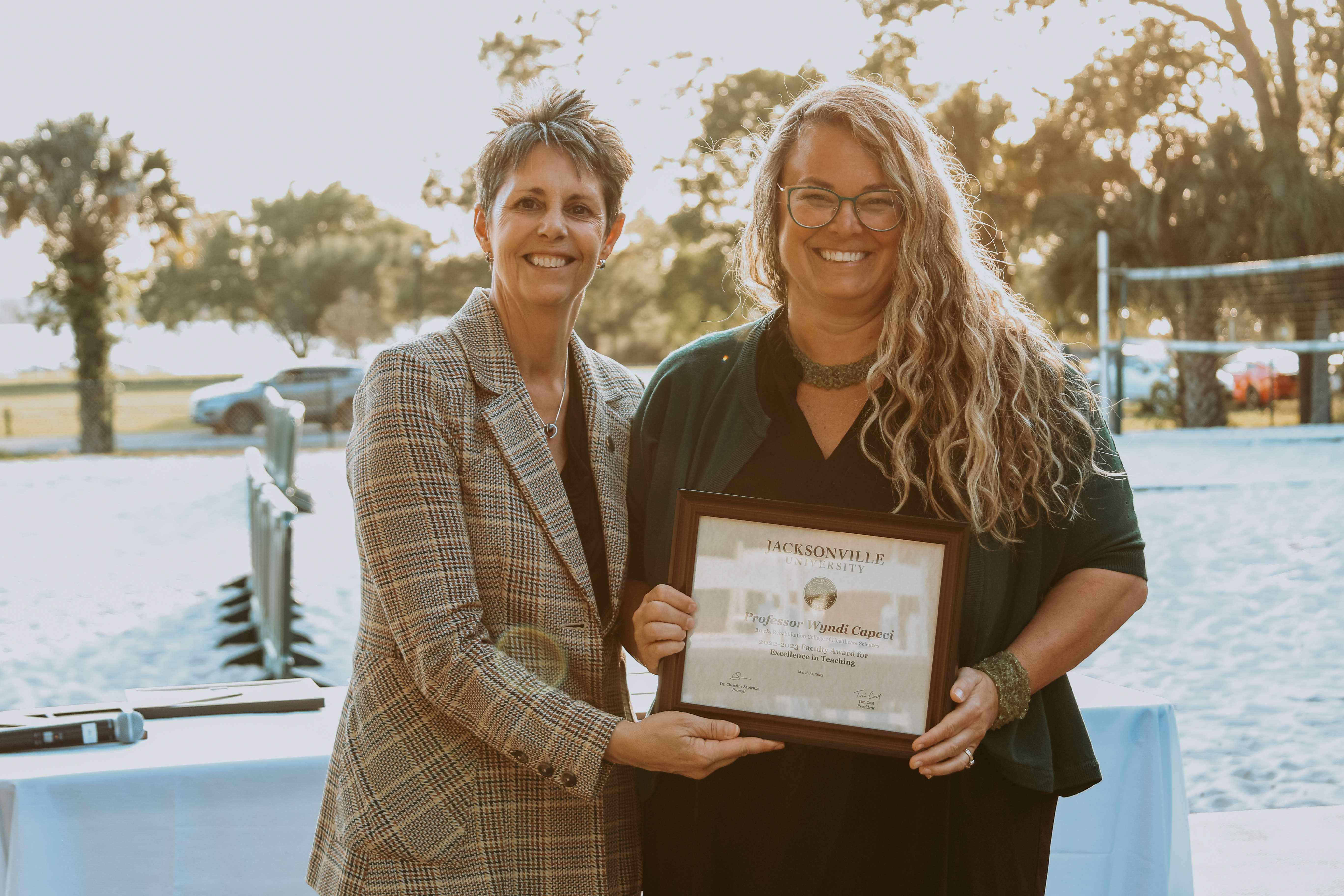 Adjunct Faculty Excellence Award
Professor Brittany Cohill
Brittany Cohill is the winner of this year's inaugural adjunct award. The committee recognized her as an invaluable asset to the History department and to the University as a whole. Cohill is highly involved on campus, teaching in the history department and assisting in the curation of an exhibit at the Swisher Library to celebrate Black History Month. She is also active in the community, having created the Manhattan Beach historical marker in Hanna Park and served as the Executive Director of the Mandarin Museum and Historical Society. Her love of history and community involvement shines through in her teaching philosophy and in comments from her students, who describe her as caring, understanding, and engaging. Cohill holds a Bachelor of Arts in History and Psychology and a Master of Arts in History from the University of North Florida.
Nominees:
Deana Barone

Amy Wells Byers

Brittany Cohill

Kristin Livingson

Amanda Rosenblatt

Dana Schmalenberg

Edisa Shirley

Tommy Walter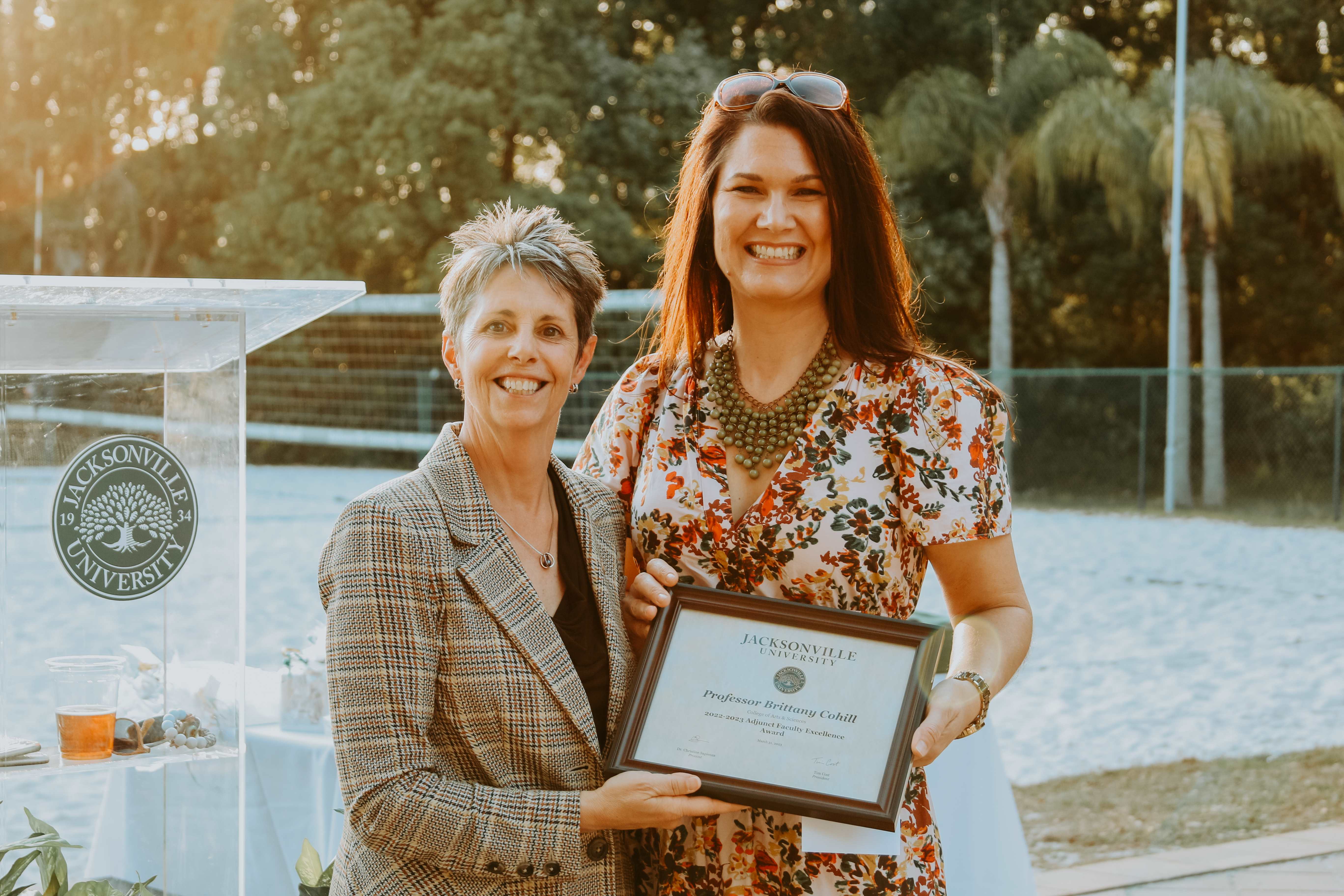 Professor of the Year
Dr. Sarah Parker
Dr. Parker is an Associate Professor of English and serves as both the Chair of the Literature, Language, and Culture Department and the Director of the Center for Gender + Sexuality. She's been a powerhouse in her first year as Director—organizing a robust calendar of educational events for students, faculty, and staff; developing the Center's space in the Swisher Library alongside her student worker Frankie Nunziata; and fostering numerous community partnerships. As a passionate educator and advocate for the LGBTQIAA+ community, she directs undergraduate research projects in literary studies, women's and gender studies, and medical humanities.
Dr. Parker's interdisciplinary research explores the intersections of literature and the history of medicine. Recent publications include an article on error as an early modern scientific concept and a co-edited volume on Renaissance commonplace books as a teaching tool. She also volunteers with Mayo Clinic Florida's archivist and Humanities in Medicine program.
In addition to winning Professor of the Year, Dr. Parker received the Faculty Woman of the Year Award earlier this month.
"I am very proud of Dr. Parker's recognition by our University as Professor of the Year. Her work is inspirational, and her dedication to positive change embodies our University's commitment to diversity and inclusivity. She is a talented teacher, and the students value her knowledge and mentorship. Through her work as the inaugural director of our Center for Gender + Sexuality, Dr. Parker has demonstrated her strong leadership skills and dedication to helping with the development of our students," said Dr. Sapienza.
Nominees:
Dr. Courtney Barclay

Professor Bill Hill

Dr. Sarah Parker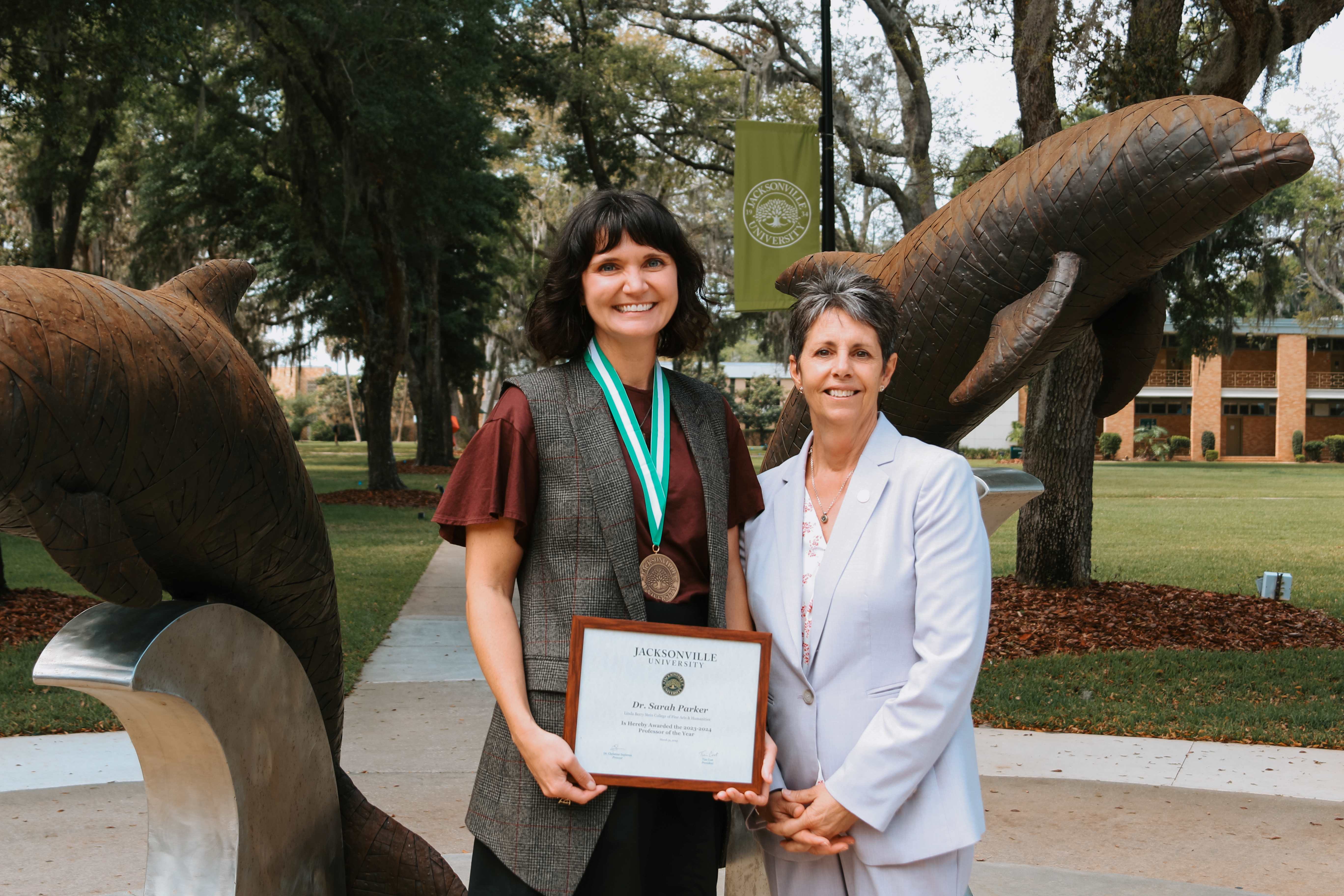 "Several outstanding faculty members were recognized for their accomplishments with Excellence Awards in Teaching, Scholarship & Professional Activities, University Service, and Community Service. In addition, we awarded the inaugural Adjunct Faculty Excellence Award. The quality and quantity of the work produced by faculty members who both won awards and were nominated for awards was truly exceptional. In addition, the deans recognized faculty members in their colleges with years of service awards, recognition of retirement, and Emeritus status," said Jackson.
Several faculty members were also recognized for their years of service and contribution to the University:
Brooks Rehabilitation College
Retirements
Dr. Larry Wagoner, Assistant Professor of Clinical Mental Health Counseling
College of Arts & Sciences
Retirements
Dr. Lee Ann Clements, Professor of Biology & Marine Science
Dr. S. Douglas Lewis, Professor of Psychology
Emeriti
Dr. Lee Ann Clements, Professor of Biology & Marine Science
Dr. J. Rody Borg, Professor of Economics & Public Policy
Davis College of Business & Technology
20 years of Service
Dr. Rhett Yates, Professor of Aeronautics
Dr. Robert Boylan, Professor of Accounting
30 years of service
Dr. Gordon Arbogast, Professor of Management
Linda Berry Stein College of Fine Arts & Humanities
25 years of service
Dr. Erich Freiberger, Professor of Philosophy
Dr. Scott Kimbrough, Professor of Philosophy
Retirements
Dr. Dennis Vincent, Associate Professor of Music
Professor Ben Wilson, Professor of Theatre
Photography by: Taylor Sloan