Inspiring a greater appreciation for the value of exploration and discovery, this week Jacksonville University honored Apollo 15 Commander Col. David R. Scott with the 2023 Presidential Global Citizen Award. Col. Scott flew on Gemini VIII, was Command Module pilot on Apollo 9, and drove the first Lunar Rover on the moon as Commander of Apollo 15.
"Jacksonville University honors and celebrates scientific exploration for the advancement of humankind, and we work to encourage that spirit of discovery here on our campus," said Jacksonville University President Tim Cost. "On those topics, we stand to learn a great deal from a man who spent hundreds of hours exploring space and the surface of the moon. Whether it's studying another planet or our own oceans, there is still so much to discover about the world around us, and that knowledge carries limitless potential benefits to our collective future as a global society."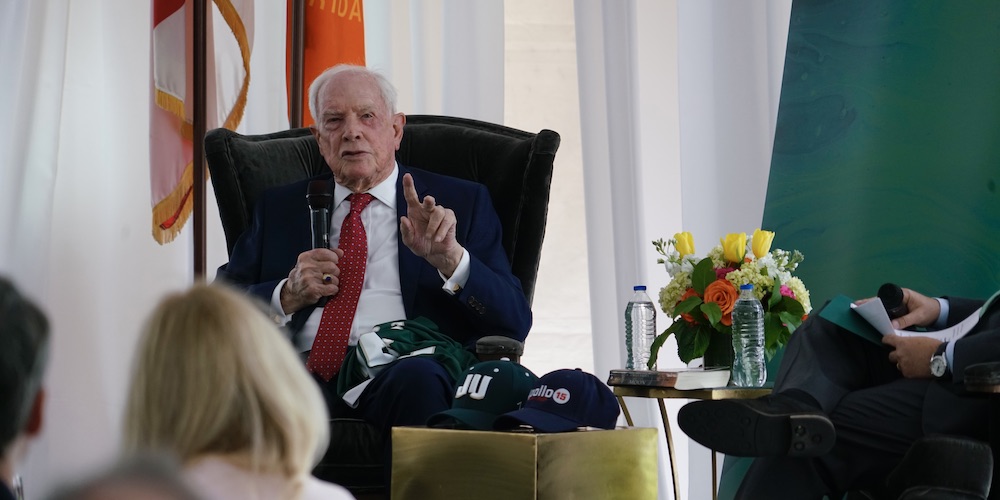 A decorated pilot and engineer, Col. Scott has logged 546 hours and 54 minutes in space, of which 20 hours and 46 minutes were Extravehicular Activities (EVA). He is one of only three astronauts to fly both earth orbital and lunar missions.
"I'm very honored to receive this award from Jacksonville University. This is a great school. Tim [Cost] is really building a fine institution with fine teachers and fine students," said Col. Scott, adding that great teachers changed his life by inspiring a passion for geology, which was an entirely different field for him. During the Apollo 15 mission, Col. Scott would make one of the greatest scientific discoveries on the moon – the Genesis Rock, which dates back to the formation of the moon 4.2 billion years ago.
Col. Scott was born on June 6, 1932, in San Antonio, Texas. He graduated from the U.S. Military Academy, standing fifth in a class of 633, then entered the U.S. Air Force. He went on to graduate from the Experimental Test Pilot School and Aerospace Research Pilot School at Edwards Air Force Base in California. In 1962, Col. Scott earned a Master of Science in Aeronautics/Aeronautics Engineering from the Massachusetts Institute of Technology. NASA selected Col. Scott as an astronaut in 1963.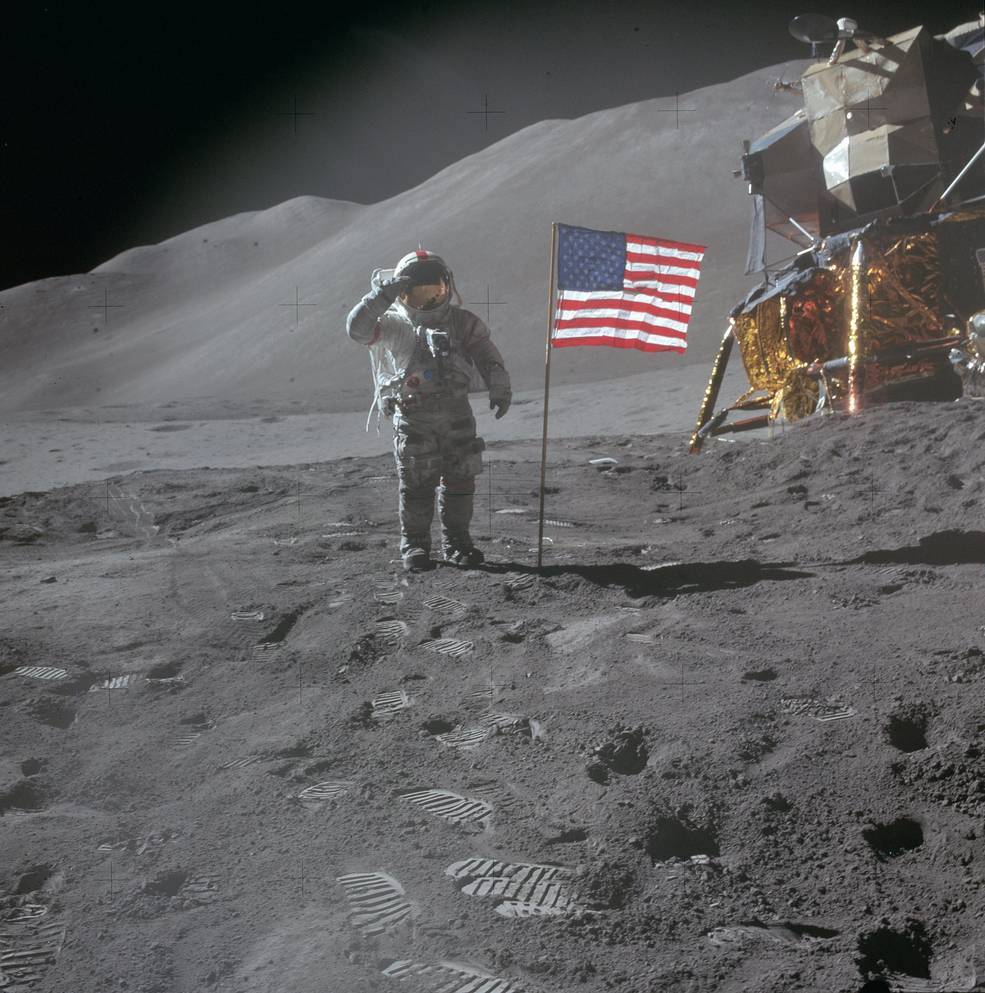 On March 16, 1966, Col. Scott and Commander Neil Armstrong entered space aboard Gemini VIII. Col. Scott next entered space as the Command Module pilot for Apollo 9, which launched on March 3, 1969, and was the first test of a complete set of Apollo hardware. Col. Scott's third space mission, Apollo 15, was launched on July 26, 1971. During that mission, Commander Scott and his crew made history as they explored the lunar surface. It was the first extended scientific expedition to the moon and the first use of the Lunar Rover, a specially designed electric car.
"I got the breaks," Col. Scott humbly shared with a crowd of distinguished guests on JU's campus. "I took various paths, as we all take, and I ended up at the right place at the right time. And I was very fortunate because I had a lot of people help me, especially teachers… Tell your kids and grandkids to go explore a little bit. Jump into a new discipline. Find a great teacher. It's really rewarding. And I think JU is a great place to do that."
The Jacksonville University Presidential Global Citizen Award is presented to an extraordinary, visionary leader whose impact is felt well beyond the bounds of their recognized responsibilities. This unique individual fully embodies the University's ideal of a globally engaged citizen, bringing to bear their exceptional talents to create new opportunities to lead, live, and learn. Past recipients include Mayo Clinic President and CEO Gianrico Farrugia, M.D. (2022), activist and philanthropist Dr. Makaziwe Mandela (2019), documentarian Ken Burns (2016), and former CEO of PepsiCo Indra Nooyi (2014).