February 2023 marks a historic milestone for the Jacksonville University community and for its beloved leader. Ten years ago, on February 1, 2013, Tim Cost took office as Jacksonville University's 12th President.
"I had no interest in being a university president, but I was interested in helping my alma mater," said President Cost, a proud 1981 graduate. "This place transformed my life, changed my view of things, and opened up my eyes to what one could do. I saw the opportunity to help. There was an overwhelming sense of potential of what this University could be; it was the art of the possible."
Now, 10 years later, Jacksonville University celebrates what has been a transformational era in its history – a renaissance. As servant leaders, President Cost and First Lady Stephanie Cost may dismiss such a lofty characterization of their impact. However, when considering the remarkable achievements and progress at JU over the past decade, renaissance seems fitting.
"When I hear people who have known JU for years comment on the University now, they just can't get over it," said Provost and Senior Vice President of Academic Affairs Dr. Christine Sapienza. "It's just not even the same."
In the past decade, the University has grown beyond a core liberal arts education through expanded offerings in healthcare, business, technology, and interdisciplinary studies that align with the modern market and meet the needs of the community. When the Costs arrived, Jacksonville University consisted of 3 colleges, 5 schools, 2 institutes and nearly 40 majors. Today, the University has grown to 5 colleges, 11 schools, 4 institutes and now offers more than 100 majors, minors and programs in specialized fields from game design to occupational therapy to cyber forensics.
JU pioneered many firsts: Florida's first master's degree in public policy; Jacksonville's first speech-language pathology program; Jacksonville's first FinTech degree program; the area's first master's degree in respiratory care; and in 2022, JU announced the intent to establish Jacksonville's first 4-year medical school with the Lake Erie College of Osteopathic Medicine. In the same year, the University announced and launched its College of Law in downtown Jacksonville.
The Costs helped build the University into a $400 million economic engine for Jacksonville and for the Arlington community it calls home. The growth at JU, and the President's proactive approach to partnership, also helped attract more than $500 million in private investment and development throughout Arlington.
"Tim has been the right leader at the right time for JU and the transformation has been incredible for both the university and Arlington," said JAX Chamber CEO Daniel Davis. "I don't think there's any way you have a law school and, soon, a medical school at JU without Tim Cost."
Aundra Wallace, President of the JAXUSA Partnership shared that sentiment: "What he's done here is incredible and, as a city, we're very fortunate to have someone with his background, skill set and relationships leading Jacksonville University."
Under the Costs' leadership, the University has celebrated four consecutive years in the top 25% of U.S. News & World Report's best regional universities in the south – by far the highest rankings in school history.
But their proudest achievement comes without a trophy or engraved keepsake.
"One thing I think we can all be justifiably proud of over the past decade is embracing a common culture," President Cost recently shared. "We have decided as a campus community to build and grow and support a culture of excellence, persistence, caring, service and respect. That set of ethics is something everyone can grab hold of and feel good about and see themselves in."
A STUDENT-FOCUSED APPROACH
Ten years ago, the Costs left the familiar comfort of their home just outside of Philadelphia, where they raised a family and planted roots, to start a new chapter in Jacksonville, FL.
Right from the start, the Costs directed the strategic focus of the University directly on the students. Every decision was made with students in mind. That's what the late JU Chancellor Emerita Dr. Frances Bartlett Kinne believed, and the Costs carry her legacy with pride and devotion.
More than strategy, the student-focused philosophy guides their day-to-day interactions on campus. Mrs. Cost began mentoring students and helping them develop soft skills that would serve them well throughout their lives and careers.
"Working with students gives me great hope for the future," Mrs. Cost recently said. "I am much more positive about where we'll be in 10 years than I would've been otherwise."
Together, the Costs offered their time and unfettered access.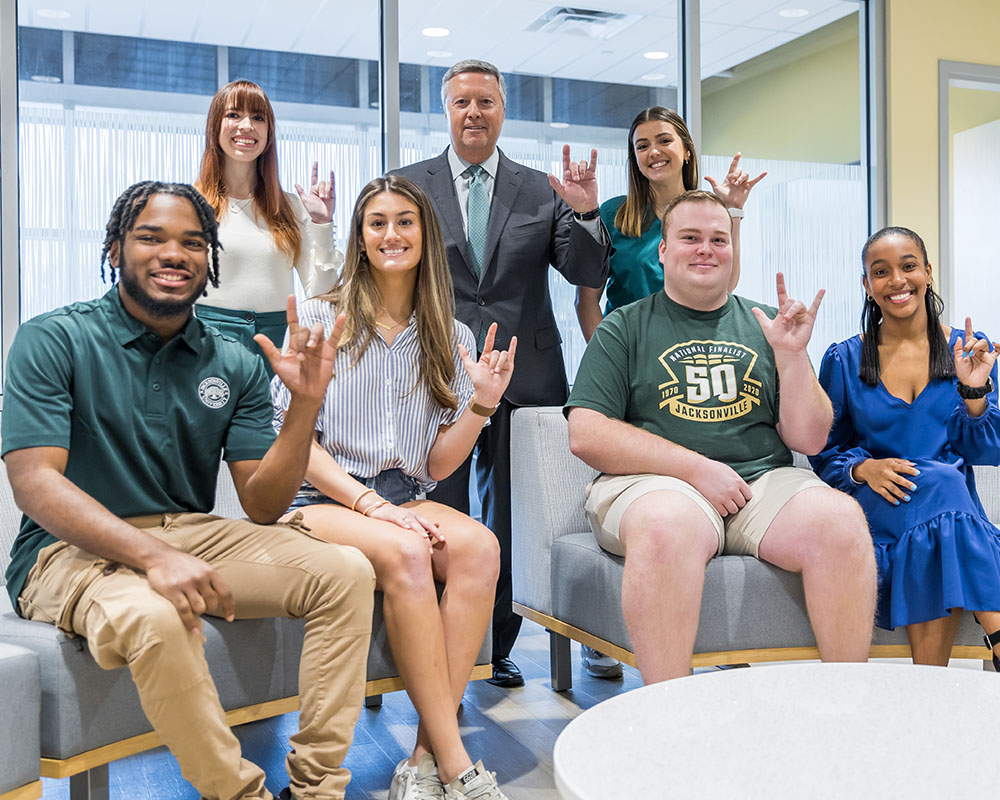 "He's visible on campus, whether he's talking to a student, an ARAMARK employee or anyone, he makes you feel like the most important person in the room," said Dr. Kristie Gover, Senior Vice President of Student Affairs and Dean of Students. "When he gives out his cell phone number at New Student Orientation to the entire freshman class and their families, he genuinely means 'reach out to me' and he has demonstrated that over and over again. He wants their voices to be heard."
President Cost spent much of his time listening to students – what they need, how they like to study and learn, and what they like to eat. Then he acted on their input.
He brought Chik-fil-A and Starbucks to campus. He created more spaces for students to study, socialize, eat, and collaborate – especially outdoors. The waterfront was cleared to create Dolphin Beach and Cost Trail so that students can enjoy the majestic St. Johns River and the Florida sunshine. And over the past decade, every residential hall on the campus has been overhauled with renovations and upgrades.
President Cost partnered with ARAMARK to prioritize upkeep of the historic oaks and landscaping to restore the verdant views he remembered as a student. He directed funding to projects that created a more walkable campus with more sidewalks and bike paths. Faculty, staff and students joined in the effort by planting trees and gardens, which earned Jacksonville University a consistent designation as a Tree Campus USA.
The University constructed the Frisch Welcome Center to create an inviting "front door" for the campus. A brand new 104,000-square-foot Health Sciences Complex opened at the north end of campus and a community-focused Healthcare Simulation Center was established at a separate location in Jacksonville. Terry Concert Hall was updated, and a new Basketball Performance Center was built. And the River House – a long-empty residential space once used to house JU presidents – was transformed into an event space and pub.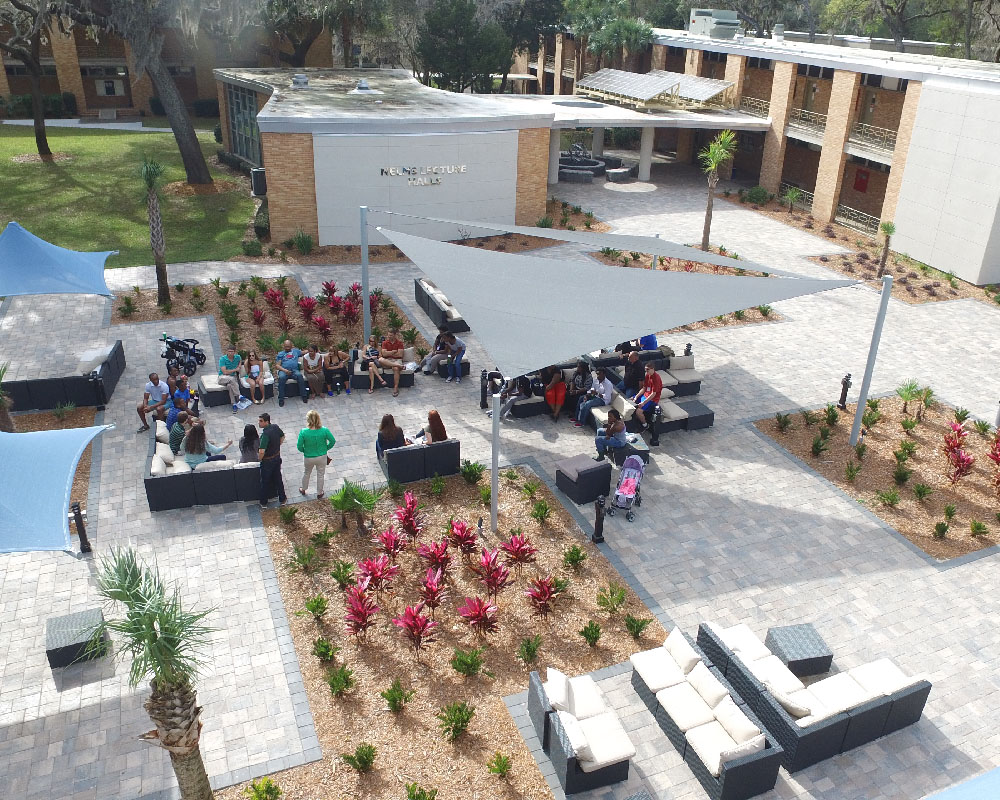 To date, President Cost has guided more than $100 million worth of investment into the grounds and facilities of JU's campus. The extensive improvements were made possible, in large part, by the $120 million ASPIRE campaign – the most successful in the University's history, again under the Costs' leadership.
Upon their arrival, the Costs also discovered the caliber of talent JU was attracting in the arts.
"After one of the first performances President Cost and I went to at Terry Concert Hall, we just left with our mouths agape saying, we can't believe we have that talent here," Mrs. Cost said. "That's why we try to go to so many performances. It's just a gift to be able to see students perform and be able to appreciate their gifts and feed their talent by showing them our appreciation. It has been very rewarding."
Mrs. Cost joined the Advisory Board for the Linda Berry Stein College of Fine Arts & Humanities and has served as a champion for the arts at JU and throughout the community. She plays an active role in the development of arts programs and in generating funding support for the arts.
"As First Lady, and after spending so much time on our campus, I do have a greater understanding of the importance of arts education as a fundamental part of everyone's education," said Mrs. Cost. "It expands our minds and completes us as people, and it seems that artistic concepts and creativity are important no matter what job you do."
A READY PARTNER
After a successful 32-year career in executive leadership roles at some of the largest global corporations (Pfizer, Kodak, ARAMARK, Johnson & Johnson, Pepsico and more), President Cost returned to his alma mater in 2013 with a deep appreciation of the value of partnerships. One of his first priorities was cultivating stronger relationships with industry and community partners and maintaining an ongoing dialogue with them.
Some partners, like Baptist Health, had already been engaged with the University for decades. A founding partner of the Keigwin School of Nursing, its connection with Jacksonville University proved fruitful for the health system since its inception in 1981. But as times changed, so did their workforce needs. The 12-month Accelerated Bachelor of Science in Nursing (ABSN) program was a direct result of conversations between President Cost and the Baptist Health team.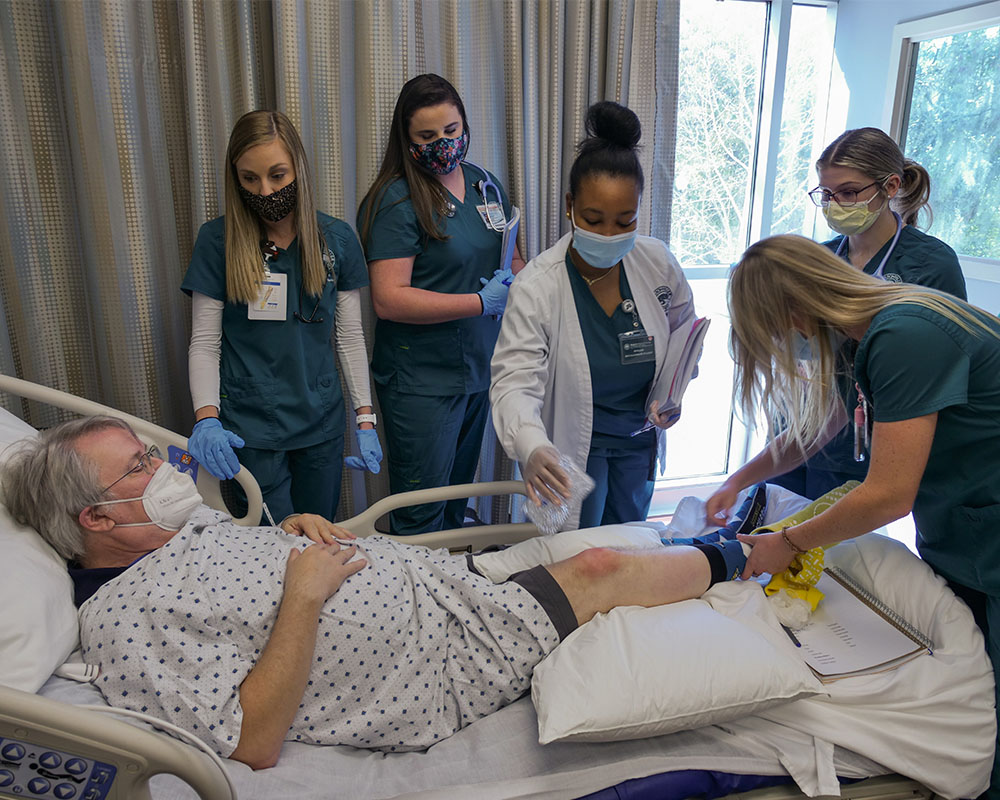 As a nursing shortage began, Baptist Health turned to Jacksonville University for a solution, jointly creating the 12-month ABSN program, which would create a quick, efficient way to turn out more nurses for the health system.
"President Cost is a forward-thinking leader who seeks community partnerships to address unmet needs," said Baptist Health CEO Michael Mayo. "He and his team want to know what the employers of their graduates, like Baptist Health, need."
The program was so successful the University expanded enrollment with the support of other clinical partners such as Mayo Clinic to help address the urgent need for new nurses.
And the next addition to the University's healthcare offerings is LECOM at Jacksonville University, the city's first four-year medical school. It will be constructed near the Health Sciences Complex, in an area that will become the Medical Mall, a mixed-use development anchored by the medical school.
The College of Law, which opened with its inaugural class in August 2022, is a prime example of the market-focused approach President Cost embraced in his 10-year tenure. As the largest city in the U.S. without a law school, the opportunity was clear to not only provide the community with something it needed, but to build on the legacy set forth by the University's founder, William J. Porter, in 1934. Porter was a judge who emphasized the importance of legal education.
Pulling in support from the City of Jacksonville and the area legal community, President Cost and his team made that vision a reality, going from the College of Law's announcement to opening its doors in just seven months.
And there are nearly 500 more partnerships JU has cultivated with leading organizations throughout the world that directly benefit JU students in the form of internships, applied learning opportunities, study abroad, research and, ultimately, careers.
"A lot of universities have the right plan, but they don't enact it," Dr. Sapienza said. "We enact it. And that's what makes us different. So people look at us now, 10 years later, and they say that when JU wants to do something, and says they're going to do it, they do it."
LOOKING TO THE FUTURE
What do the next 10 years hold for Jacksonville University and for the Costs?
"We should be able to create as much progress in the next five years as we have created in the last 10 years," President Cost boldly stated. "I'm expecting the slope of our trajectory to steepen."
According to the President, the future holds "more substantive and larger" partnership agreements that expand the University's offerings in emerging areas.
"We will always believe in and support the fine arts, the arts and sciences, the social sciences, the liberal arts," President Cost said. "That nexus between where healthcare is going, where business is going and where technology is going, those are coming in on each other and we've got to be in that conversation."
He also sees a greater emphasis on harnessing and unleashing artificial intelligence as a positive tool, as opposed to something to be held at arm's length.
As the pendulum of progress continues to swing at Jacksonville University, the point is still this: it's all about the students.
"I find great comfort in the fact that our students are choosing to come here during this time, with this world landscape," President Cost said. "I'm confident in the experience we're offering to them. We're putting a range of opportunities in front of them to combine things they can't do at all other schools. I really believe that gives them the chance to have a challenging experience here, one where they can go confidently into the world and ascend to their true potential."