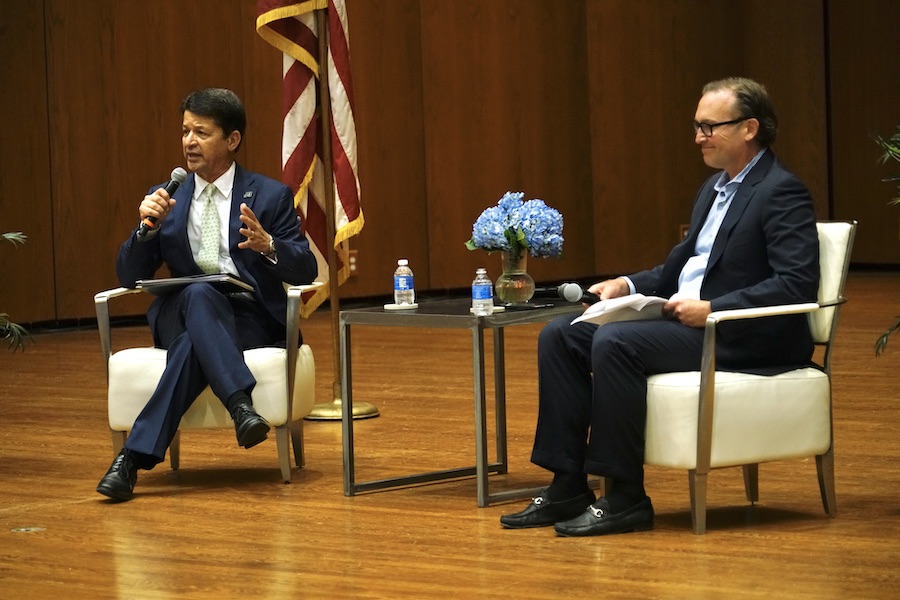 A delegation of Louisville, KY business leaders visited Jacksonville University as part of a three-day trip focused on learning more about successful public-private partnerships, talent attraction and a thriving downtown core.
The group from the Louisville Chamber of Commerce spent the afternoon on campus, first participating in a luncheon at The River House and then heading to Terry Concert Hall to hear from two Jacksonville mayors: Mayor Lenny Curry and former Mayor John Delaney. The Public Policy Institute hosted the discussion, first with Mayor Curry and later with Mayor Delaney.
Rick Mullaney, director of the Public Policy Institute, moderated the discussion with the two Jacksonville leaders, on subjects ranging from economic development, the city budget, developing downtown and projects that changed the course of the city. Mullaney also served as Delaney's chief of staff.
Transformational projects for the city ranged from less visible ones – like resurfacing roads, balancing the city budget, and converting homes from septic tank use – to high profile ones, like bringing an NFL team to the city, purchasing and preserving thousands of acres of land around the city and hosting a Super Bowl in Jacksonville.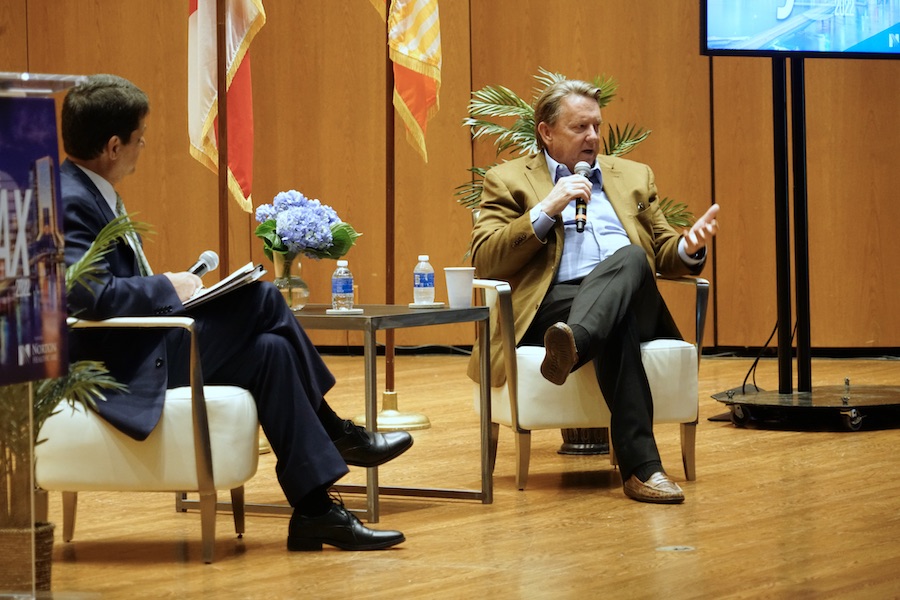 One of Curry's priorities since he entered office in 2015 has been to develop Downtown Jacksonville. While he said it is not a popular initiative for residents who live further from the center of town, it is crucial to a city's development.
"You can't be a suburb of nowhere," Curry said, adding that his goal was, and still is, to make Downtown Jacksonville unrecognizable by the end of his term.
Delaney, who served from 1995 to 2003, developed the Better Jacksonville Plan, which developed roads and city infrastructure throughout the 850-square-mile city of Jacksonville. He was the first mayor to take office following consolidation. He drew parallels between Jacksonville and Louisville, another consolidated government that occupies 341 square miles. It's important to listen to what each neighborhood wants in a city as large as Jacksonville, he said.
"When you're that big of a government, you've got to have these vehicles for people to have their voice heard," Delaney said.
The Louisville group chooses a city each year to visit, learn from and take the lessons back home to apply to their own city.
See photos from the event below: