Each year, Jacksonville University faculty members recognize their colleagues who excel in four areas: community service; university service; scholarship and professional activities; and teaching. A selection committee determines a winner for each of the four categories and announces their pick at the annual Faculty Recognition Event, which was held at the River House this year.
Provost Dr. Chris Sapienza and Vice-Provost Dr. Sherri Jackson organized the ceremony.
"This was the first time the event was held at the River House and we received many positive comments about the venue and new format. Watching the sun set over the St. Johns River as the backdrop for the program was captivating, and a fitting experience for our faculty," says Jackson.
Here is more on this year's honorees:
Community Service Award:
Dr. Megan Bewernitz, Assistant Professor of Occupational Therapy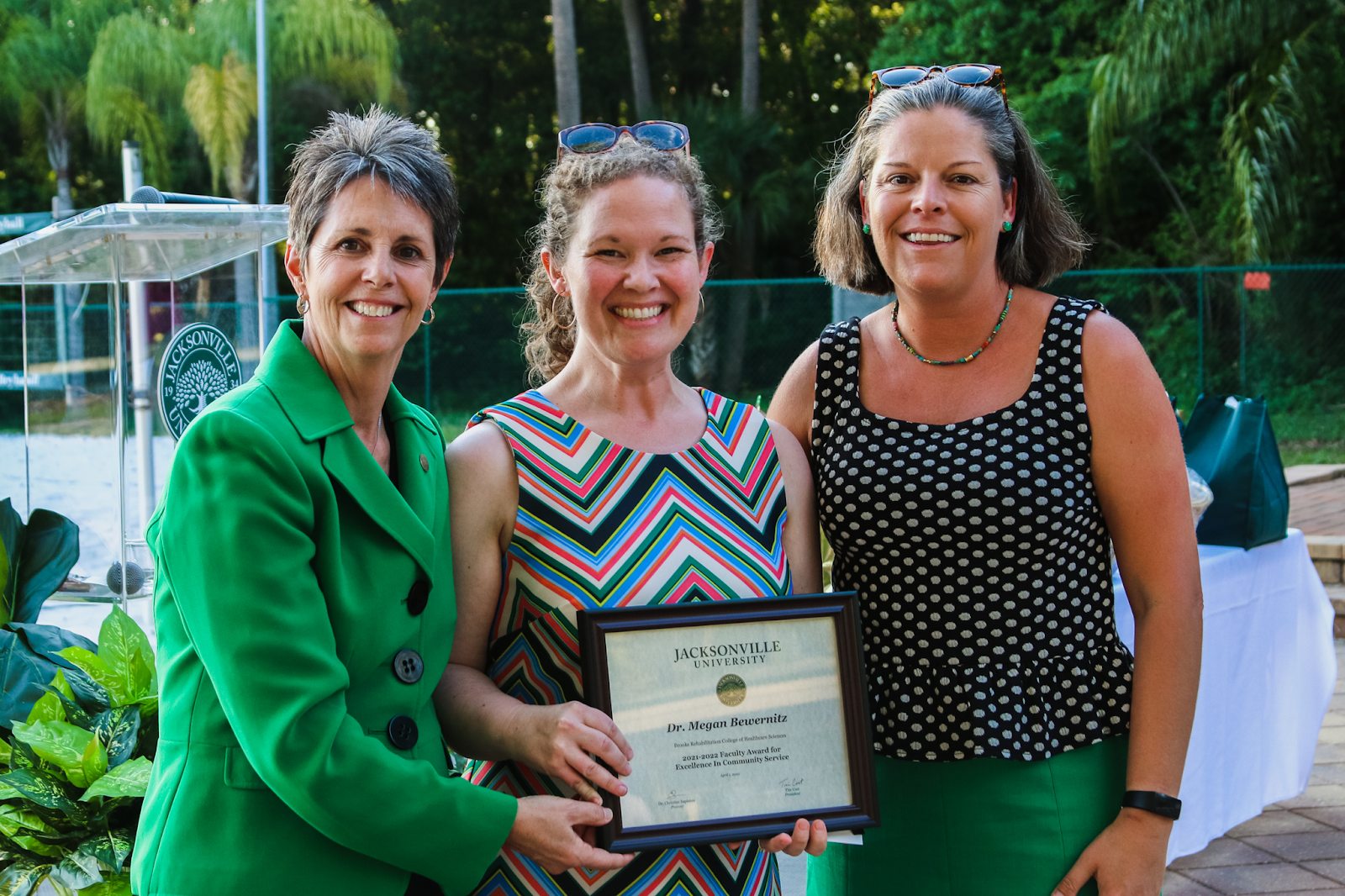 Dr. Bewernitz (middle) is recognized with the Faculty Excellence Award for Community Service. Photo by Taylor Sloan.
Dr. Bewernitz, Assistant Professor of Occupational Therapy, has been making an impact at Jacksonville University since 2017, teaching courses in geriatric theory and rehabilitation, and research among other occupational therapy topics. Collaborating with several departments and faculty across campus, Dr. Bewernitz is involved in the Dance for Life Program, a program for people with Parkinson's disease, the Healthy Campus Committee designed to promote health and wellness at Jacksonville University, the Music Therapy Committee, and the Instructional Resources Committee.
Dr. Bewernitz continues to better the Jacksonville community. Dr. Melinda Simmons (pictured right), chair of the selection committee says,
"Dr. Bewernitz is deserving of this award for the hours she spends volunteering as well as the time she dedicates to many local boards. These efforts help connect our University to the local community and show how our faculty use their talents for the betterment of those both on and off-campus."
Dr. Bewernitz regularly works with the Center for Health Equity and Community Engagement Research at Mayo Clinic, researching and assessing community needs throughout Jacksonville, specifically in the Newtown and Arlington neighborhoods. She also serves as a board member for Tobacco-Free Jacksonville, as well as an Accessibility Advisor to the Board of the Timucuan Parks Foundation. In her advocacy for people with disabilities, Dr. Bewernitz has been collaborating with the local City of Jacksonville Department of Parks and Recreation on establishing occupational therapy and community-focused fieldwork experiences.
Dr. Bewernitz has repeatedly shown that service is the mindset of world changers.
Finalists:
Dr. Julius Demps
Professor Cari Freiberger
Professor Shelley Grant
Professor Tiffany Leach
University Service Award:
Erik DeCicco, Assistant Professor of Theatre Art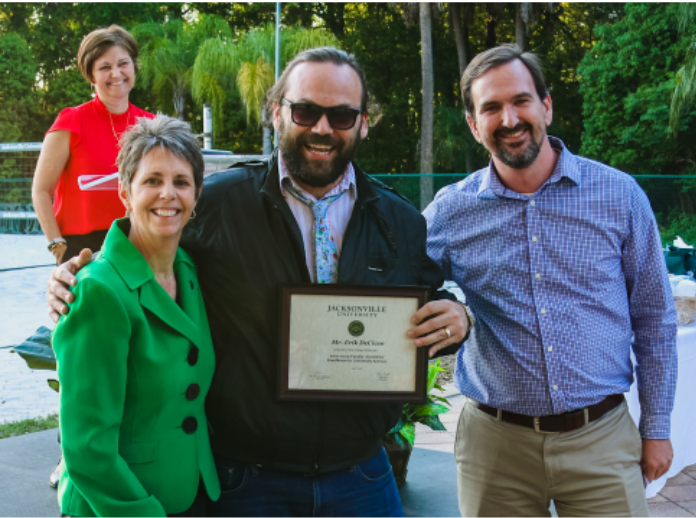 Professor DeCicco (middle) is recognized with the Faculty Excellence Award for University Service. Photo by Taylor Sloan.
Professor DeCicco is a man of many acts. As chair of the Department of Theatre and Associate Director of the Scholars program, he is dedicated to the excellence and growth of the arts. He has also served on several University committees such as the Quality Enhancement Plan committee, the Student Success Task Force, the Student Life committee, the Linda Berry Stein College of Fine Arts Restructure Task Force, the Academic Diversity Council, and the University Title IX Response Team. This is why he was the recipient of the 2022-2023 University Service award.
Professor DeCicco is also pursuing a doctoral degree in educational leadership and maintains active membership in the Actors Equity Association, directs theatre frequently on and off-campus, and works to build relationships with the community to provide more opportunities for Jacksonville University students. Not only is DeCicco an avid instructor, but he has also performed in shows at Players by the Sea and the Alhambra Theatre & Dining, and was cast in a Travel Channel Mysteries of the Museum segment, and several episodes of AMC's The Making of the Mob: New York.
"The amount of service to the university that Erik does is astonishing. From chairing the Student Life committee to his work with the University Scholars program, the QEP committee, the Academic Diversity Council, and chairing the Department of Theatre, his impact on this campus is felt in every corner of the university. He is always at the top of everyone's list for who to recruit for an initiative because you know he will be a top-notch leader and contributor," says Dr. Moseley (pictured right).
Finalists:
Dr. Julian Bryson
Dr. Kim Capriotti
Dr. Tamara Caudill
Dr. Kara Conway
Dr. Annmarie Kent-Willette
Professor Tiffany Leach
Professor Nicholas McNally
Dr. Jim Mirabella
Dr. Jacqueline Reese-Walter
Scholarship and Professional Activities Award:
Dr. Lila de Tantillo, Assistant Professor of Nursing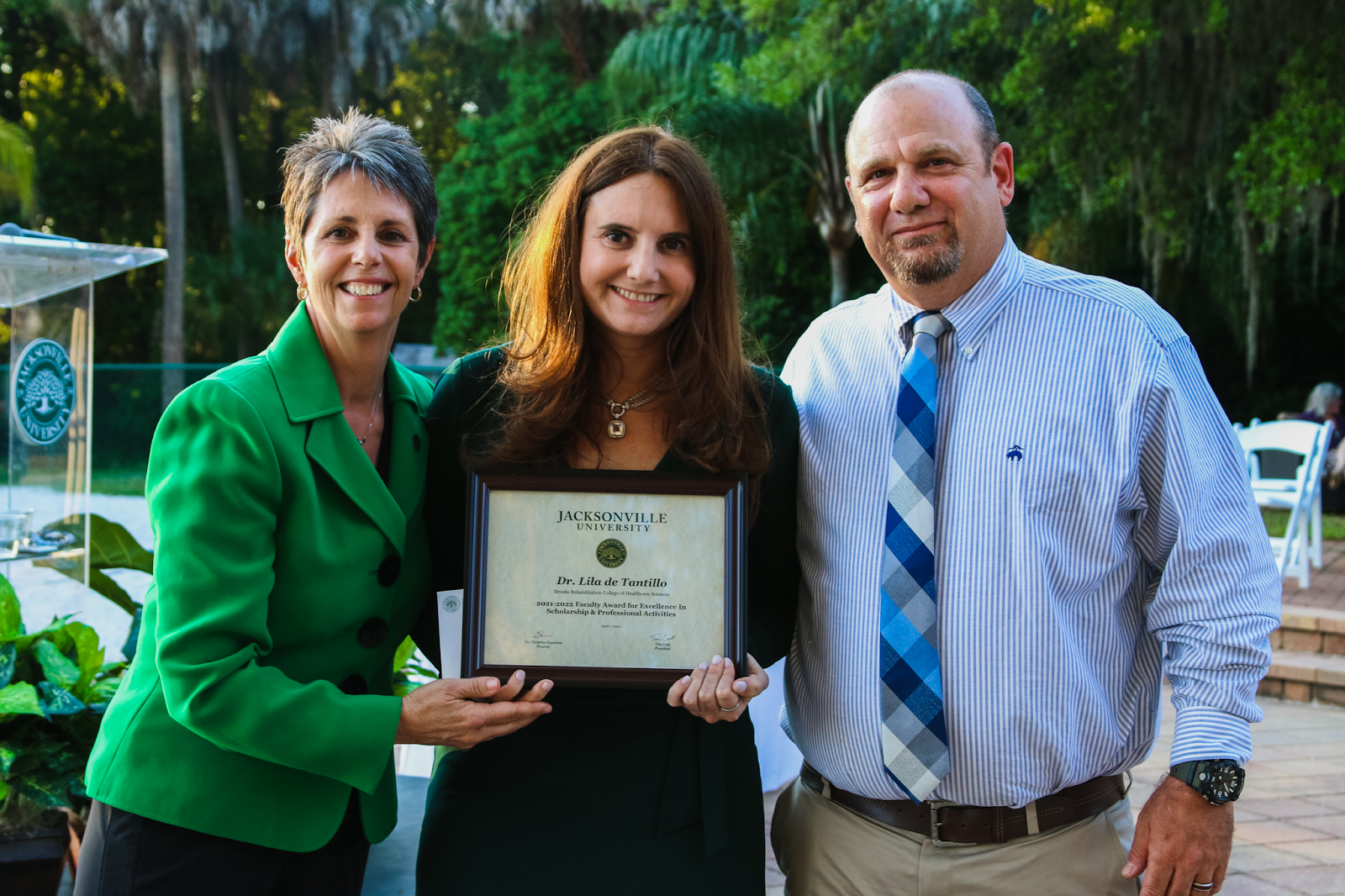 Dr. de Tantillo (middle) is recognized with the Faculty Excellence Award for Scholarship and Professional Activities. Photo by Taylor Sloan.
Dr. de Tantillo —with close to 30 publications, 15 awards and honors, and 20 conference presentations under her belt—embodies what it means to be a devoted, unstoppable scholar.
"Lila de Tantillo was the clear choice of the committee and had truly impressive achievements," said Dr. Bryan Franks (pictured right).
Hungry for knowledge and with a strong academic background in writing, de Tantillo has published 10 research articles in high-impact journals in just three years, which have received over 130 citations. Her collaborative research efforts reflected in both external and internal grants have totaled to be over $100,000.
Dr. de Tantillo is also the Coordinator of Research and Scholarship, leader of the Scholarship Working Group, member of the Graduate Committee, and the founder of the Writing Lab in the Keigwin School of Nursing.
"Overall, the committee felt that Dr. de Tantillo exemplifies the level of a teacher-scholar that we should aspire to as faculty at JU and is justly deserving of this year's award," Dr. Franks added.
Finalists:
Dr. Zoey Li
Dr. Ashley Johnson
Dr. Shannon Lockwood
Dr. Michael Pomante
Professor Tony Steve
Dr. LaTonya Summers
Dr. Daphne Wang
Teaching Award:
Dr. Sandra Brown, Assistant Professor of Occupational Therapy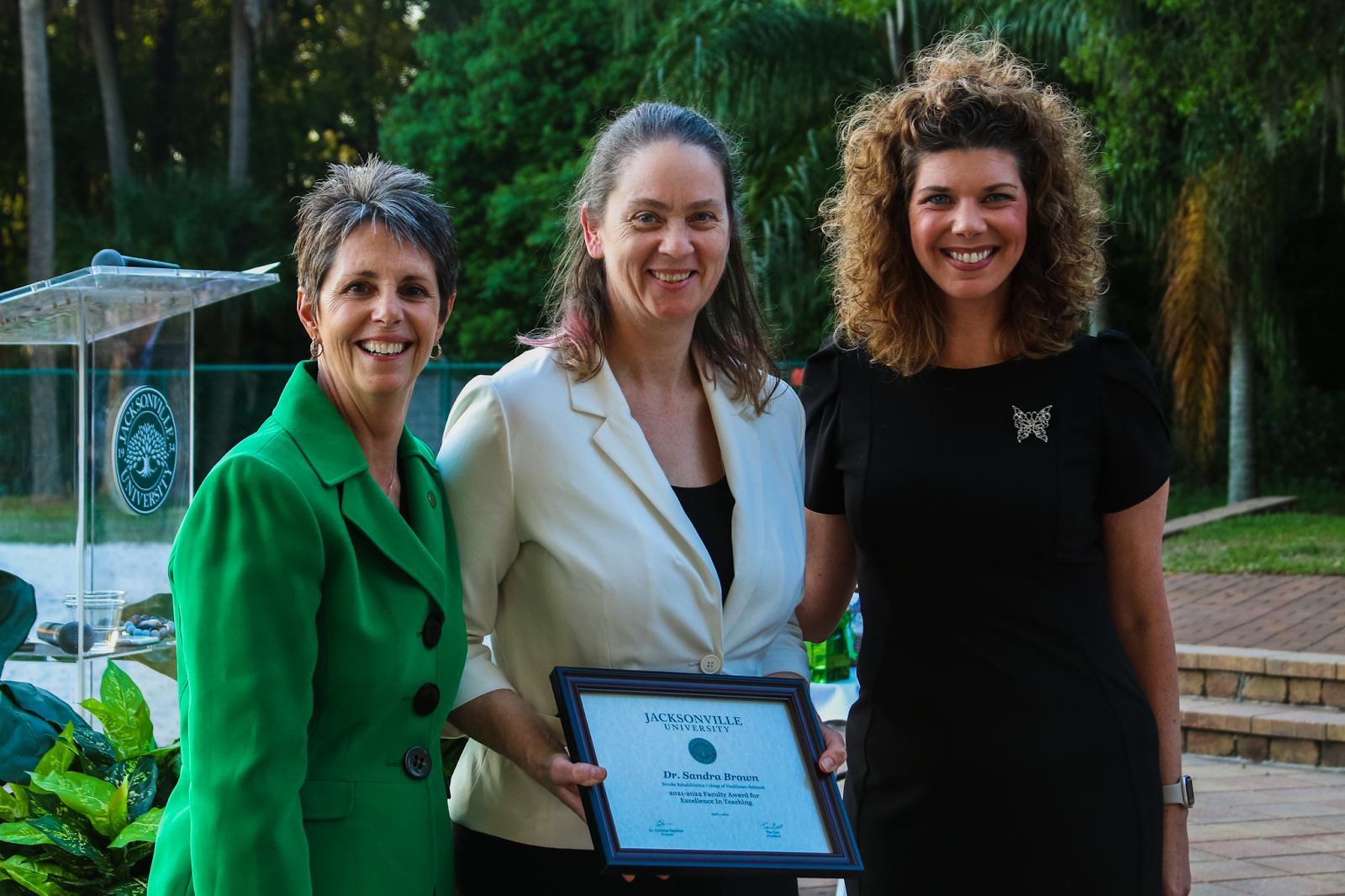 Dr. Brown (middle) is recognized with the Faculty Excellence Award for Teaching. Photo by Taylor Sloan.
Dr. Brown is a licensed occupational therapist who is Board Certified in Pediatrics and Behavior Analysis. Although she primarily specializes in pediatrics, Dr. Brown has also worked in a variety of settings including home-based, schools, private practice, residential facilities, outpatient clinics, and academia. She has also served as a center manager for a large outpatient rehabilitation clinic.
An avid researcher, Dr. Brown continues to examine the impact of challenging behaviors on a child's participation in therapy and is a frequently invited speaker for professional conferences, academic institutions, and community events. Dr. Brown's research interests include pediatric outcomes, quality of life, participation, knowledge translation, and clinical reasoning.
Dr. Tamara Caudill (pictured right), last year's recipient of the Teaching Award, presented it this year to Dr. Brown.
"Described as 'charismatic, understanding, and genuine,' Dr. Brown pours her heart and soul into her students and has an infectious passion for teaching. More traditional educational techniques, like the use of case studies, role-playing, demonstrations, and labs, are reinforced with apps and interactive tools such as Poll Everywhere, Nearpod, and Kahoot. For her integration of the latter, Dr. Brown received a Change 1 Thing Award in 2021, and she recently forged a collaboration with Wilma's Little People School to mix practical hands-on learning with community service, hosting both a Fall Festival and a Spring Fling for our littlest, future dolphins," says Dr. Caudill.
"How fitting that Dr. Brown sums up her teaching philosophy with the words of the late educator and astronaut, Christa McAuliffe: 'I touch the future, I teach.'"
Finalists:
Dr. Sandra Brown
Dr. Julian Bryson
Dr. Wendy Gillis
Dr. David Hooper
Dr. Natalie InDelicato
Dr. Kristen Izaryk
Dr. Stephanie James
Dr. Daniel Moseley
Dr. Bill Penwell
Dr. Jeremy Stalker
Professor Alex Willemin
Professor of the Year:
Dr. Julius Demps, Professor of Management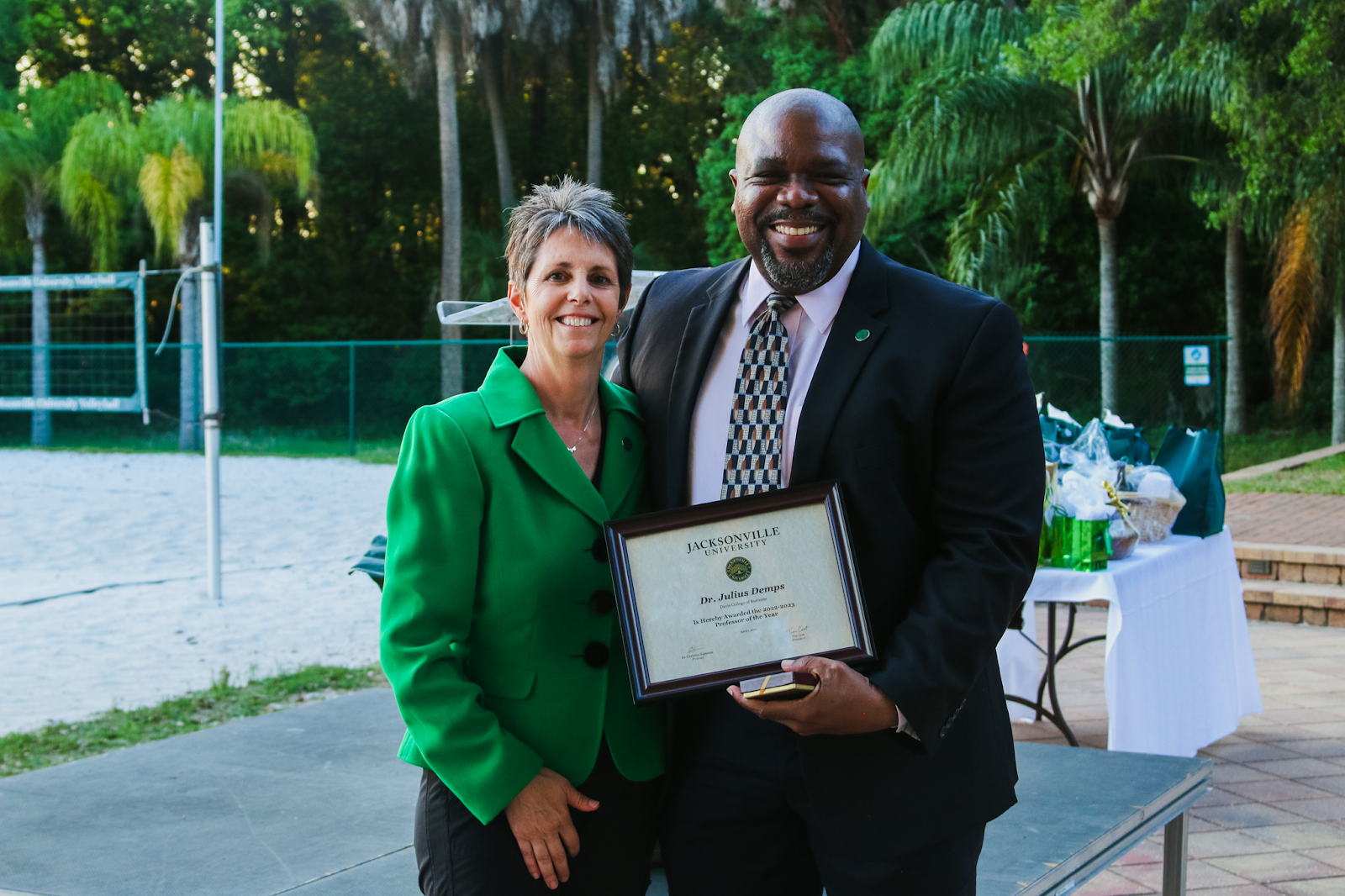 Dr. Demps (right) is recognized with the 2022-2023 Professor of the Year award. Photo by Taylor Sloan.
Dr. Julius Demps has a history of service to Jacksonville University. He currently conducts Title IX Sexual Harassment and Civil Rights investigations and serves on the Ad Hoc University Bylaws committee, the Davis College of Business Undergraduate Committee, and the University Tenure and Promotion Committee. Demps is also widely respected as a speaker, from announcing graduates at commencement ceremonies to special talks at University events and classes.
Dr. Moseley, last year's Professor of the Year, has a personal appreciation for Dr. Demps, "Dr. Demps is a true leader and his ability to motivate and excite students is unparalleled on our campus. Whenever he comes and talks to our Honors students, they all ask afterward what classes he teaches so they can sign up. His demonstrated excellence in all facets of being a JU professor makes him a wonderful selection for this award."
Demps also serves on the Southeastern Grocers Diversity and Inclusion group, where he has presented to audiences in Alabama, Mississippi, and Florida. He has also facilitated Team Building and Leadership Development seminars at Vistakon, with audiences in Florida, California, and Europe. He was also most recently appointed to the Board of Trustees of the Baptist Health Foundation, where the mission is to fundraise for Baptist Health, the M.D. Anderson Cancer Clinic, and the Wolfson Children's Hospital.
"Dr. Demps epitomizes our mission for excellence in teaching. He is dedicated to his students inside and outside of the classroom, earning a reputation as one of the best instructors in the entire University. He is supportive and forthright and demonstrates leadership through his service to JU and our community," says Dr. Sapienza.
Finalists:
Dr. Laura Atkins
Professor Cari Freiberger
Dr. Erich Freiberger
Dr. Sarah Murphy
_____________________________________________________________________________________
Several faculty members were also recognized for their years of service and contribution to the University:
Brooks Rehabilitation College of Healthcare Sciences
Retiring
Dr. Pamela Rillstone – Professor of Nursing (13 years)
Dr. Mary Vanderhoef – Clinical Assistant Professor of Nursing (16 Years)
College of Arts and Sciences
20 Years
Dr. Jeff Martin – Associate Professor of Geography
Retiring
Dr. Adele Hanlon – Associate Professor of Elementary Math Education (12 years)
Dr. Jeff Martin – Associate Professor of Geography (20 years)
Dr. Jim November – Professor of Psychology (48 years)
Davis College of Business and Technology
30 Years
Dr. Barbara Doyle – Professor of Computing Science
Retiring
Dr. Rody Borg – Professor of Economics (38 years)
Dr. Barbara Doyle – Professor of Computing Science (30 years)
Dr. George Gresham – Professor of Marketing (13 years)
Dr. Richard Murphy – Associate Professor of Marketing (14 years)
Dr. Hassan Pordeli – Professor of Economics & Finance (38 years)
Mr. Dennis Stouse – Professor of Communication (37 years)
Captain Wayne Ziskal – Associate Professor of Aeronautics (10 years)
Linda Berry Stein College of Fine Arts and Humanities
20 Years
Ms. Cari Martin-Freiberger – Professor of Dance
Dr. Joana Owens – Professor of Humanities
35 Years
Dr. Raymond Clines – Professor of Humanities
Retiring
Ms. Ginger Sheridan – Professor of Photography (15 years)
Sapienza added, "We are enormously proud of our faculty. Their dedication to service, scholarship, and instruction is what makes Jacksonville University so vibrant. This event was an energizing end to a tremendous semester!"