Contact Us
Jacksonville University 2800 University Blvd North
Jacksonville, FL 32211
(904) 256-8000

web@ju.edu
About JU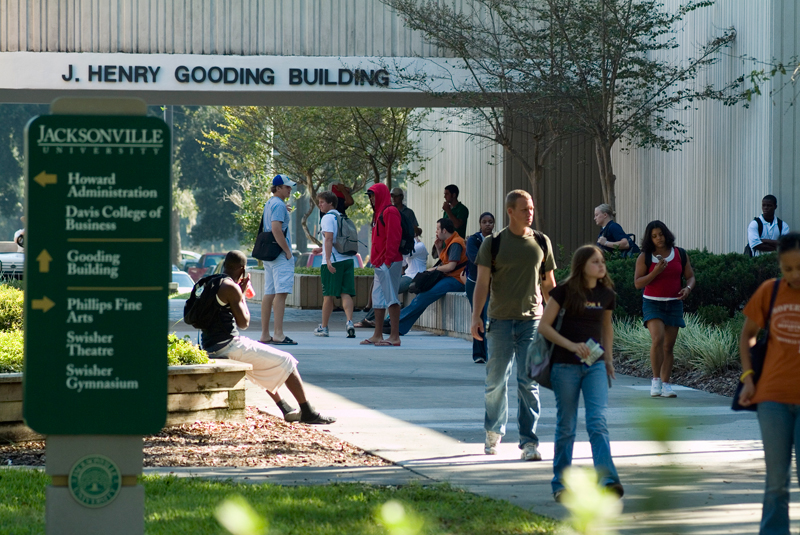 JU combines the advantages of a liberal arts college with the strengths of an urban comprehensive university. Its academic programs and resources prepare students for success in their chosen careers and for advanced study at the graduate level. Connections with area businesses and civic organizations provide meaningful internships and educational opportunities outside of the classroom.
History
Jacksonville University was founded in 1934 in downtown Jacksonville as a junior college offering night classes. It quickly became a four-year, co-ed institution and moved to its present location in the Arlington area of Jacksonville in the early 1950s.
Academic Programs
Jacksonville University offers 7 bachelor's degree programs and more than 70 majors, programs and concentrations. There are graduate programs in nursing, business, education, orthodontics, marine science, fine arts, math and public policy. The Accelerated Degree Program offers classes during evenings and weekends for nontraditional students.
Colleges
The College of Arts & Sciences offers traditional liberal arts and science majors, plus programs in nursing, education, and pre-professional education. The College of Fine Arts has outstanding programs in art, dance, music and theater. The Davis College of Business occupies a new, technologically advanced facility. The Brooks Rehabilitation College of Healthcare Sciences equips students to work in a variety of health-related professions.
Engaged Learning
The University promotes Engaged Learning throughout the curriculum. Students are encouraged to take charge of their own education and seek out experiential learning opportunities in the classroom, but also through research, service and student-centered activities.
Distinguished Programs
Among Jacksonville University's enrichments offerings are outstanding programs in community service learning, study abroad, Navy ROTC, undergraduate research, and leadership. Students find excellent opportunities for learning outside the classroom.
Demographics
Most JU students are from Florida and the southeastern and northeastern United States. They represent 45 states, Puerto Rico, the Virgin Islands, and 50 foreign countries. The male-female student ratio is about 1 to 1.
Campus Life
The University's residential campus is home to a great variety of social, cultural, Greek, religious, performance and service organizations. The Kinne University Center and the new Davis Student Commons provide an array of facilities for students to enjoy campus life. Students live in residence halls and on-campus apartments.
Athletics
Jacksonville University has 21 Division I athletic teams. Nearly 400 JU students compete in an intercollegiate varsity sport. The athletic facilities include a ballpark overlooking the river, new tennis and softball complexes, plus a football, soccer, and track & field complex.
Location
Jacksonville University is located in a beautiful riverfront setting in suburban Jacksonville, across the St. Johns River from downtown and just minutes from the Atlantic Ocean. The 190-acre campus includes a half-mile of riverfront, oak-lined paths, and a mix of historic and new campus buildings.
Scholarship Aid
Jacksonville University has a phenomenal scholarship program that generously awards students for previous academic achievements. More than 90% of freshmen receive scholarships. The "sticker price" compares favorably with other schools, and the scholarship program makes the cost of attending very affordable.
Admission
Students interested in attending Jacksonville University should contact the Office of Admissions at 904-256-7000 or 800-225-2027 to schedule a time to visit and meet a counselor. Applicants are strongly encouraged to visit campus to learn what Jacksonville University is all about.