Moral Injury Program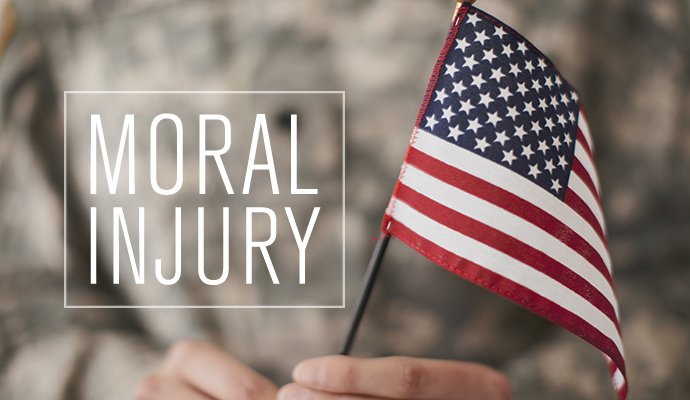 The Veteran BSN program from the Keigwin School of Nursing presents Moral Injury.
Event supported by U.S. Dept of Health and Human Services, HRSA Grant No. UF1-HP26485-01-00. Sponsored by Veterans Bachelor of Science in Nursing Program (VBSN).
Welcome, viewers!
By: Lynnette Kennison, Ph.D., APRN/Associate Professor and Veteran BSN Program Director (April 20, 2017)
Moral injury has been described as a deep sense of transgression including feelings of shame, grief and meaninglessness from a violation of core moral beliefs (Rev. Rita Nakashima Brock and Gabriella Lettini). This topic is not easily addressed, however, on April 6, 2017, this signature wound affecting this generation of veterans was addressed at Jacksonville University.
I was privileged to be a part of a panel devoted to helping those who may suffer from Moral Injury and to help friends and family members better understand the devastating effect that Moral Injury can have on loved ones.
Often mistaken for Post Traumatic Stress Disorder, Moral Injury is most often characterized as a "soul wound" which is not readily seen unless the bearer of Moral Injury is willing to share it with others. In an effort to expand awareness of this condition experienced by veterans and military personnel, as well as first responders such as law enforcement, fire fighters, and also everyday people, it is our pleasure to share this program through the links posted below. It is hoped that your participation will increase your personal awareness of this soul wound.
Videos
Cecilia Yocum, Ph.D
Cecilia Yocum received her Ph.D. in psychology from Ohio State University in 1978. She has over 35 years of experience working with individuals, families, communities and professional groups. Dr. Yocum has also worked overseas with community-based trauma healing programs that included ex-combatants in Rwanda, Burundi, and Colombia, as a part of Friends Peace Teams.
Dr. Yocum has been actively involved with Alternatives to Violence Project workshops at Coleman Federal Correctional Institution for many years. She is a past board member of the Florida Center for Survivors of Torture. In 2006, she received the "Outstanding Contributions to Psychology in the Public Interest" award from the Florida Psychological Association. She is currently serving on the Council of Representatives of the American Psychological Association.
This video is 51 minutes and 52 seconds long.
COL (Ret.) Lynnette Kennison, Ph.D.
Dr. Kennison is a tenured professor of Keigwin School of Nursing, faculty for eleven years at Jacksonville University. She primarily teaches mental health courses to graduate nurse practitioner students. Since 2013 Dr. Kennison has been the Program Director for a grant submitted to Health Resources and Services Administration for Veterans BSN (VBSN).
This video is 16 minutes and 9 seconds long.
Chaplain (COL) Anthony P. Clark
Chaplain (Colonel) Anthony P. Clark serves as the Command Chaplain for the Florida Army and Air National Guard. His thirty years of uniformed service includes enlisted service in the Military Intelligence Corps, training as a Chaplain Candidate and twenty years of experience as a Chaplain in the Florida Army National Guard.
This video is 27 minutes and 25 seconds long.
Reverend Jeffrey, L. Smith, M.Div.
A disabled veteran, Reverend Jeffrey L. Smith, M.Div., CFRM, spent several months attempting to design and begin a Moral Injury Support Group consisting of Veterans and persons who serve the veteran population in Jacksonville using a twelve step Moral Development Group model developed at the Brite Divinity School in Ft. Worth, TX. The moral injury group failed to attract sufficient number of veterans to participate and so it ended.
Rev. Smith continues to serve on the Executive Committee of and trainer for Paws4Vets PTS/MTS Centers, Wilmington, NC and speaks to groups about the reality of Moral Injury among our veteran population.
This video is 15 minutes and 42 seconds long.
Q&A Session
All four of our speakers joined us on stage for a Q&A session. This video is 20 minutes and 49 seconds long.
Video Credit
Thank you to Rex Polanis, owner and senior editor of Drawn In Media, LLC, for creating these videos of our program. Rex can be reached at rex@drawn-in-media.com or (904) 327-5101.