Staff
Commanding Officer: Captain Neil A. Karnes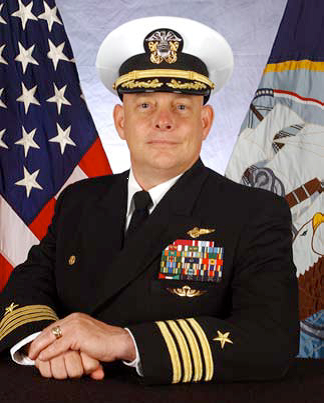 Captain Karnes, of Fort Lauderdale, Florida, enlisted in the Navy as an Electronics Technician in 1980. Awarded a Fleet scholarship, he graduated from the University of Florida in December 1987 with a BS in Building Construction. In September 1989 he completed pilot training and was designated a Naval Aviator, flying the SH-60B Seahawk (LAMPS Mk III) maritime attack helicopter.
He has served in operational flying assignments with HSLs: 45, 51 (Forward Deployed Naval Forces, Japan) and 37, embarked aboard USS HEWITT (DD 966) for DESERT STORM, USS KITTY HAWK (CV 63), USS RODNEY M. DAVIS (FFG 60), USS CUSHING (DD 985), USS VINCENNES (CG 49), and USS CHANCELLORSVILLE (CG 62).
Other sea duty assignments include Mini Boss aboard USS TARAWA (LHA-1), and following Command of the EasyRiders, he assumed the duties as Executive Officer of USS NASSAU (LHA-4), deploying in support of IRAQI FREEDOM.
Shore duties include a rewarding tour as a FRS flight instructor with HSL-41 and a tour with the Navy Personnel Command/PERS 43 as the Combat Helicopter Placement Officer and later the assistant captain detailer. Additionally, he enjoyed a joint tour with U.S. Space Command as Chief Joint Space Support Team (J36) and Deputy Director Technical Network Information Operations (J39), supporting NOBLE EAGLE, ENDURING FREEDOM and IRAQI FREEDOM.
As Commanding Officer of the EasyRiders, he was privileged to lead HSL-37 with deployed combat-ready LAMPS detachments to the Third, Fifth and Seventh Fleets.
Captain Karnes assumed Command of the SH-60B & MH-60R Fleet Readiness Squadron (FRS), the Air Wolves of HSM-40 in August 2008. During this tour he integrated the introduction the MH60 Romeo into the East Coast Fleet.
In 2014 Commodore Karnes, as Commander of Amphibious Squadron SIX led the BATAAN Amphibious Ready Group's nine-month deployment, comprised of over 4000 Sailors and Marines, to the Fifth and Sixth Fleets for of Operation Inherent Resolve / Counter ISIL.
Captain Karnes has earned master's degrees in Security Management with an emphasis in Computer Network Defense from Webster University (2000), and an MS in National Resource Strategy, with a concentration in Information Operations, from The National Defense University (ICAF 2011).
Executive Officer: Commander David Jasso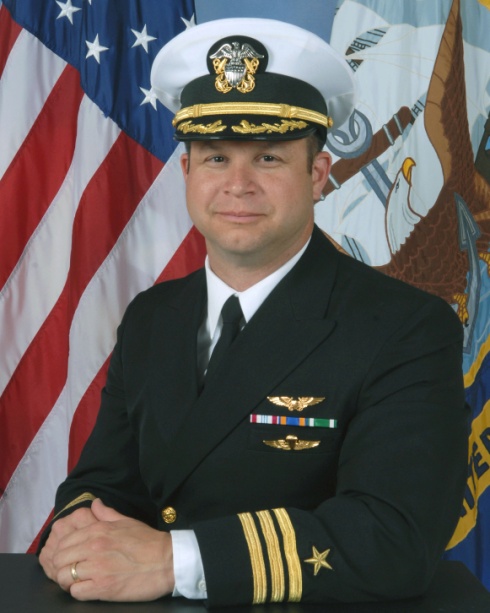 The son of a career USAF Officer, Commander Jasso grew up in Texas and New Mexico. He was commissioned in May 1992 upon graduation from the US Naval Academy and was designated a Naval Flight Officer in July 1994.
Following EA-6B Prowler training at VAQ-129, Commander Jasso reported to the NAS Whidbey Island "Garudas" of VAQ-134 in July 1994 where he helped to stand up the first Expeditionary Electronic Attack squadron. While with the Gardudas, he qualified as a mission commander and NATOPS Evaluator in the EA-6B aircraft and deployed to MCAS Iwakuni, Japan in support of Marine Aircraft Group-12 and to Incirlik AB, Turkey in support of Operation NORTHERN WATCH.
In October 1998, Commander Jasso returned to NAS Pensacola as an Advanced NFO flight instructor at Training Squadron-86. While at VT-86, he served as a Senior Standardization Officer, NATOPS Evaluator and Crew Resource Management facilitator.
Following his training command tour, Commander Jasso reported to Commander, Carrier Strike Group TWO in Norfolk, Virginia in January 2002. While assigned to CCSG-2, Commander Jasso deployed with the Harry S. Truman Strike Group in response to the attacks on 9/11. He served as the Battle Group Electronic Warfare Officer and Deputy Information Warfare Commander while deployed to the Mediterranean in support of Operation IRAQI FREEDOM.
After refresher training at the FRS, Commander Jasso then reported to the "Scorpions" of VAQ-132 where he served as the Quality Assurance Officer, Administrative Officer and Maintenance Officer. While with the Scorpions, he made multiple deployments with the John F. Kennedy Strike Group to the Arabian Gulf in support of Operation ENDURING FREEDOM.
Following his department head tour, Commander Jasso attended the Naval War College in Newport, RI where he attained a Masters Degree in National Security Affairs, November 2007. Following his time in Newport, he reported to Commander, US Special Operations Command in Tampa, FL. While at USSOCOM he worked within the Current Operations division as a regional analyst for the Pacific theater where he planned and facilitated counter-terrorism events in Southeast Asia.
Commander Jasso then reported to Commander, US Naval Central Command in Manama, Bahrain in March 2011 where he served as Deputy Chief of Operational Assessments.
Commander Jasso returned to Naval Air Station Pensacola (NASP) for a third time in March 2012 where he served as NASP Executive Officer. The air station earned the coveted Commander Navy Installations Command Large Installation of the Year, 2015 during his tenure as the installation XO.
Commander Jasso reported to the Jacksonville University Naval Reserve Officer Training Corps April, 2015 where he is currently serving as the unit Executive Officer.
Commander Jasso has been awarded the Defense Meritorious Service Medal, Meritorious Service Medal, Air Medal (3 strike/flight awards), Navy and Marine Corps Commendation Medal (3 awards), Joint Service Achievement Medal, Navy and Marine Corps Achievement Medal (3 awards), and various service medals and ribbons. He has 2,500 flight hours with over 2,000 in the EA-6B Prowler.
Marine Officer Instructor: Major Carlos Goetz
In 1994, Major Carlos Goetz joined the U.S. Marine Corps and after completion of training at the School of Infantry-East and Marine Corps Security Force School, was assigned to Security Forces Naples, Italy where he participated in Operation Joint Endeavor in Bosnia and Herzegovina. In 1996, he returned stateside and served in 3d Battalion 8th Marines as a rifleman, team leader, squad leader, and platoon sergeant; while in 3/8, he deployed in support of the Unit Deployment Program (UDP) to Okinawa, Japan as well as to the Panama Canal Zone on a security and training mission. In 2000, Major Goetz was selected for the Marine Enlisted Commissioning Education Program (MECEP).
In 2003, he earned a Bachelor of Arts in Political Science from the University of Wisconsin-Madison and was commissioned a 2nd Lieutenant. He was assigned to training at The Basic School, and upon completion, reported to Infantry Officer Course. From May of 2004 until November of 2006, he served as an Infantry Platoon Commander at 3d Battalion 8th Marines. While a platoon commander, Major Goetz deployed to Fallujah, Iraq in 2005 and Ramadi, Iraq in 2006 in support of Operation Iraqi Freedom. Upon returning from Iraq in 2006, Major Goetz was assigned to duty as an instructor at The Basic School and at Infantry Officer Course. From 2010 until 2011, Major Goetz was a student at the Expeditionary Warfare School.
In 2011, he reported to 3d Battalion 6th Marines and was assigned as the Weapons Company Commander and the Fire Support Coordinator for the Battalion. While the Weapons Company Commander, Major Goetz deployed to Marjah, Afghanistan in support of Operation Enduring Freedom. Upon returning from Afghanistan in January of 2012, he gave up command and was assigned as the Battalion Executive Officer.
In 2013, while serving as the Battalion Executive Officer, Major Goetz again deployed in support of the Unit Deployment Program (UDP) to Okinawa, Japan. In 2014, he was assigned to duty as the Marine Officer Instructor (MOI) NROTC Jacksonville University where he currently serves.
Major Goetz' personal awards include the Navy Commendation Medal (x2) w/Combat V, Joint Service Achievement Medal, Navy Achievement Medal (x3), Combat Action Ribbon, and Good Conduct Medal (x2).