Fall 2018 Cohorts
Ashley Alvarez
Ashley Alvarez graduated with a bachelor's degree in Athletic Training from the University of North Florida in 2014. While at UNF, she got to experience a variety of settings that an athletic trainer could possibly work in and decided upon graduating she found her true calling to be in the high school setting. After two years working in the field, she decided to return to school at Jacksonville University to obtain get her masters in kinesiological studies and work as a graduate assistant at Terry Parker High School. After graduation, Ashley hopes to be hired on full time by the Duval County School Board as the full time Athletic Trainer at Terry Parker.
Brady DeCouto
Brady DeCouto graduated with University Honors from Jacksonville University in 2016. He holds a bachelor's degree in Kinesiology. As a former student-athlete at JU, he has had an interest in the physiological and psychological aspects of human performance throughout his undergraduate career. This interest led him to acquire a training certification (CSCS) and to continue to explore his curiosities in the Masters of Kinesiology program in 2016. His training certification has allowed him to teach an undergraduate course on resistance training at JU and to impact both sedentary and active populations through employment as a personal trainer. His curiosities have led him into being heavily involved in research on visual-motor training, performance under stress, and running biomechanics. He aspires to satiate his hunger for knowledge by potentially continuing his education into a doctoral degree.
Mike Esposito
Mike Esposito graduated from Jacksonville University (JU) with a BS in Exercise Science where he was a two-sport athlete. Mike then went on to complete his MBA at JU as well, where he competed for the shooting team and won a National Championship in Sporting Clay's. After a few years in Marketing and Finance, Mike's passion for strength & conditioning and the fascinating world of exercise science lead him back to the path he originally set out on. Mike is currently a Certified Strength and Conditioning Specialist through the National Strength and Conditioning Association and a USA Weightlifting Level 3 National Coach. Mike currently coaches both professional and amateur athletes in Olympic weightlifting, powerlifting, strongman, and sport specific training (football, baseball, etc.). In the future Mike plans to pursue a PhD. in Exercise Physiology or Sports Psychology, teach at the university level, and eventually open a sports performance facility of his own.
Jordon Garman
Currently a M.S. Kinesiology student, Jordon Garman graduated with his B.S. in Nutrition and Dietetics with a minor in Public Health from the University of North Florida in 2016. His graduate studies are being funded by the 1st Place Sports Graduate Assistantship. His primary duties include working in the 1st Place Sports Running Laboratory and conducting research on running biomechanics and running economy. Jordon is an avid runner, and has been a 1st Place Sports employee since August 2014.
David Graham
David Chancellor Graham was born in Ellsworth, South Dakota, and raised in Warner Robins, Georgia. He began playing basketball at the age of four years old and fell in love with the game. He has had a successful career in playing basketball. After playing all four years of HS in varsity sports he began his collegiate career as a student athlete at Florida State College at Jacksonville. He then transferred to Lewis and Clark Community College. After receiving associate degree in Accounting, he then transferred to Georgia State University briefly before finishing off his collegiate career at NAIA basketball powerhouse Georgetown College where he received his B.S. in Business Administration emphasis in Marketing and a minor in Communications. He's currently pursuing his M.S. in Kinesiology at Jacksonville University.
After college, he spent a few years in France playing professional basketball. He played in Lieven, Aix-Maurienne, and Tremblay. He then served in the United States Army. While in the Army he played Army Basketball while being stationed at Camp Humphrey in Korea and Ft. Myer in the D.C. Area. He is often known for his hard work on and off the basketball court. He currently enjoys training and mentoring young athletes (in his program Time2Shine), preparing them for their bright futures to come.
Jared Mallard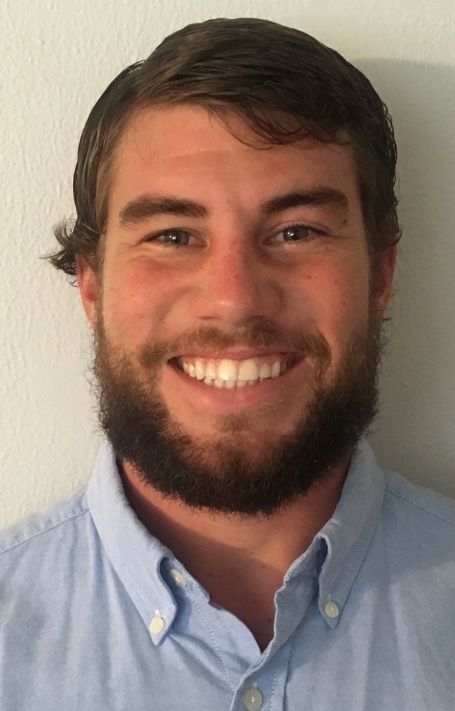 Jared Mallard received his bachelor's degree in Exercise Science in 2014 from the University of North Florida. While attending the University of North Florida, Jared became extremely interested in researching the biomechanics or athletes. After a two-year hiatus from school, he heard of Jacksonville University's newly forming Master's degree through a former professor. The focuses of the program aligned well with his own interests and are currently assisting him pursue his goals in the field of biomechanics.
Jonathan McNemar
Jonathan McNemar graduated with his bachelor's degree in Exercise Science and minor in Nutrition from Fairmont State University in 2013. During his time at Fairmont State, Jonathan played football and was known as one the most dedicated athletes in the weight room. This sparked his passion for the strength & conditioning field. He came to Jacksonville University in the summer of 2015 and started volunteering with the strength & conditioning staff. After a year of hard work and dedication they were able to create JU's first graduate assistant position to continue his growth with the program. Jonathan is enrolled in the Masters of Kinesiology program at JU and works directly with the Men's Lacrosse program. He has high hopes to become a Head Strength & Conditioning coach and win a National Championship.
Courtney Nicholson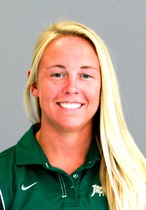 Courtney Nicholson received her bachelor's degree in 2013 from Eastern Michigan University with a major in Exercise Science. Nicholson was a four-year letter winner in softball at Eastern Michigan University (2009-2013). She earned honorable mention Academic All Mid-American Conference in 2013 and was also a NFCA All-America Scholar Athlete. Courtney came to JU to be a full time intern in the strength and conditioning department in January of 2014 and was promoted as an Assistant Strength and Conditioning Coach in July of that same year. She is currently responsible for program design and implementation for women's soccer, volleyball, beach volleyball, softball, women's rowing, track and field, and cross country. Nicholson is a Certified Strength and Conditioning Specialist through the National Strength and Conditioning Association, a Certified Strength and Conditioning Coach through USA Track and Field, and a USAW Level 1 Sports Performance Coach. Courtney hopes to continue on to Physician Assistant School after her coaching career.
Jaclyn O'Loughlin
Jaclyn received her B.S. in Exercise Science from the University of North Florida in 2014. After gaining experience in various sports performance facilities and UNF's collegiate strength room, her intent was to pursue a degree in Physical Therapy. After further exploration, Jaclyn found her passion to be in exactly how the body moves and how it affects human performance. The start of the MS Kinesiology program at Jacksonville University brought Jaclyn back to Jacksonville after she moved to Boston, MA where she worked as a fitness specialist at Harvard Business School. The opportunity to work as a graduate assistant in the Sport Biomechanics lab allows Jaclyn to work with JU athletes assessing their running biomechanics and conduct/analyze research with the motusBASEBALLTM pitching sleeve on pitchers from youth to professional levels. In the future, Jaclyn hopes to continue using wearable device technology to research baseball players as to improve player development and performance and prevent injuries through sport science at the MLB level.
Tristyn Stone-Kinser
Tristyn joined the Jacksonville staff in August 2016 as Graduate Assistant AthleticTrainer responsible for providing comprehensive medical coverage for the Dolphins football team. Originally from Jacksonville, Florida, Tristyn attended The University of North Florida where she earned her Bachelor's degree in Athletic Training in 2016.
Kinser is a Licensed Athletic Trainer by the State of Florida Department of Health and a Certified Athletic Trainer by the National Athletic Trainers' Association (NATA) Board of Certification (BOC). She is also a member of NATA, Southeast Athletic Trainers' Association (SEATA), and Athletic Trainers' Association of Florida (ATAF). Tristyn is currently pursuing a Master's degree in Kinesiology at Jacksonville University while providing medical coverage for the football team. Upon graduation, she hopes to further advance her career working collegiate football.