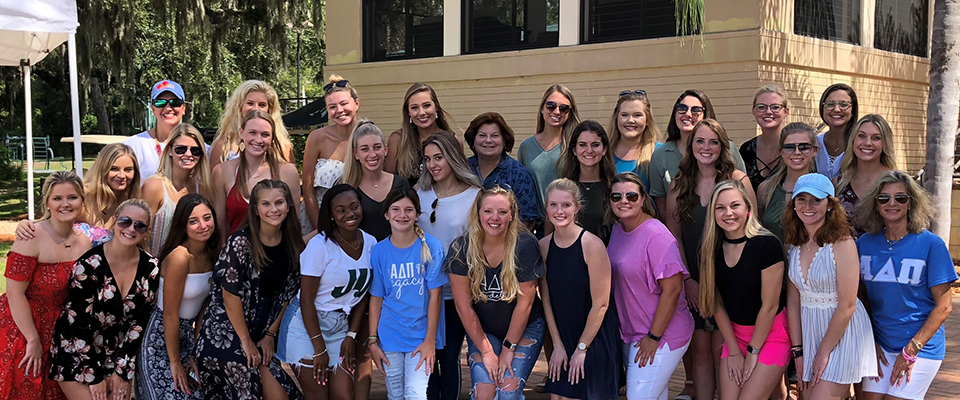 ADPi Reunion and 50th Charter Anniversary Celebration
Save the date for Homecoming 2019: October 18-20! This fall marks the 50th anniversary of the beginning of ADPi's amazing sisterhood here at Jacksonville University. We are planning an exciting weekend full of opportunities for you to connect with all of our ADPi alumnae and see how much JU's beautiful campus is growing and changing.
Contact 50thanniversaryjuepsilonomega@gmail.com with any questions.
Change of plans? We are able to offer refunds for all tickets except the ADPi Reunion Weekend Ticket ($10) until October 4, 2019. Please contact cshacke@ju.edu to request your refund.
Accommodations
Homewood Suites by Hilton Jacksonville Deerwood Park
8511 Touchton Road, Jacksonville, FL 32216 |

(904)-253-7120
Group Code: ADP

Travel time to campus: 14 minutes

Deadline to book: August 9, 2019
Attend the ADPi Ronald McDonald House Benefit Concert
Saturday, October 19 | Gates open at 6 p.m. | Dolphin Green
Ticket price: $10
Family and friends welcome! Tickets will be available for purchase from the JU Chapter at the various events during the weekend. If you cannot attend, you can also make a donation via cash or credit card. To make a gift to the chapter, please email 50thanniversaryjuepsilonomega@gmail.com.
Make a Gift
Contribute to the commemorative tile that will be installed at the River House on JU's campus to commemorate our 50th year and anniversary.
Sustain the Dodee West Monaco Scholarship through the Alpha Delta Pi Foundation

In the gift information section, please indicate the following to make sure your donation is applied appropriately:

I want my gift to make an impact through = Scholarship
Note regarding my gift = Dodee West Monaco Scholarship
Commemorative 50th Anniversary Shirt
Purchase your 50th anniversary t-shirt to celebrate the signing of the Epsilon Omega chapters charter at Jacksonville University. Deadline to place an order is September 30th. All shirts will be distributed during reunion weekend.
Purchase Your ADPi 50th Anniversary Shirt
Submit Your Photos
We invite you to share your photos to be included in the 50th Anniversary Celebration video. Submit photos to cshacke@ju.edu before September 6, 2019.
Stay Connected