Faculty & Staff Directory
Directory Links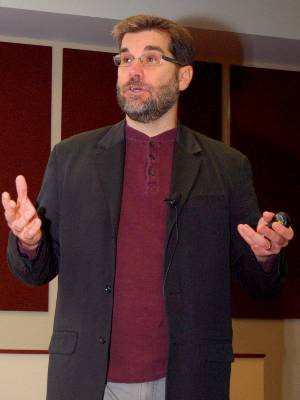 Phillip Milano
Director, News & Publications
Office of Marketing & Communications
Office location
Howard Bldg., 3rd FL
Services
Media relations

Requests for expert speakers

Public relations
Crisis communications
Content creation and editing
Speech-writing
Background
Bachelor of Science, Journalism
Southern Illinois University
Master of Business Administration
Northern Illinois University
Biography
Phillip J. Milano is an award-winning editor, writer and trainer with more than 30 years' journalistic, managerial and professional speaking experience.
Milano spent 25 years at The Florida Times-Union, the daily metro paper in Jacksonville. Among his many roles, he was Features Editor, Assistant Metro Editor, Staff Development Editor, Community News Editor, Political Editor and Assistant Business Editor.
He was also a nationally syndicated columnist (Universal Press Syndicate), writing "Dare to Ask," designed to foster cross-cultural understanding.
Milano is Founder of the acclaimed Y? The National Forum On People's Differences at DareToAks.com (formerly Yforum.com), which has received more than 10 million visits and 50,000 postings. He is the author of "I Can't Believe You Asked That!" (Perigee) and has spoken about cross-cultural differences to a combined audience of 20,000 professionals and university students nationwide.
He has been featured on CBS, CNN, BET, the BBC and FOX News, among others, and in numerous print media, including The Washington Post, New York Times, Le Monde, The (London) Guardian, Columbia Journalism Review, Entertainment Weekly, The Helsinki Times, Playboy magazine, The Atlantic and USA Today.
Currently, he is the News Director at Jacksonville University, handling regional and national placements in print and electronic media, unearthing news about the university, highlighting JU experts, handling media requests and writing Presidential messages and speeches.
Milano holds an M.B.A. from Northern Illinois University and a B.S. in Journalism from Southern Illinois University.