Faculty & Staff Directory
Directory Links
Contact
Davis College of Business
2800 University Blvd N
Jacksonville, FL 32211
Mon – Fri, 8:30 a.m. – 5:00 p.m.
If there is a problem with your profile or information, or if you want to opt out of inclusion in the directory, please let us know.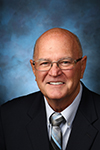 Dr. George Gresham
Professor of Marketing and International Business
Davis College of Business
Office location
Davis College of Business, 230
Following several years as a high school biology and chemistry teacher, and then as an analytical lab technician for Noranda Aluminum, Dr. Gresham's professional career began with Johnson and Johnson as a U.S. veterinary medical representative and later as a global corporate entrepreneur for pharmaceuticals and vaccines. With Merck and American Cyanamid, he served as director of global new product planning, managing new product managers in subsidiaries throughout Europe, Asia and South America. George consulted for many years with biotech start-ups in the U.S. veterinary bio-pharmaceutical industry before obtaining his EMBA in International Marketing and Ph.D. in International Business and Marketing. An avid scuba diver, George co-led the creation of Jacksonville University's Dolphin Divers club.
Education
Ph.D. - Marketing and International Business - Old Dominion University
EMBA - International Marketing - University of Nebraska - Omaha
B.S. - Zoology - Southeast Missouri State University
Academic Experience
Strategic Marketing, New Product Planning, International Business, Professional Selling
Associate Professor, Marketing - Jacksonville University, 2009-Present
Assistant Professor, Management and Marketing - Texas A&M University, 2005-09
Visiting Assistant Professor, Marketing - University of Tampa, 2003-04
Founding Director, Adult Education Programs and Assistant Professor, Business
Administration - Mary Baldwin College of Northern Virginia, Sterling, VA 2002-03
Assistant Professor, International Business - American University, 1996-98
Professional Experience
Executive Vice President, Officer, and Director, Business Development - Professional Veterinary Products, Ltd., Omaha, NE, 1990-95
Director, New Products, U.S. Operations & International Division - American Cyanamid Company, Wayne, NJ, 1984-90
Global Project and Marketing Manager, Central Marketing Group - Merck & Company, Rahway, NJ, 1979-84
Recent Scholarship & Research
"An Empirical Investigation of U.S. Employees' Perception and Attitudes About Frequency and Types of Employee-perpetrated Information Sabotage, October 5, 2013, Proceedings of the Institute of Behavioral and Applied Management Annual Conference, San Diego, CA.
"From the Volleyball Court to the Classroom: A Coaches Perspective on Classroom Team Projects, by Christiana Diaz, Bennington, Ashley and George Gresham. September 19, 2013, Academy of Business Research Fall 2013 Conference, San Antonio, TX
"Managers' and Senior Executives' Perceptions of Frequency and Type of Employee- Perpetrated Information Sabotage and Their Attitudes Toward it – The Results of a Pilot Study" by Hafer, John C. and Gresham, George. 2012. Journal of Behavioral and Applied Management 13 (3): 151-167.
Personal Interests
Scuba Diving, sailing and travel