Faculty & Staff Directory
Directory Links
Contact
Davis College of Business
2800 University Blvd N
Jacksonville, FL 32211
Mon – Fri, 8:30 a.m. – 5:00 p.m.
If there is a problem with your profile or information, or if you want to opt out of inclusion in the directory, please let us know.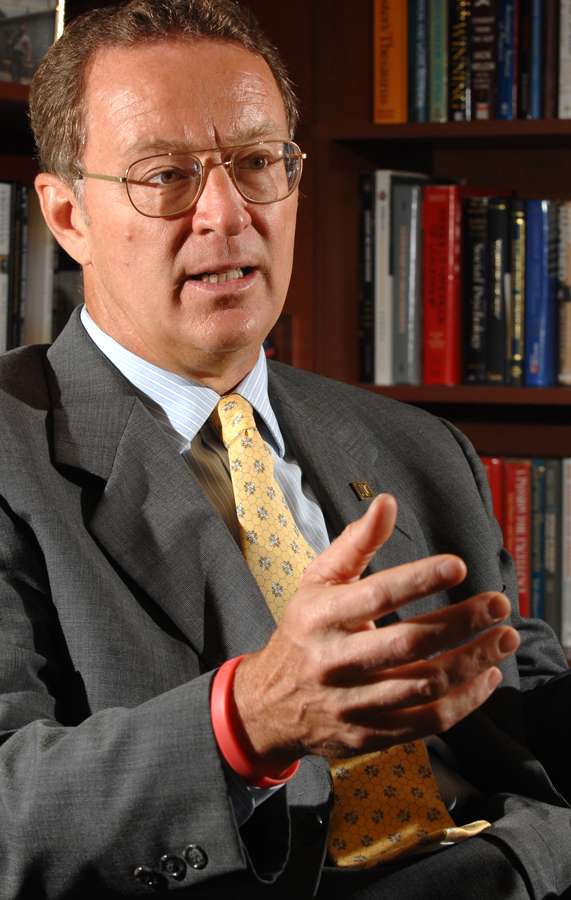 Education
M.A. and Ph.D. in Sociology,
Stanford University, Stanford, CA
M.S. in Transportation (Systems)
Massachusetts Institute of Technology, Cambridge, MA
B.S. in General Engineering​
United States Military Academy, West Point, NY
Biography
Donnie Horner is a native of Bressler, Pennsylvania – a small, multi-ethnic, multi-cultural, working class steel town near Harrisburg. Raised in a blue collar family of immigrants which values hard work, honesty, faith, determination, persistence, social justice, inclusion, personal responsibility, citizenship, community engagement, and unpretentiousness, he is the first person on either side of the family to attend and graduate from college. He understands what it means to be a "first generation" college student because he's lived the experience. Horner graduated 16th in his class (1981) from the United States Military Academy at West Point with a Bachelor of Science degree in General Engineering, where he was an Army football QB. He also received an M.S. in Transportation from the Massachusetts Institute of Technology (1985), and an M.A. (1990) and Ph.D. (1992) in Sociology from Stanford University. He has taught at Christopher Newport University, Stanford, West Point, Penn State, the University of Maryland, the Naval Academy, the Naval Postgraduate School, and Jacksonville University (JU). Horner is a seasoned academic with exceptional, multi-faceted experiences in academe.
Dr. Horner accepted appointment as Provost and Senior Vice President for University and Academic Affairs at JU in June 2016 and resigned his position in 2018. He served as Director of Athletics and Chief Athletics Officer at JU from June 2014 – June 2016, a position in which he was responsible for 501 student- athletes competing in 20 NCAA Division I sports. Inheriting several significant challenges as Director of Athletics, in a scant 2 years Horner transformed the organization and restored integrity, honor, purpose, and competitive spirit to the organization. Horner's JU teams won 29 individual and team championships while earning a collective 3.13 GPA, with 18 of 20 teams exceeding a 3.0 GPA.
In summer 2016, Horner established a new Office of Research and Sponsored Programs (ORSP), with immense implications for and impact on how the University conducts research.
International educational experiences for students – both study abroad and the presence of international students on campus – are a priority for Dr. Horner. Before Horner's appointment as Provost, 27 undergraduates (i.e., 1.4% approx.) participated in Study Abroad and Away in Academic Year (AY) 2015-16. In AY 2016-17, 155 undergraduates (i.e., 7.8% approx.) participated in Study Abroad and Away, with most participating in faculty-led programs. Current student "leads" to participate in faculty-led Study Abroad and Away programs for AY 2017-18 are up 234% over the same period from last year. Similarly, the internationalization of the JU campus is both highly visible and exciting. The International Programs Office has synchronized recruiting efforts with the Admissions Department, and the results have been exceptional. One-hundred and ninety-seven international students from more than 40 foreign countries – almost 10% of all undergraduates – are part of this year's student population. This represents a 38% increase in the number of international students in roughly 18-months. Additionally, 44 international graduate students are part of Fall 2017 cohorts, with more arriving in Spring and Summer 2018. Part of this impressive growth and success has been the aggressive pursuit and negotiation of mutually beneficial agreements with 38 international universities.
On February 9, 2017, Dr. Horner launched "OCEARCH at Jacksonville University," an initiative which simultaneously put JU on the world stage for student-centric marine science education while coupling a global leader in shark and oceanographic research with a premier academic home. This collaboration of JU and OCEARCH – an internationally recognized research effort dedicated to the study of keystone marine species like great white and tiger sharks – was a natural fit between a renowned at-sea laboratory and the stellar JU Marine Science Research Institute. OCEARCH Founding Chairman and new JU "Explorer-in-Residence" Chris Fischer noted "the vision for OCEARCH was to institutionalize our activities to serve scientists, students, communities, the ocean, and the planet in perpetuity." Under Dr. Horner's tutelage, "OCEARCH at Jacksonville University" took experiential learning to the next level. JU students work, live, and study aboard the vessel M/V OCEARCH, which offers incredible interdisciplinary, hands-on opportunities to better understand marine science.
Dr. Horner officially opened "JU Downtown" on October 12th, 2017, bringing University programs and faculty back to the epicenter of the city for the first time since 1934. "JU Downtown" allows the University to deliver educational services aimed primarily at working adults employed downtown who are enrolled in professional programs. The campus offers high-quality coursework unconstrained by bricks and mortar, and includes online, hybrid, and traditional face-to-face instruction. Horner is a strong proponent of providing educational choices and opportunities to working professionals so that "we can educate people where they work and live – it's a part of promoting lifelong learning." Cohort-based evening classes, hybrid options, and online courses are available in programs including Nursing, Business Analytics, Organizational Leadership, Health Informatics, Sport Management, and Business Administration.
Horner accepted a unique two-year assignment (i.e., June 2011-June 2013) as the City of Jacksonville's first Education Commissioner, a cabinet level appointment in the Office of Mayor Alvin Brown, the first African-American Mayor in Jacksonville's history. Dr. Horner maintained his faculty status as a full Professor in the Davis College of Business during this assignment – a faculty position he held since July 1st, 2009 – and taught a full load of graduate business courses while completing his Mayoral appointment. Upon returning to JU in 2013, Horner retained his status as full Professor in the business school while serving as JU President Tim Cost's Chief Government and Community Affairs Officer, with duties as the University's lobbyist and community affairs representative.
Prior to arriving at JU, Dr. Horner was the Class of '61 Chair and the Distinguished Professor of Leadership Education in the Department of Leadership, Ethics, and Law at the United States Naval Academy, Annapolis, Maryland from January 2005 – May 2009. While at the Academy, he had a joint appointment with the graduate school at the University of Maryland – College Park. From 2000-2005, Dr. Horner served as an Associate Professor and Director of the Engineering Leadership Development Minor, a department head position in the School of Engineering Design, Technology, and Professional Programs in the College of Engineering at The Pennsylvania State University, University Park, Pennsylvania. While at Penn State, he held faculty status in the College of Engineering, the Department of Sociology, the Science, Technology, and Society Program, and was a faculty affiliate, leadership program director, and member of the admissions committee at the Schreyer Honors College.
Dr. Horner was appointed by Secretary of Defense Les Aspin to serve on President Bill Clinton's Joint Military Working Group Investigating Sexual Orientation and Military Service in 1993. He also worked as a futurist on the "Army After Next / Army 2020 Project" in 1997. Dr. Horner served on the faculty in the Department of Behavioral Sciences and Leadership at West Point from 1992-1994. As an Army officer, Horner commanded units at the Platoon, Company, and Battalion levels. He served extensively overseas, including duty during conflict in Panama and Bosnia.
Dr. Horner was honored early in his career to be appointed by Ambassador David Abshire to serve on the Advisory Council of the National Consortium for Character-Based Leadership Education. Horner has written and consulted extensively in the areas of organizational culture, leadership, and high performing teams, and appears regularly as a media analyst on these topics. Horner loves to write, as indicated by his 5 publications since 2015. His most recent work – The Impact of Labor Freedom on Geographic Cost of Living Differentials: Controlling for Economic and Quality of Life Factors, 2016 – with co- authors Richard Cebula, James Payne, and Bob Boylan, was just published in the Journal of Entrepreneurship and Public Policy (2017).
Dr. Horner has significant leadership experience with fundraising, development, and community engagement. In 2007 while at the Naval Academy, he designed and implemented a leadership academy and outreach program to St. Benedict's Prep, an inner city school in Newark, New Jersey. The program continues to receive national acclaim – most recently on 60 Minutes (3/20/2016, read the script) – as a model for outreach to underserved minority high school students. Horner has instructed for the Jacksonville Regional Political Leadership Institute, the statewide Connect Florida Leadership Academy, and the NFL's Jacksonville Jaguars. He serves on the Board of Directors of the Jacksonville Children's Commission and on the Board of the Baptist Medical Center Beaches, Jacksonville Beach, Florida. He was recognized by the Jacksonville Business Journal with its inaugural "Veteran of Influence" award in 2014 and by the Jacksonville University Chapter of Beta Gamma Sigma International Honor Society for Collegiate Schools of Business as an Honorary Member and Chapter Inductee in 2017.
Dr. Horner is married to the former Donell Iva Fryer of Harrisburg, Pennsylvania. The Horner's have two children: Donnie III, a U.S. Naval Academy and JU graduate (MBA), and Ashley, a graduate of The George Washington University and the College of Charleston (MAT).