Faculty & Staff Directory
Directory Links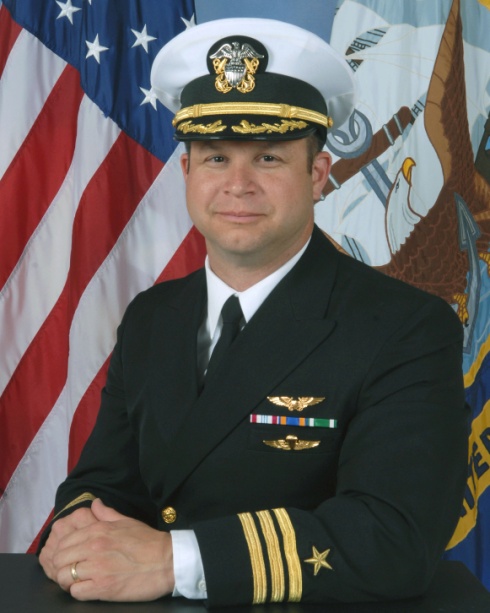 The son of a career USAF Officer, Commander Jasso grew up in Texas and New Mexico. He was commissioned in May 1992 upon graduation from the US Naval Academy and was designated a Naval Flight Officer in July 1994.
Following EA-6B Prowler training at VAQ-129, Commander Jasso reported to the NAS Whidbey Island "Garudas" of VAQ-134 in July 1994 where he helped to stand up the first Expeditionary Electronic Attack squadron. While with the Gardudas, he qualified as a mission commander and NATOPS Evaluator in the EA-6B aircraft and deployed to MCAS Iwakuni, Japan in support of Marine Aircraft Group-12 and to Incirlik AB, Turkey in support of Operation NORTHERN WATCH.
In October 1998, Commander Jasso returned to NAS Pensacola as an Advanced NFO flight instructor at Training Squadron-86. While at VT-86, he served as a Senior Standardization Officer, NATOPS Evaluator and Crew Resource Management facilitator.
Following his training command tour, Commander Jasso reported to Commander, Carrier Strike Group TWO in Norfolk, Virginia in January 2002. While assigned to CCSG-2, Commander Jasso deployed with the Harry S. Truman Strike Group in response to the attacks on 9/11. He served as the Battle Group Electronic Warfare Officer and Deputy Information Warfare Commander while deployed to the Mediterranean in support of Operation IRAQI FREEDOM.
After refresher training at the FRS, Commander Jasso then reported to the "Scorpions" of VAQ-132 where he served as the Quality Assurance Officer, Administrative Officer and Maintenance Officer. While with the Scorpions, he made multiple deployments with the John F. Kennedy Strike Group to the Arabian Gulf in support of Operation ENDURING FREEDOM.
Following his department head tour, Commander Jasso attended the Naval War College in Newport, RI where he attained a Masters Degree in National Security Affairs, November 2007. Following his time in Newport, he reported to Commander, US Special Operations Command in Tampa, FL. While at USSOCOM he worked within the Current Operations division as a regional analyst for the Pacific theater where he planned and facilitated counter-terrorism events in Southeast Asia.
Commander Jasso then reported to Commander, US Naval Central Command in Manama, Bahrain in March 2011 where he served as Deputy Chief of Operational Assessments.
Commander Jasso returned to Naval Air Station Pensacola (NASP) for a third time in March 2012 where he served as NASP Executive Officer. The air station earned the coveted Commander Navy Installations Command Large Installation of the Year, 2015 during his tenure as the installation XO.
Commander Jasso reported to the Jacksonville University Naval Reserve Officer Training Corps April, 2015 where he is currently serving as the unit Executive Officer.
Commander Jasso has been awarded the Defense Meritorious Service Medal, Meritorious Service Medal, Air Medal (3 strike/flight awards), Navy and Marine Corps Commendation Medal (3 awards), Joint Service Achievement Medal, Navy and Marine Corps Achievement Medal (3 awards), and various service medals and ribbons. He has 2,500 flight hours with over 2,000 in the EA-6B Prowler.