Faculty & Staff Directory
Directory Links
Contact
Davis College of Business
2800 University Blvd N
Jacksonville, FL 32211
Mon – Fri, 8:30 a.m. – 5:00 p.m.
If there is a problem with your profile or information, or if you want to opt out of inclusion in the directory, please let us know.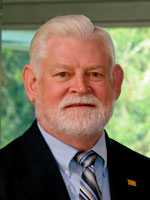 Dr. Bill Crosby was named Interim Dean at Jacksonville University's Davis College of Business for the third time effective May 1, 2019. Bill earned a Bachelor of Science in Accounting from Valdosta State College where he was named the Outstanding Accounting Student his senior year. He earned a Master of Accountancy and a Doctorate with a concentration in Accounting from the University of Georgia where he was awarded a Fellowship by the American Accounting Association. Bill is a certified public accountant in the state of Florida and has public accounting experience with Price Waterhouse & Co., and with his former accounting and tax practice in Jacksonville, Florida. He has 40 years' teaching experience at the University of Georgia, University of North Florida, and Jacksonville University.
Bill has published in a number of peer reviewed journals, has led more than fifty seminars and continuing professional education sessions for certified public accountants, and has taught numerous CPA examination preparation courses. He is a member of various professional organizations including the American Institute of Certified Public Accountants, the Florida Institute of Certified Public Accountants, and the American Accounting Association.
Bill has been a part of Jacksonville University since 1992, serving as an adjunct instructor, Professor, Associate Dean and Interim Dean in JU Davis College of Business, Dean of the College of Interdisciplinary and Professional Studies, Vice President for Finance and Administration, Acting Chief Academic Officer, Director of the Accelerated Degree Program, Acting Associate Provost, the Robert T. Shircliff Professor of Business Ethics, and the NCAA Faculty Athletics Representative. He was named Professor of the Year in 2012-13.
Education
Ph.D. Accounting, University of Georgia
M.Acc. University of Georgia
B.S. Accounting, Valdosta State College
Academic Experience
Acting Associate Provost, August 2016 – April 2018
Director, Accelerated Degree Program, January 2015 – April 2018
Acting Chief Academic Officer, August 2013 – July 2014
Dean, College of Interdisciplinary and Professional Studies, July 2012 – December 2014
Interim Dean, Davis College of Business, January 2011 – June 2012
Robert T. Shircliff Professor of Business Ethics, October 2007 – December 2014
Associate Dean, Davis College of Business, August 2002 – October 2003
Interim Dean, Davis College of Business, January 2002 - July 2002
Associate Dean, Davis College of Business January 1999 – December 2001
Professor of Accounting 2013 - present
Associate Professor of Accounting, 1997 - 2013
Assistant Professor of Accounting, 1993 - 97
Adjunct Instructor, 1992 - 93
Assistant Professor of Accounting, University of North Florida, 1980 - 90
Instructor of Accounting, University of Georgia, 1976 - 78
Continuing Education Instructor of Accounting, University of Georgia, 1976 -77
Graduate Teaching Assistant, 1974 -76, 1978
Graduate Research Assistant, 1973 -74
Professional Experience
Vice President for Finance and Administration, Jacksonville University, November 2003 – October 2007
Certified Public Accountant 1990-2000
Staff Accountant, Price Waterhouse & Co. 1967-68, 1972