Faculty & Staff Directory
Directory Links
Contact
Keigwin School of Nursing
2800 University Blvd N
Jacksonville, FL 32211
Mon – Fri, 8:30 a.m. – 5:00 p.m.
If there is a problem with your profile or information, or if you want to opt out of inclusion in the directory, please let us know.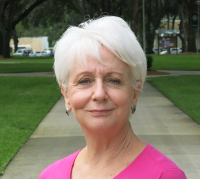 Areas of Specialization
Pediatric Endocrinology, Oncology, Palliative and End of Life Care
Education
MSN, University of North Florida
BSN, University of North Florida
AA and AS, Florida Community College
Professional Information
Annie Rini has practiced nursing in Jacksonville, FL for the past 35 years. She received her BSN and MSN from the University of North Florida. Her primary focus in nursing has centered around caring for children with chronic and life limiting disease. She has spent the last 26 years at Nemours Children's Specialty Care, where she developed a comprehensive, multidisciplinary Late Effects of Cancer Clinic, directed a collaborative pediatric palliative and hospice program and coordinated care for children from St. Jude Research Children's Hospital in Jacksonville to receive proton therapy at the UF Health Proton Therapy Institute. Annie's areas of research interest are palliative and end of life care, anticipatory mourning and late effects of cancer therapies on children.