Faculty & Staff Directory
Directory Links
Contact
School of Aviation
2800 University Blvd N
Jacksonville, FL 32211
Mon – Fri, 8:30 a.m. – 5:00 p.m.
If there is a problem with your profile or information, or if you want to opt out of inclusion in the directory, please let us know.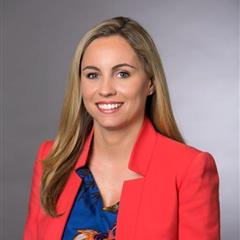 Alix Melchionna
Associate Director of Aviation
Office location
Davis College of Business, 106
Alix Melchionna was hired as a resource assistant professor of Aviation​. A native of Martinique, Melchionna comes from Embry-Riddle Aeronautical University, Daytona Beach, where she served as a graduate teaching assistant. She holds a bachelor's of science degree in Aeronautical Science, a master's degree in aeronautics management and a master's degree in business administration.
"JU has such gorgeous grounds and I appreciate how the aviation program is more focused on management, in addition to the flying certifications," Melchionna explained.
She really enjoys teaching, with hopes of obtaining her Ph.D. and continuing working in higher education.
As a former international student, Melchionna would like to assist in growing the international student population and infuse her love of traveling to her students by taking international trips to Europe and other areas of the world, where aviation is very popular. She is also hoping to introduce online tools for aviation learning into her coursework.
Melchionna has been flying since she was very young, starting at age 4 on her father's lap. After being able to solo on her 16th birthday, she received her private pilot certificate before her driver's license. Melchionna enjoys flying in her free time, which she does weekly. She also likes English horseback riding. As a certificated flight and ground instructor, Melchionna will be working with introductory flight training courses in order to help enhance Jacksonville University's School of Aviation​.
She lives in Jacksonville with her husband Logan and speaks French, English and Creole.