Ms. Rogina Gale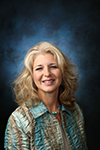 Assistant Director Graduate Programs
P: 904-256-7679
​ E: rgale@ju.edu​
Rogina Gale is a 24 year resident of Jacksonville, Florida, originally from Indiana. Rogina graduated from Indiana University with a Bachelor of Science in Business Administration with a double major, Business Administration and Human Resource Management.
Rogina's past work experience includes the education, insurance and technical service industries where she held such positions as Guidance Counselor, Office Manager, Assistant Manager and Engineering Assistant, to name a few. Rogina also served on the Board of Directors of Pablo Academy Private School both as secretary and as President for 7 years.
Rogina is a mother of two children, who are both students here at Jacksonville University. In her spare time, she likes to garden, read, travel and spend time with her family.