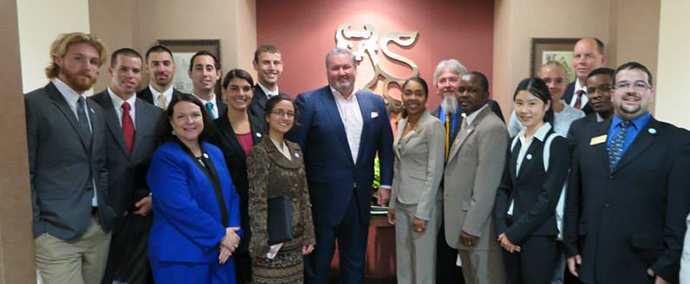 ​​Student Organizations
The following student organizations are housed or originate in the Davis College of Business. This is not an exhaustive list. For more student organizations, contact Student Life.
Alpha Kappa Psi​​​
Greek Professional Organization -Coed. Epsilon Tau chapter established on JU campus for the purpose of professional skills, presentation, and communication development. This group has an established charter, but no longer an active organization. Any interested students can visit the Dean's Suite if interested in this organization.
Beta Gamma Sigma​​
The mission of this Society is to encourage and honor academic achievement in the study of business, to foster personal and professional excellence, to advance the values of the Society, and to serve its lifelong members. The organization has been able to make a direct impact on students through its annual $5,000.00 scholarship and has a current membership that included faculty, students and the mayor of Jacksonville
Davis Entrepreneurs Organization (D.E.O)​​​
Our mission is to empower JU students to think big, be bold, and discover themselves through entrepreneurship. Davis Entrepreneurship Organization was created to help spread knowledge and awareness of entrepreneurialism with the students of JU. We believe that entrepreneurialism is not restricted to business majors or the Davis College of Business, but can be applied to virtually every major, since the virtues valuable to a successful entrepreneur could be utilized in any major.
Dolphin Student Investment Fund Student-Managed Investment Fund
The Dolphin Student Investment Fund is a student organization which manages the Davis endowment pool of funds for the Davis College of Business. The student group is mentored and led by Dr. Bob Boylan, Botts Endowded Chair of Finance, and Dr. Daphne Wang, Assistant Professor of Finance. The Dolphin Student Investment Fund is composed of two parts; the Investment Group and the Operations Group.​
National Society for Leadership and Success​​​
The mission of the National Society for Leadership & Success is to build leaders who make a better world. Membership eligibility is not determined by GPA. Students who have an interest in sharpening leadership skill can take advantage of the many opportunities to interact and build relationship through direct contact with peers and leaders. While this organization originates in the college of business, all Jacksonville University students are eligible for membership. This organization is one which helps students discover and achieve their goals. It is powerful force of good in the greater by encouraging and organizing action to better the world.
Division of Aeronautics Clubs and Organizations
Alpha Eta Rho
Alpha Omicron Alpha
American Association of Airport Executives
Aviation Ambassadors
JU Flight Team
Women in Aviation, Inc. ​