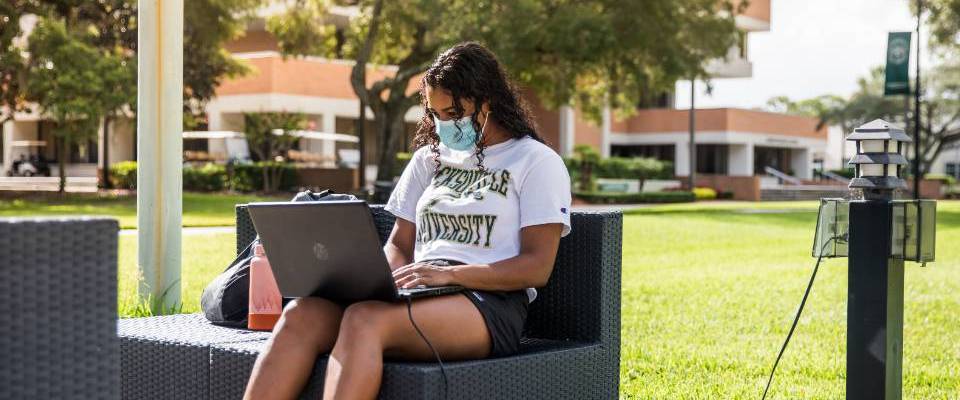 Davis Grad2Grad Program 4 + 1 Program or 3 + 1 Program
Apply to this Accelerated Bachelor to Business Master's Program
The Davis Grad2Grad program can be achieved in either a 5 year (4 + 1) or 4 year (3 + 1) format depending on your goals and the availability of a customized class schedule for your programs.
Students with a

3.0 GPA or higher

can apply for the Grad2Grad Program during their sophomore and junior years. Gifted Freshman are invited by the Davis College of Business to apply early.
Seniors will have the opportunity to accelerate their entrance into the graduate business program by taking graduate classes in their senior year. Take a look further into the graduate courses it is possible to take, by viewing the Grad2Grad Program Flyer.
Allows students to earn an undergraduate and graduate degree in four or five years.
Cost of obtaining both degrees is reduced significantly since graduate prerequisites taken at the undergraduate level and up to 12 credits may apply to both degrees.

Reduces the graduate program cost of tuition by up to 25%.

4 + 1 and 3 + 1 Grad2Grad students receive first priority at graduate assistantships that are available.
Students who decide not to continue with their graduate studies after receiving the bachelor's degree still receive up to 12 graduate credits and can re-enroll in the program at a later date.
All graduate business classes are available to attend on campus, live streamed, or by recorded session. Customize classes your way!
Students will have access to career advising, internships offerings, and job placement activities through Career Management.
Jump start your career! The Davis 4+1 or 3 + 1 Grad2Grad Program allows students to develop educational credentials that distinguish them in the job market. The National Association of Colleges and Employers conducted a survey indicating that the average predicted compensation for the MBA class of 2020: $79k
Admission to the Davis Grad2Grad program is a two-step process.
First, all admissions materials must be completed and on file before your advising appointment.

A one-page statement of career goals which include:

What Business Graduate Degree you are pursuing
Anticipated undergraduate Graduation Date

A copy of your current resume

Second, after receipt of these completed items, candidates for admission may be invited to an advising appointment where the Curriculum Approval Worksheet will be completed. Ms. Anderson is the advisor for the program. Please upload the documents described above as part of the Grad2Grad application form or complete the form and email the required document to janders29@ju.edu. She will schedule an Grad2Grad advising appointment after the form and required documents are received.
Successful completion of these two steps results in admission to the Grad2Grad Program if you meet the program requirements.
Participation is by invitation following a competitive application process and includes an interview. Please apply here to be considered for an interview and admission into the Grad2grad program.
The following business graduate degree descriptions are included to assist you with the application process:
Why choose the Bachelors + Grad Program?
Earn two degrees in just 5 years! Do not wait, get your education now!
Plan for the future. Have security in knowing where you will earn your Bachelor and Master degrees from day one.
Waive the GMAT/GRE requirement! Most Masters Programs require a GMAT or GRE for admission but with this 4+1 program that requirement is waived!
Top Accreditations! Jacksonville University is regionally accredited by the Southern Association of Colleges and Schools (SACS). The Davis College of Business is also accredited by The Association to Advance Collegiate Schools of Business (AACSB) – the highest international accreditation a business school anywhere in the world can receive!
More competitive in the workforce. These days more and more people earn their Bachelor's degree but the way to differentiate yourself is with a graduate business degree.
Earn a versatile degree. The concepts and theories you learn in a graduate program can be used in so many fields. Of course an MBA will help you in the corporate world, but your management and leadership skills can be applied to any field!​
Frequently Asked Questions
​